Our newest addition to the Harvest New Founders Program is Appendant
Marketing Group, a burgeoning recruitment advertising business founded
by Mark Anderson and Brandon Corbin that puts a creative spin on the
traditional process of marketing and recruiting. Through Appendant's
RecruitCards and Recruitals, personalized calls-to-action bring
qualifited candidates right to the forefront, saving businesses hours
of invaluable time spent posting job listings and wading through piles
of resumes.
Appendant's Director of Operations, Angie Clowers, took some time to
chat with us about their everyday operations, from client interaction
to how their designs come about, and shares a big marketing tip that
has been at the core of Appendant's growth and success.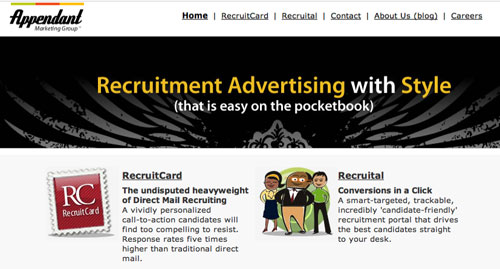 How was Appendant started, and what do you guys do?
We 'officially' launched our company on June 12 of this year. Our official launch date just happened to
coincide with our non-competes from our previous employer. We have two owners: Mark Anderson and Brandon Corbin.
Mark, Brandon, and myself all previously worked for another start up company for the past 7 years, helping that
company grow from 7 employees to approximately 40 employees, and were involved in the company being purchased
by a rather large corporation about a year and a half ago. As the company was preparing to be bought out,
we decided to take the leap and start out own company, Appendant Marketing Group!
Appendant's main focus is in recruitment advertising. One quarter of our staff is in our technical / products
department, and our products include RecruitCard,
which is an actual postcard delivered through the US Mail
to targeted potential job seekers. We design each postcard in house, with our own web and print designers,
and also procure a targeted mailing list of job seekers licensed in whatever the client chooses.
On each RecruitCard is a personalized URL that includes the name of each postcard recipient.
The URL drives the recipient back to the Internet, to our personalized landing pages, called Recruitals.
Recruitals allow the job seeker to submit their information, apply for jobs, and learn more about the company.
(see a sample Recruital).
In conjunction with direct mail postcards and online Recruitals, we also offer email blasts to potential job seekers,
online advertising on sites like Google, Yahoo, Monster, anywhere online, we can advertise.
It seems like what Appendant offers is something small business owners can take advantage of.
Can you tell us how small business can use your service – versus recruit via online job boards, Craigslist, etc?
Sure – we work with all sizes of businesses, from the large corporations to the small 'mom and pop shops'.
Our strategies may be different for a client, depending on their size, and their goals.
Being a small business ourselves, we really go the extra mile to help our small business clients in
achieving their recruitment goals. Some of our clients even use our Recruitals as their company website.
We work within the budgets of each client to determine how they can get the most for their recruitment dollars.
We are always honest with clients in what we believe will work for them. Clients need to post their jobs to the job boards, that's a given. However, we realize that not everyone can afford to pay for a Monster or CareerBuilder job posting for every job opening, so we teach them alternative ways of advertising their jobs. Craigslist is by far the most productive (and free in most areas!!) place to list jobs. Buying Google adwords, or Yahoo pay per clicks is another alternative way to generate traffic and interest in a targeted manner.
We also realize that for our small clients, the investment they make into one of our products is very important to them. They love the fact that with each of our products, we offer free copy-writing and professional web and print designers who do all the work for them.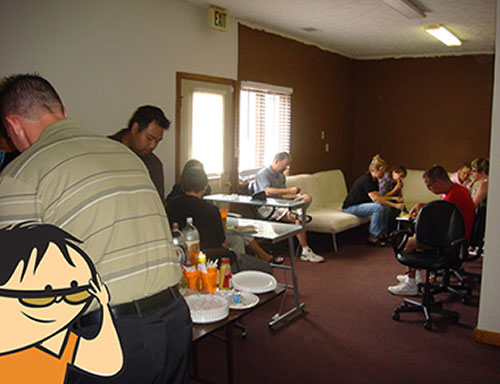 It sounds exciting and fun to work at Appendant. Can you tell us a a little more – what goes on in a day at Appendant?
Working at Appendant is like visiting the circus for the first time. There are so many exciting and fun things going on everywhere. From our vibrantly painted orange and blue walls to the stuffed raccoon and golf clubs in the back meeting area, we try to provide everyone with a motivating work environment. Our Creative Team can typically be found holding impromptu brainstorming sessions, throwing out all kinds of ideas for designs, logos, and tag-lines for our clients. One listen to their conversations will have you smiling and pumped up for the day. Our Sales Team has an uncanny ability to turn our clients into our friends. Very often you will find a local client stopping by our office 'just to say hi'. It's this level of client commitment and care that is helping us grow and become successful.
When we first formed the company, we came up with our own list of rules, which we call the 'Things We Don't Value'. These are the driving force behind how we treat each other and run our business.
The Things We Don't Value
Entitlement
Micro-management
Sloth
Status Quo
Irrelevance
Egotism
Closed Minds
Negativity
Resistance to change
What are the hardest and most rewarding things so far in starting a new business?
The hardest thing about starting a new business has been realizing when we have to say no. So many of our clients will ask us to handle other advertising avenues for them, not just recruitment advertising. Even though those projects would be great for the bottom line, we have to constantly remind ourselves to stay focused on our business model. On the other hand, the most rewarding aspects include the fact that we have the ability to create a fun, successful working environment where everyone actually looks forward to Mondays! The excitement and passion that we all generate for the company is felt by everyone, including our clients! Even though we are a small start up company with start up benefits and pay, we have yet to interview a potential employee who didn't want the job! It's wonderful to know that the energy and dedication is infectious.
Why do you need to track time, and how do you see Harvest helping you in that regard?
As a small company, it is important for us to track our time on all client projects. We have graphic and web designers and a copywriter on staff, and in order to know how to price our creative projects, we have to know how much time on average we spent on design work for a client. Time tracking also allows us to plan on adding employees once we see a trend in high hours for a particular employee. After searching through all the time tracking tools available, once we discovered Harvest, we were hooked! Not only is the time tracking tool available online, but the widgets are available for Mac. In addition, we use BaseCamp as our project management software, which we can use the Harvest API to integrate the two.
How does Appendant market itself?
Right now, our marketing plan has been pretty grass roots. Word of mouth has worked great for us.
And, it helps that we aren't afraid to talk to people! One of our initial clients actually heard about us while flying on an airplane. As it turns out, his seat-mate was the next door neighbor to one of our co-founders. They started talking, and the rest, as they say, is history. So, for anyone starting out a new small business, don't be afraid to talk about it! We talk to the cashier at the local sandwich shop, the waitress we meet at lunch, anyone we meet, we talk to! In addition to word of mouth, we do understand that in today's world, a company has to have an Internet presence. We used our own products and resources to create and design our website. We pay per click advertising, we are involved in industry groups and organizations, we reach out to old business contacts, and we totally understand and play the SEO game. Starting next year, we have budgeted for a larger marketing plan, but so far what we are doing has worked great!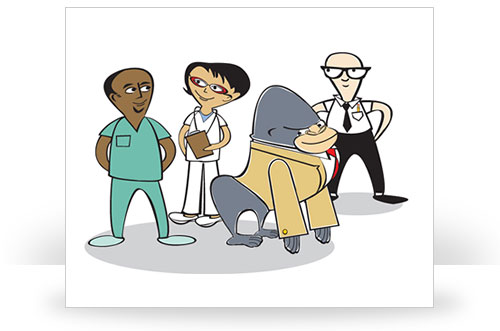 As experts in marketing and recruitment, what advice can you offer, in those two areas, to other small businesses?
As I mentioned before – talk, talk, talk! Constantly talk to everyone about your business and what you are doing. You will be pleasantly surprised to discover where some of your clients heard about you. Treat every client as the ONLY client. Clients love to talk, and they will help you to succeed with this 'Viral Marketing' plan. Advertising and marketing is not as expensive as you may think. You can find agencies who will work with your budget (no matter the size) to help put together a plan that works for you. Don't be afraid to ask for discounts or trades.
For recruitment, consider joining a business social networking group like LinkedIn. From these kinds of sites, you can notify everyone in your group when you have an open position. Then, your contacts can help you spread the word. Again, Viral Marketing works great! Definitely check out CraigsList. Out of our 15 employees, 5 came from job postings on CraigsList. Also, write press releases constantly about your company. You can use free press release distribution services on the Internet to help get them published. Sometimes your local newspapers will pick up one of these press releases, which will drive traffic and interest back to your site, so make sure your open job postings are listed on your website!
Both your Marketing and Recruitment efforts can initially be low cost and creative ways of getting your message out. Once you build up your company, imagine what you could do with your advertising and recruitment budget!
Please share with us your tools of the trade.
A can of Diet Mountain Dew, my MacBook, Zoho CRM, BaseCamp, Harvest, and Google Analytics.
Thanks you, Angie! To find out more about Appendant, please visit their website or keep up with them on their blog .