This month Harvest New Founders Program brings you Core Industries, an interactive marketing company with an environmental focus. Coming from years of experience working with an impressive roster of clientele, founder Corey Szopinski started Core Industries to help environmentally responsible businesses strengthen their marketing designs and concepts.
In this interview, Corey tells us about why he thinks bringing a green business model to clients is important. He gives us a glimpse into a current project, one where a renown automaker is working on an environmentally responsible campaign while Core Industries is helping build the tools to do so. Corey also walks us through the office, showing us how a typical project at Core Industries is run and managed, shares some of their tools of the trade, and chats with us about the exciting opportunities up ahead for the company.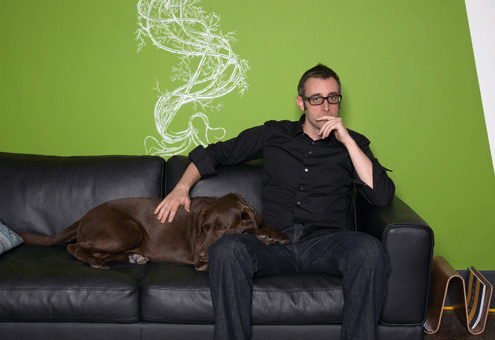 What prompted you to start your own company after being a partner at a successful studio like Domani?
Being a part of building Domani Studios was an incredible experience, no doubt. When we started out, it was just three guys in an office trying to do good work. Along the way we made a lot of sacrifices to ensure that each project became the stepping stone to tackle the next bigger, higher-profile project. Helping to set the standards and build the environment that encourages great work is a very fun yet challenging process.
Eventually we got to a point where we were on the radar of Fortune 500 companies and their ad agencies. We built up a portfolio of some cool clients: Budweiser, VW, Mini Cooper, Virgin Atlantic, Whitney Museum, Estee Lauder, etc. However, I started to feel a sense of responsibility for the products I was helping to sell.
I think that seeing An Inconvenient Truth struck a chord for me. I had been keeping my enviro beliefs to myself, but that movie and the resulting chatter in the news made me think about what my priorities were. Then when the Intergovenmental Panel on Climate Change released their report that stated unequivocally that climate change was real and that humans are a major contributor, I decided that I should use what I know about web design, viral marketing, and building online systems to help the situation rather than contribute to the problem.
Brands like Budweiser and Old Spice were great fun to work on, but at the end of the day, I really don't want to contribute to these mainstream companies producing more junk… more packaging, more shipping of their products, more energy used to manufacture and market their products, etc. Instead, I want to focus my attention on companies that are working to reduce their footprint, and build their business around new environmental constraints.
I was watching Charlie Rose one night, and John Doerr from the venture capital firm Kleiner, Perkins, Caufield and Byers (famous for being an early investor in Amazon and Google), said that the economic benefit of the forthcoming 'green' economy would be an order of magnitude larger than the internet. That statement got me thinking that nearly everything in our society can be rethought and optimized to be more green.
For example, companies that are focused on finding efficiencies in their operations are saving money, and saving resources. GE, Yahoo, Google, and even Walmart are focusing their attention on reducing their energy consumption, offsetting their carbon, and in Walmart's case, encouraging their vendors to rethink their products. Companies that are voluntarily focusing on environmental issues now will emerge as the leaders in the future. One way or the other, companies will be forced to change the way they do business: either their customers will demand it or the government will.
For me, starting a business that has a clear mission to use interactive marketing to help environmentally responsible clients isn't so much a moral decision, as it is a smart business decision. It's sort of a win/win… I get to work with cool people that give a damn, and I get to feel good about what I'm producing.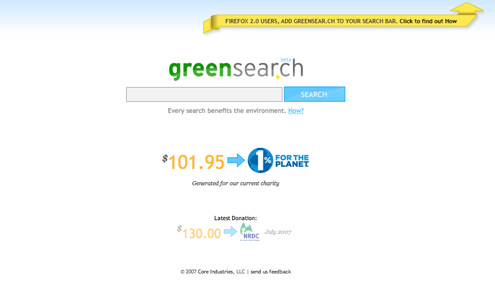 Do you only take on clients that are environmentally-responsible? What factors help you determine if a client is suitable for Core Industries?
When I first got started, I naively thought I could work on just enviro clients. But I quickly learned that I need to take a more balanced approach to taking on projects. The end goal is to be able to sustain a thriving company on 100% enviro clients, but that's not a simple goal. The best analogy is like sailing a boat into the wind; you have to tack back and forth to move forward. In our case, we have to alternate between corporate work and more environmentally-focused work.
But this going back and forth has some advantages to it. On the one hand, the corporate work pays much better, which allows us to pay our employees fairly. But it also gives us the opportunity to stay sharp and improve our skills in the more competitive corporate arena. Plus, the work gives us the opportunity to open up the discussion with the larger companies about the benefits of thinking green. Since online projects bring together the marketing, IT, and management teams, we have access to plant those seeds high up the decision ladder.
At the most basic level, I will refuse to work with companies that are blatant abusers of the environment or are being disingenuous about their motives. However, it's not always a black and white issue. One danger in green marketing is the concept of 'green washing' where companies are using the environment to score PR points, but aren't really taking meaningful action. It's important to ask some tough questions when clients are taking an environmental angle. In some ways we can help be a first line of defense to make sure the messages are true. This helps the consumer, but it also helps our clients. If they try to take a green angle, and it comes to light that it was just a marketing ploy, that can do more damage to their brand than if they just stayed away from green.
I actually think that anyone involved in the marketing industry has the opportunity bring up these issues with their clients, and become an advocate for doing the right thing. Our industry has an incredible amount of persuasive power. Just look at the world-wide recognition of brands like Nike or Coke… they are juggernauts because of their savvy use marketing and brand management. We have a great opportunity to use design and concepts to influence a new generation of conscientious consumer.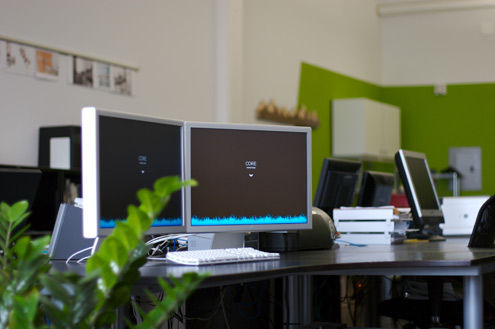 What's your take on running a project successfully – do you believe in managers, how do you keep the scope in check and hit the deadline in a 'healthy manner'?
We're sort of in the process of fumbling through this issue now actually. I'm taking what I've learned from previous studios and trying to refine it into a process that's lightweight and easy to explain to new people when they join.
When we scope out a project, we estimate how many hours each discipline will take: design, copywriting, IA, HTML, Flash, PHP etc. Those numbers then get put directly into Harvest as an estimate for each of the people on the project. Since the desktop widget is so easy to use, everyone keeps their hours up to date through the project.
Then, our project managers can check online to see how many hours have been burned and compare that to the point we need to be in the project to hit our deadline. If one component of the project is falling behind, we can put more effort on that to make sure everything lines up for our deadline.
How do you balance the act of pitching and looking for new business, and still spending enough energy and time on your current roster of clients?
So far, we've been incredibly fortunate having projects come to us. But, I actually think that new business efforts start with the current projects in the shop.
Each project is an opportunity to do an amazing job. For everything that we do, we try to push it a little farther than the client asks us to. We dig a little deeper into the execution, spend a little extra time refining the design, or optimize it before there are problems, etc. Those little things add up to a better project and help our clients looks good to their internal teams. That generates repeat business.
The other thing is to be genuinely excited about what the client is trying to do. I find that the projects that I was personally psyched about always turn out the best. Somehow your feelings end up coming through in the final work, and people appreciate it.
Can you tell us about an exciting project you are currently working on?
Yes! And it's a project that is so perfectly suited for the mission of my company that it was almost vindication that this green + interactive business model might actually work. It's through Crispin Porter + Bogusky, who I worked with on several projects while at Domani.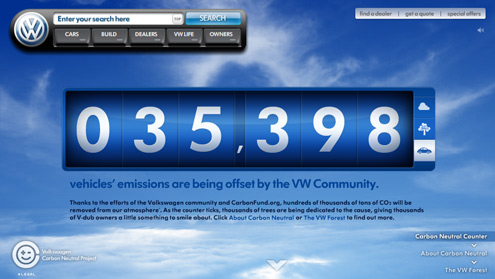 The project is for Volkswagen and it's called the Carbon Neutral Project, and I think it's going to be a very big deal that other automakers will follow. VW has made an arrangement through CarbonFund.org to manage a forest where trees are planted that help absorb the carbon dioxide at a rate equal to the output from their cars… thus helping to offset the global warming impact. We're building a set of backend tools that analyze and predict the cumulative tonnage of the carbon absorbed. We're then feeding that data into a Flash-based front end and a series of banner ads.
I think it's an excellent case study of using marketing dollars to do something meaningful, educational and compelling all at the same time. I applaud the creative team at Crispin for thinking along these lines and getting it off the ground.
Why do you track time, and how does Harvest help in running your business?
I've seen time tracking handled a few different ways at various shops, and it was always sort of a pain the ass. Harvest is the first solution that people actually enjoying using.
In our case, we're using a number of freelancers scattered around the country. The trouble with having people outside the office is that it's sometimes hard to get a handle on how efficient people are with their time.
Now that we're using Harvest, we can watch how the hours add up and compare that to where we need to be. Plus, most of the freelancers now use Harvest to generate their invoices since it's a simple way for them to keep track of time.
For myself, I appreciate how I can track multiple tasks during the day. With more accurate reporting, we can create more accurate estimates and keep our expenses in check.
What are some of your essential tools of trade?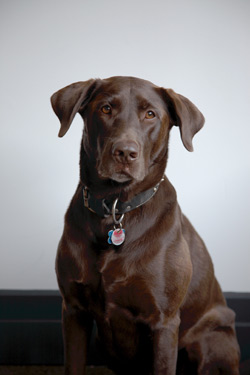 Not that it's really a business tool, but the most important item in my office is my chocolate lab Gunnar. I'm pretty lucky to be able to bring him to the office every day, and he's awesome for making sure that we don't take our work too seriously.
Since we're an interactive design shop, we're pretty heavy on the technology needs. For example, I'm in love with my new dual 23′ apple cinema displays… one can never have too many pixels to work with.
But we also rely very heavily on Basecamp for project management, and increasingly on SVN for version tracking (we use CVSDude for hosted SVN). Under the hood of our projects, we run on CentOS-based Apache, PHP, and MySQL. We're also really fortunate to be friends with our ISP which is located upstairs from us. They give us a sick amount of bandwidth for very little money. Our connection is a 45 Mb/s optical connection which means we can push huge files in and out of our office.
For communication, the iPhone is probably the biggest recent asset, and I can't wait for Apple to release an official SDK so we can get in there and start developing the next generation of mobile tools.
Where do you see your business in one year?
In the next year I hope that we're able to build some momentum and see that we're making a positive contribution to the environment. We have a number of new sites that we plan to launch that will enable people to multiply their green efforts by providing a community of like-minded people, and giving them access to more information about the impact of their choices… but in a fun and cool way.
On the creative front, I also hope that we can also expand our capabilities by bringing in more staff and creating new partnerships with other studios. I'm really excited to explore more 3D, video and motion graphics in our commercial work. For our internal projects, we're starting to experiment with physical computing experiences (Processing, Wiring, Phidgets, etc), and collaborate on interactive architecture and reactive spaces. We're trying to look beyond 'websites' and see how to use what we know about technology to draw people into our message.
Thank you for your time, Corey!

To find out more about Core Industries, please visit their website.