You may not consider how all of the fossils were assembled from collections around the globe for the recent exhibition, "Lucy's Legacy: The Hidden Treasures of Ethiopia", or who arranged the educational museum programs your kids can't stop talking a mile a minute about, but these are the details that Jan Crocker LLC has made a specialty. As a one stop shop for arranging permanent and traveling exhibitions, educational programing, and exhibition management (including materials, installation, shipping, and scheduling), they are pushing forward a business model which has team members working together throughout Massachusetts and Vermont. Learn how they've straddled the digital divide by working remotely, why they care about underwater shipwrecks, and how Harvest keeps these widespread colleagues coordinated, on time and on point.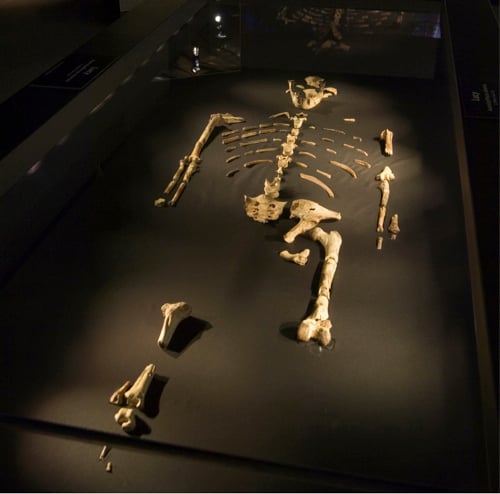 Installation of Lucy's Legacy: The Hidden Treasures of Ethiopia, Image courtesy of Houston Museum of Natural Science
What's a typical day like for you "at the office"? How different is running your own show from your days of working for the Boston Museum of Science?
We are a highly distributed company, primarily in Massachusetts and Vermont, but with associates, colleagues, consultants and contractors around the country and the globe so our days are spent working on our computers – researching writing and designing. In addition to using Harvest for time and billing, we use a variety of other web based systems for managing our research, proposals, contacts and marketing campaigns, our telephone and fax systems, and for both internal and client teleconferencing. We meet at least once a week, face to face, at the centrally located home of one of the members.
Compared with working within a large organization, the differences in having our own company are enormous. We have had the pleasure of working together to decide who we are as a company, our philosophy, our identity, and our values. We maximize our decisions as a group, deciding what is best for us as a company both short and long term – always keeping our clients' needs at the center of our work.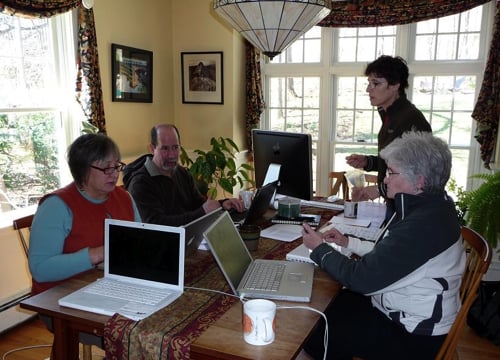 A face-to-face work session, showing from left to right: Jan Crocker, Larry Koolkin, Lynn Baum, and Maureen McConnell
What upcoming exhibitions do you have on deck?
LAKE CHAMPLAIN MARITIME MUSEUM:
At present, we are completing a project with the Lake Champlain Maritime Museum in Vermont. We created a fully developed template and technology platform for a series of webcasts that they want to develop to introduce the exploration of the underwater shipwrecks of Lake Champlain to school groups. The tour for children involves going out on the lake in a boat, and exploring the shipwreck below, via a real-time, maneuverable video camera.
The project was initially that the museum wanted to produce webcasts to draw kids in to the experience of finding these historically significant shipwrecks, but this didn't quite turn out the way we planned. No one anticipated the conditions for filming live under the surface would be as murky as they were. So, we decided, instead of just filming below the ship, the most cost effective and interesting way to do the web broadcast was to create a story line and a template, that can be used by the Museum immediately, with capabilities to grow further down the line. We loved working on this project, the Lake Champlain Maritime Museum is such a gem. Did you know that Benedict Arnold's ship is sunk in those waters?!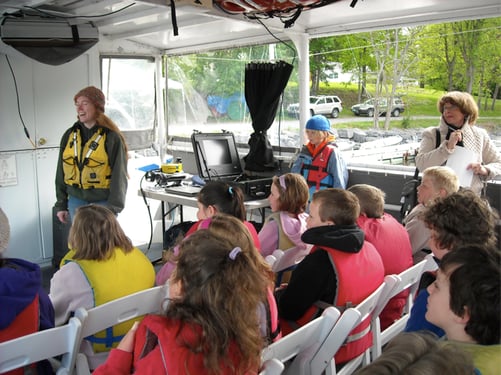 A view from the boat Sarah Elizabeth, on Lake Champlain
LUCY'S LEGACY: THE HIDDEN TREASURES OF ETHIOPIA:

In addition to designing and developing museum exhibitions and educational programs, we have extensive experience in creating, managing, and touring traveling exhibitions. We are managing the tour of "Lucy's Legacy: The Hidden Treasures of Ethiopia" – a traveling exhibition created by the government of Ethiopia and Houston Museum of Natural Science, and are currently in negotiations over managing the tours of a handful of other traveling exhibitions.
I have had the new Discovery Times Square Exposition facility in NYC on my radar for a while, and though it wasn't yet open, I pushed to get the "Lucy's Legacy" exhibition a premiere booking as one of the two opening exhibits there. I wanted to get a lot of people to see the show, to ensure good distribution in the future, and what could be busier than Times Square? The exhibition has been a major success so far, and the most amazing thing about the experience for me was to see the Lucy Fossil: the one and only Lucy! It's something so significant and unique, and here it is, right in front of your eyes!
What powers Jan Crocker LLC, and how do you use Harvest and time tracking with such a varied group of contractors in different locations?
At this point, we use Harvest internally – for capturing the time and expenses, across multiple projects, for a group of geographically disbursed people – which feeds our QuickBooks accounting system. For us, it was a great addition to the suite of off-the-shelf web systems we already had in use – and was a both a timely and welcome replacement for a custom web-based database system in QuickBase that we had created before discovering Harvest.
We also utilize a variety of web based systems and systems to support our work, collaboration, and allow simple remote management of most of our business services, like BaseCamp for project and data collaboration, Skype for video teleconferencing, Constant Contact for email marketing, RingCentral for VOIP voice and fax services, PowWowNow for telephone conferencing, and RFP-Leads as one source of potential business we might not hear about otherwise.
Despite the power of technology and its leverage in our business, there is still no substitute for personal connections and networking – that will remain the key to our success!
We're thrilled to have Jan Crocker LLC join The Harvest New Founders Program, and to support their efforts to enrich our lives, one museum exhibition at a time.

To help companies get on their feet, The Harvest New Founders Program gives one year's subscription of Harvest time tracking service to a new company each month. Think you might be a good fit for our New Founders Program? Learn more and apply.