Our November New Founder is STALKR, a creative research boutique headed up by Dan Kern (based in Los Angeles) and Lizzie Eves (based in London). They worked together as the head researchers on Nike Courage, which was a collaboration of two dozen researchers worldwide, and Nike's biggest media buy ever. After collaborating on that campaign, Dan and Lizzie explain that they realized "not one research company in the world was leveraging the group-sourcing power of the internet", so they decided to connect their network of specialized film footage researchers in London, Manchester, New York, Los Angeles, Portland, Berlin, and Cape Town, and created STALKR.
With a business model entirely dependent on total collaboration on the internet, we were intrigued at their process for working in multiple time zones, with projects around the globe, and how they use Harvest to stay on top of delivering the goods on time, and within budget. And there's also the cow: we really like the cow.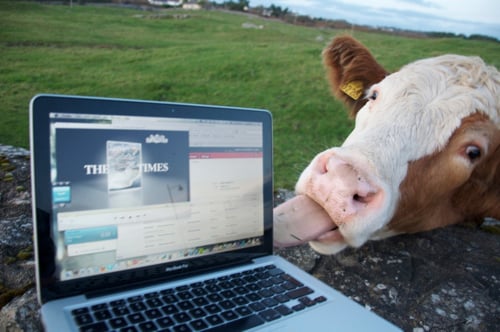 STALKR HQ in Connemara, Ireland
How long have you been in business, and what exactly does a creative research boutique do?
STALKR formed as a partnership at the beginning of 2009, after years of freelancing individually as creative researchers. Our work consists of hunting down images and film footage for ad agencies under insane time pressure. When a brief comes in, our researchers trawl through dozens of archive sites and documentary films to cut together a selection of clips and images that correspond to what the client has imagined.
You mention that you are the first research company to leverage the group-sourcing power of the internet. How did you create and connect to this network of specialized researchers?
STALKR is a group of documentary filmmakers who also work as creative researchers. We met in the context of various film projects prior to forming STALKR. We've executed jobs under one roof in London or Berlin or Los Angeles, but our ongoing film projects keep us shifting around the globe constantly. We work online from wherever we are in the world, and pipe our results to the client, whose experience is seamless.

STALKR HQ in Tokyo, Japan
What are the advantages of this style of working?
Speed and flexibility are the advantages to this style of working. With five of our researchers tackling a brief, we can deliver a week of research hours in a single day. Working in UK and LA time zones, we can accept a job in London in the evening and our LA team can deliver results by the time London wakes up the next morning.
Looking though the projects you have done thus far, the ideas and images seem to vary wildly in terms of when they were made in history, and what the end result of using the vintage film footage is. What is your thought process in determining which images and clips would work best, or does the production company contact you with specifics in mind?

We're guns for hire. An agency approaches us with a script and we hunt down the footage. Since they can't commit to a specific piece of footage until they see it in front of them, we can research for a day or keep going for three months, depending on the scale and needs of the project. Our end of the work empowers the client's creativity throughout the process.
Have you ever had a scene or clip you really wanted to use, but couldn't track down?
We can track down anything. It's uncanny.
What does a typical day entail for you?
Everything changes depending on the brief. We don't really have typical days. Central to our process is a daily Skype conference call in the LA morning and London evening. We make decisions in this call which set up the division of tasks for that day in LA and the following day in London.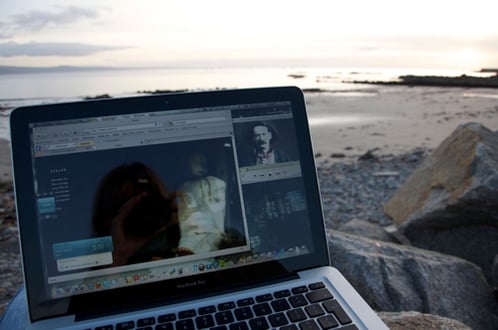 STALKR HQ in Venice, California (USA)
What programs and resources power the engine behind Stalkr?
MacBook Pro, iPhone, Final Cut Pro, Elgato Turbo.264 HD, Skype, MobileMe, YouSendit, and Harvest.
Why do you track time, and how do you guys use Harvest?
We start and stop timers throughout the day as we shift from one project to another. Since our days are never the same and our team varies from job to job, we rely on Harvest to give us up-to-the-minute reports to keep us within budget. In the dark ages before we found Harvest, we scrawled cryptic notes in iCal that required collating in a Byzantine process. Now that we're on Harvest, there's no going back. Ironically, STALKR distinguishes between two kinds of workers: Researchers who bring in footage and Harvesters who edit the footage down for the client.
Harvesters – really? Do your Harvesters use Harvest?
Absolutely. Since everyone at STALKR sets their own schedule, we use Harvest to allot a set number of hours to our Harvesters. They complete their hours when they like, so long as it's before the delivery deadline.
What are your 5 most favorite films of all time?
STALKR has just one favorite film: BARAKA.
We welcome STALKR into the fold as our latest Harvest New Founder, and are happy to support this globally nomadic company deliver seamless research and archival footage to their clients through the group-sourcing power of the internet.
To help companies get on their feet, The Harvest New Founders Program gives one year's subscription of Harvest time tracking service to a new company each month.