Deeplocal is our latest New Founder, and was founded in 2006 by artist and former punk rock singer, Nathan Martin, in the post-industrial city of Pittsburgh, Pennslyvania. One part consulting company and one part mobile app product development company, their team of eight is comprised of top talent from companies like MetaDesign, Yahoo, and Apple. We had a chat with Nathan about the importance of art and culture on Deeplocal's business model, hacking police scanners, and how the Harvest iPhone app has changed the way they work.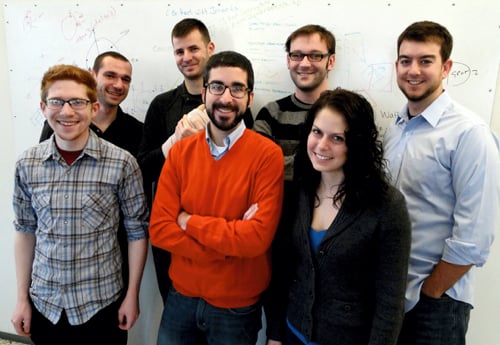 What was the inspiration for starting your company, and how is it different from the typical business model?

Deeplocal is a culture first, and a business second. I have always been very passionate about what I do in my life, and in building a company I decided that I didn't want to be a traditional manager early on. I wanted to build a team of people like myself that were passionate, hard working, creative, and talented, so I had to build a culture that attracted great people. I am no different than my co-workers in that I want to be a part of something that has impact, and presence. Because of those needs I chose to build a business that splits it's time between consulting work for clients looking for new ways of using technology, and developing our own consumer-facing products. We use our consulting work to generate IP that we either use internally or license, while earning real revenue.
In what ways are the arts an integral part of Deeplocal?
We believe that artists are very similar to entrepreneurs and that we can learn a lot from working with and for them. We run an artist residency program that brings artists into our studios, and gives them access to our proprietary technology and engineering assistance. We play a lot of sports, and even started a site called Pickupalooza.com to get ourselves more involved with people outside of our normal scope. We challenge other start-ups locally to bowling nights, so we could create a peer-mentor network. We have an open studio called Waffle Wednesdays, where we invite the public to come for a visit and get free consultations. We work with a number of cultural institutions here in Pittsburgh, like the Mattress Factory. We do all of these things to cultivate our culture of innovation – it is our core asset.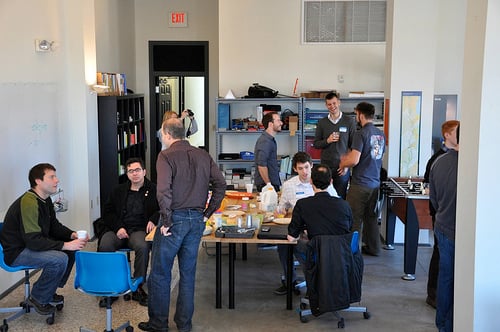 At a recent Waffle Wednesday Open Studio
What does a typical day entail for you?
We are a small team, which means we require open and constant communication between one another. We begin each week with a 15 minute meeting where we use stickies on a white board to see what each of us has to do, is in progress, or is completed. We try to let each person here own a project or a task, and we have a very thin management layer. We all handle multiple tasks, talk directly to clients, handle customer service, and do the dishes. Our development process is also very agile, and our designers and engineers share some level of comfort with each other's skill set. This makes for very fast and effective design and development, and we usually have a few new ideas a day. We try to vet those internally, and when possible, prototype ideas in a few days. I think our approach has always been that things simply need to get done and if you can help… then help.
Why do you track time, and how do you guys use Harvest?
We had tried a few time tracking apps out in the past and really found them far too cumbersome for our environment. We wanted something that was simple and didn't seem like a burden. Our CTO had read about Harvest, I took a look, and we were instantly hooked. It is clearly built by people that use it themselves, people like us. We use Harvest to track time for hourly consulting projects. The iPhone app helps a lot with that when we are working off site or can't get to a connected laptop, and we also use it internally for part-time staff as a timesheet. We plan to institute the invoicing shortly!

It seems you incorporate mobile phones in many of your projects, like TinyBlast, the RouteShout signs, and Urban Sweep.
We like to think of concepts first, and technology second. Most of our products come from real client needs: RouteShout, our main product, came from work we had done while at Carnegie Mellon University. We had hacked a police scanner to pick up radio signals telling us where some of the local buses were located. Years later, we were invited by that agency's CEO to build a pilot system for them that allows bus riders to find bus arrival times over SMS text message or smartphone.
What is Chalkbot, and how were you able to realize that project?
The Chalkbot was built for Nike's ad agency, Wieden + Kennedy for last year's Tour de France. We were asked to build a machine that would spray short messages of hope and inspiration on the actual Tour de France route. We worked with a friend's company, Standard Robot, to go from design to shipment in just about 7 weeks. Users would submit messages less than 40 characters through text message, Twitter, or the web, which would then be sent to the actual Chalkbot machine. The machine would then use 48 spray nozzles to spray an emulsified soy based chalk onto the roadways printing a user's message. After each message was printed, the machine would snap a photo, grab the GPS coordinate, was then shared through Google Maps and Google Earth.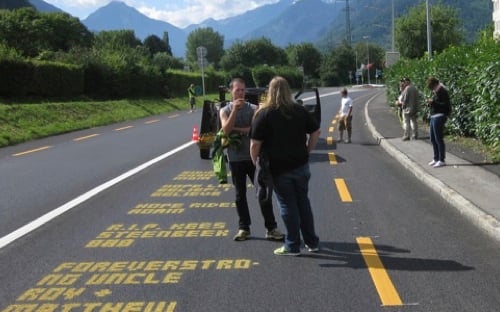 We welcome Deeplocal to our ever growing stable of Harvest New Founders, and are happy to support this DIY company bringing it's own brand of artistic inspiration to the forefront of innovation in both work and play.
To help companies get on their feet, The Harvest New Founders Program gives one year's subscription of Harvest time tracking service to a new company each month. Think you might be a good fit for our New Founders Program? Learn more and apply.