To help companies get on their feet, The Harvest New Founders Program gives one year's subscription of Harvest time tracking service to a new company each month. Think you might be a good fit for our New Founders Program? Learn more and apply.
Made By Two is a design firm established by Kermit and Azadeh Westergaard, who caught our attention with their interdisciplinary approach to design, from interior design to inventing their own products. We were so impressed with the body of work they had created in such a short amount of time, all while raising a baby boy together, that we just had to know — how did they make this amazing business venture a reality? Kermit and Azadeh chatted with us, and it was a love fest: they expounded on about falling in love with each other, falling in love with eclectic design projects, and falling in love with Harvest to keep them on track of their time and expenses.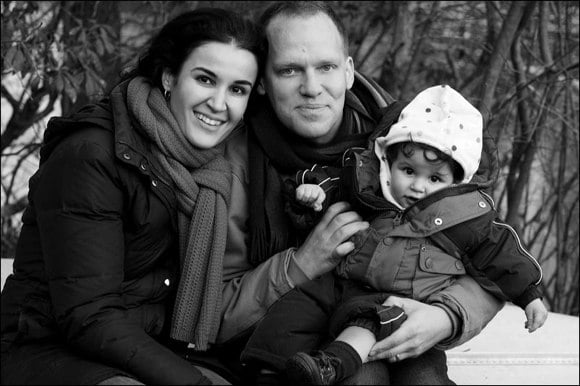 Tell us about how you guys met, and what sparked your first creative collaboration?
We met at Cafe Moto, a jewel-box of a restaurant under the subway tracks in South Williamsburg, Brooklyn. It's a charmed world in there, like the set of Amélie or Brazil, or like a dream, everyone packed into this little triangle of a restaurant, a flamenco guitarist by the front door, the rumble of the M train rattling your wine glass. We were on a blind date and we talked for hours and hours. Somewhere in there, we realized that perhaps it was fated—'Azadeh' is Persian for 'free woman', 'Kermit', Gaelic for 'free man'.
Our first collaboration was our wedding invitation. Azadeh's background is in graphic design & illustration, Kermit's is in industrial design, and while we couldn't approach things more differently (Azadeh: meticulous, elegant, whimsical; Kermit: chaotic, complex, kinetic), we managed to tune into a shared vision that produced something that was so clearly both of us, and yet better than the sum of the parts.
Renovating and redesigning your house together landed you guys in the pages of the New York Times – what did you do to catch their eye?
After we got married, we purchased a lovely, long neglected row house on a charming, historic, brick paved street off of the L train, literally one stop past the hubbub of Williamsburg. After nine months designing, contracting, and rebuilding the house, we moved into what felt like our farmhouse in the city. Before the move, we had been holed up in a post-war studio in the East Village with a hundred pound, slightly psychotic, rottweiler-doberman mix (Kermit's contribution to the marriage), so moving into our freshly renovated 1908 brick house, with a front porch, sun-drenched garden and wood burning stove, simply felt too good to be true … we probably needed the Times article just to make sure it was all real (a friend of a friend, now a dear friend and a former client, recommended our place to the writer).
What does a typical day entail for you?
The best part of working for yourself in a small company is that there just isn't such thing as a typical day: there are simply too many hats to wear, from project diplomat to contract drafting, from bidding to bookkeeping. A highlight for Azadeh is the research side of the process — honing in on the aesthetic vision in collaboration with the client, and then sourcing, scouting and antiquing until that vision materializes; for Kermit, there's great satisfaction in the collaborative side of working with contractors and craftsman to nail down the twelve thousand details that you might never notice, but together really make the project. For both of us, the best days are simply design days, when we manage to carve out the kind of time it takes to fully get lost in a project, without distraction. Remarkably rare days, but always a favorite.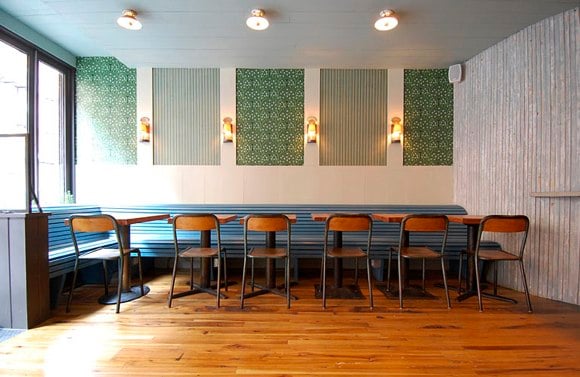 What project has Made By Two worked on that you are most proud of?
Last year, we designed a restaurant in the East Village called Northern Spy Food Co., and that project can't help but stand out for us, since the great majority of our client work has been residential. The restaurant has done very well to date — it's received a positive write-up in the New York Times and was selected by Time Out New York as the "Best New Neighborhood Restaurant" in the city. It was an exciting project, and we particularly loved the adventures and characters we met sourcing all of the found objects and reclaimed materials integrated into the design—the lumber yard leftovers (turned wall paneling), the vintage chicken coop brought back from farm country (re-purposed as retail cubbies), or the old bowling lanes we uncovered in a magnificent 1800's gas company headquarters turned salvage yard (cut down into restaurant tables and countertops). There's also something wonderful about being able to revisit a space that you've designed—as opposed to the residential projects which we rarely see again once completed.
You seem to have your hands in design and branding, product patents, photography, illustration, and residential and retail renovation. What types of projects do you see yourselves working on in 5 years?
In five years, we'd like to have a small boutique hotel in our neighborhood with a roof-top restaurant and a café with a roaring fireplace. We'll run our design offices out of the hotel, and will take on a very limited number of eclectic design projects with clients we admire — preserving a good amount of time for writing and producing design books & children's books; developing new products; and traveling to India and Turkey with Felix in tow on sourcing expeditions. Yes, that's it: one third of our time welcoming people into our world, one third working with people in theirs, and one third fully in our own…
Why do you track time, and how do you guys use Harvest?
Amidst the learning curve of running a new business and managing our projects (and of course, our three year old son!), the back end of the business is inevitably a juggling act. Harvest has offered us a way to really stay on top of our time and expenses — whether for a client being billed hourly, or simply to have a sense of the time we're putting into our larger projects, where we get a percentage of the build-out. When we started our business, a friend of ours said that tracking your time is the single most important step in understanding how your business works, and we've really come around to believe those words are gospel. Of course, it doesn't hurt that you actually want Harvest to be part of your daily ritual — we're absolutely in love with the gorgeous interface and seamless iPhone integration.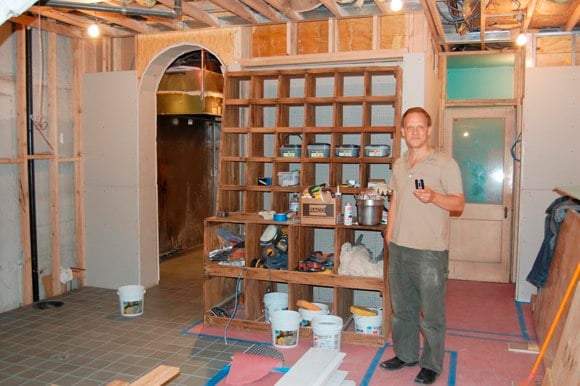 What advice do you have for people starting new ventures in the current economic climate?
There is always space for the exception. Always. As Woody Allen says, 'eighty percent of success is showing up'. The other twenty percent just comes out of doing what you love. So our advice: show up, and do what you love. Oh yes, and start a business right after you've had a child and quit your day job. You'll show up … and then some.
What's the secret to keeping your clients happy?
Three secrets in our book: listen, collaborate, and don't advertise. Designing someone's home (or business for that matter) is an intimate process. It's about who they are, but it's also about who they want to be and how they want to live. Our job is to work with them to figure that out. We're not delivering a design, we're unearthing how they are meant to live in the space, and we're bringing our aesthetic and sensibility to that process. Since we don't advertise, it's not just that we want them to be happy, we need them to be happy. If every job eventually leads to three new jobs, we'll be alright.
Speaking of secrets, what's the secret behind running a business together while raising a family?
Working creatively with the person you love is like spreading mascarpone and honey on a waffle — it's totally decadent to put two of life's greatest sweets on one fork, but if you can do it, why not? OK, there are plenty of reasons why not: starting a new business is completely all-consuming, starting a family is a total juggling act, and starting a business and a family with the same person is, well, kind of insane. The secret is probably balance: taking down time, taking time to yourselves, taking time as a family, and most importantly, taking time as a couple. We're not there yet, we're still in the trenches; but we're both determined, by some circuitous path, to get to that place where we need to be … and at least occasionally, to pick up a Masala tea along the way.
We welcome Made By Two to our growing roster of Harvest New Founders, and are excited to support them as they they make the world a more efficient, personalized, and beautiful place.