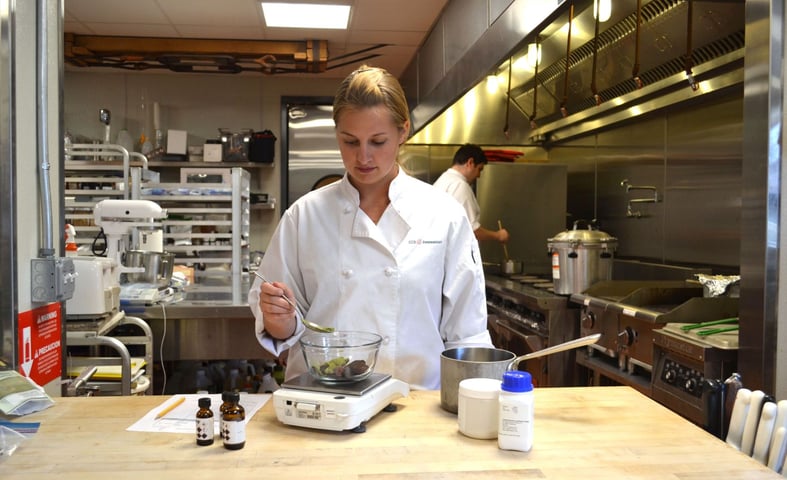 CCD Innovation's mission is to delight taste buds. The company specializes in creating new and mouth-watering foods and beverages, like Pepperidge Farm's Milano Slices—a personal favorite of CEO Ruth Halpern. "The texture and flavor combination just thrills me!" she says.
Creating that thrill is an integral part of what the company does. "Our mission is to make something so delicious that consumers come back for a second bite," says Ruth. "Clients often require us to create their product with guardrails such as, low-calorie with a health halo. We love this kind of challenge and using our expertise to create a delicious bite that consumers not only crave but feel good about eating."
A fantastic example of this principle in action is Goodfish, a company that worked with CCD Innovation to develop a crunchy salmon skin jerky. "It's like a potato chip, but with some of the healthy benefits of salmon," says Ruth. Loaded with protein and omega-3s, it's a more nutritious alternative for salty snack lovers. Even cooler? "It's a form of upcycling because it saves the salmon skin from being discarded during processing," says Ruth. "It's a great example of something that's innovative, sustainable—not to mention delicious and surprising."
As a culinary-focused product development agency, it's CCD Innovation's mission to reinvent the way people engage with food. "As food scientists, we challenge ourselves to see, taste, and experience food in new ways, so we can break through the creative barriers and invent products that are truly revolutionary," says Ruth. "However, creativity comes with boundaries. Experimenting can be endless when it comes to developing a new food or beverage product." So, in an effort to step up their operational efficiency, the team set out to verify that they were charging for their services proportionally to the hours they put in. But to do that, they needed a time tracking tool. That's where Harvest comes in.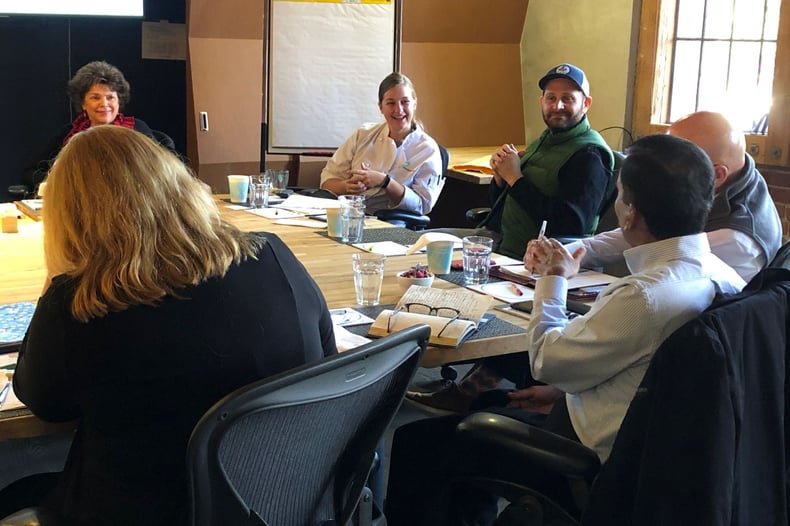 Insights as clear as a good pair of glasses
The biggest obstacle CCD Innovation had to overcome was a lack of operational data. They had some assumptions about their business—how long certain kinds of projects took, how much they needed to budget for each—but not a lot of real data to verify those gut feelings were accurate. "Our work is all fee-based," says Ruth. "At the same time, we need a framework for determining our fees. Then we need to verify it by seeing how much time we actually spend." She adds: "Once we adopted Harvest, we had a much clearer idea of how much time we spent doing specific kinds of tasks."
Ruth was familiar with Harvest from years of running small businesses that billed on an hourly basis. "What I like about the platform is that you can treat a project like a party and only invite the people you want. You get to choose what they see and interact with without having to open up the entire system to them." This is especially useful at a company like CCD Innovation, where there are quite a few cross-functional teams—in their case, the Culinary department, Project Management, Marketing Communications, Business Development, and Accounting.

By carving out space for these different departments within Harvest, the CCD Innovation team was able to finally put their hypotheses to the test. And as it turns out, they were pleasantly surprised by the results. "There was certainly a great satisfaction in realizing that we were budgeting accurately," Ruth says. "Except for really complex projects, people are keeping to the number of hours assigned to them. And it's helping us understand and define what makes up a really complex project and how we can anticipate that in our pricing structure." Thanks to Harvest, they have the data to think about those higher-order decisions. "We went from fuzziness to clarity," says Ruth. "It's like a good pair of glasses."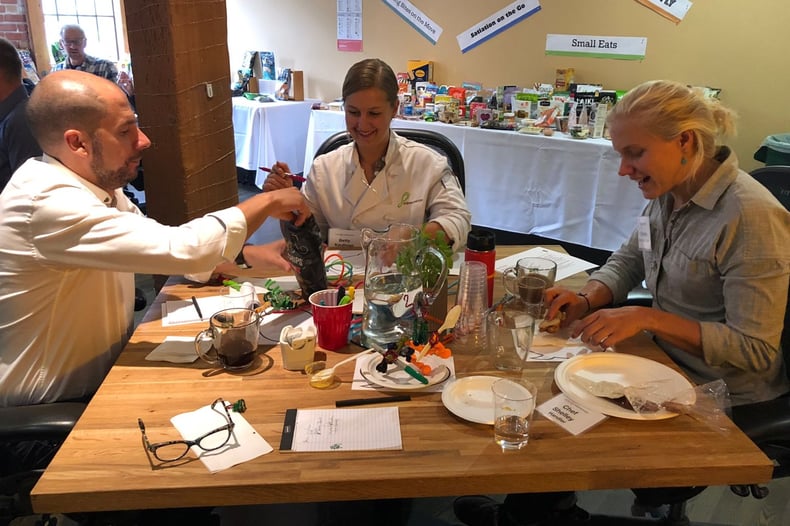 Improved planning, better project management
This deep insight into how the company functions allows Ruth and the team to be more strategic about the kinds of projects they take on and how they manage them. "Our clientele is a mix of giant international companies and brand new, small ones," says Ruth. "Harvest has helped us identify the minimum size project we should be taking on to align with our financial goals. We work with lots of startups, and we're excited about helping brands like Goodfish. Using Harvest, we can confidently show them that they're ready to tackle the entire innovation journey, all the way to the grocery store shelf."
Harvest has helped us identify the minimum size project we should be taking on to align with our financial goals.
Having used Harvest for the past several years, CCD Innovation has accumulated a fair amount of data—and they've tested their pricing estimates enough to know they're reliable. Still, every project they take on is unique. "Everything has to be tailored to the specific client, from their nutritional guidelines to their manufacturing process," says Ruth. "On one hand, we want to create templates to increase efficiency, but on the other, we know that each one of our clients is unique, and we customize accordingly."
That's why the CCD Innovation team finds it more helpful to treat the data they've accumulated in Harvest as a point of reference, not an exact template for future projects. "Harvest gives us a living record of how much time it took and who did what, so we can use it as a historical resource," says Ruth. Being able to benchmark current projects against past work helps them ensure they're staying on track. "It helps us to control the journey of our development process," says Ruth. "We can start with maybe ten options for new recipes, but we know that by the time we're halfway through our hours, we need to narrow it down to four.
We know that we can do this amount of work for you in this amount of time because we've measured it.
Having this record to look back on doesn't just help improve their project management internally, but also helps in their external conversations with clients. "We're able to present our offerings with confidence," says Ruth. "We know that we can do this amount of work for you in this amount of time because we've measured it." That's especially helpful in busy times, like the end of year rush. "In December, we receive many calls from clients saying, 'We have some money left in our budget, and we want to use it up before the end of year. What's realistic?'" explains Ruth. "We can answer that question candidly, because of what Harvest has taught us about our processes."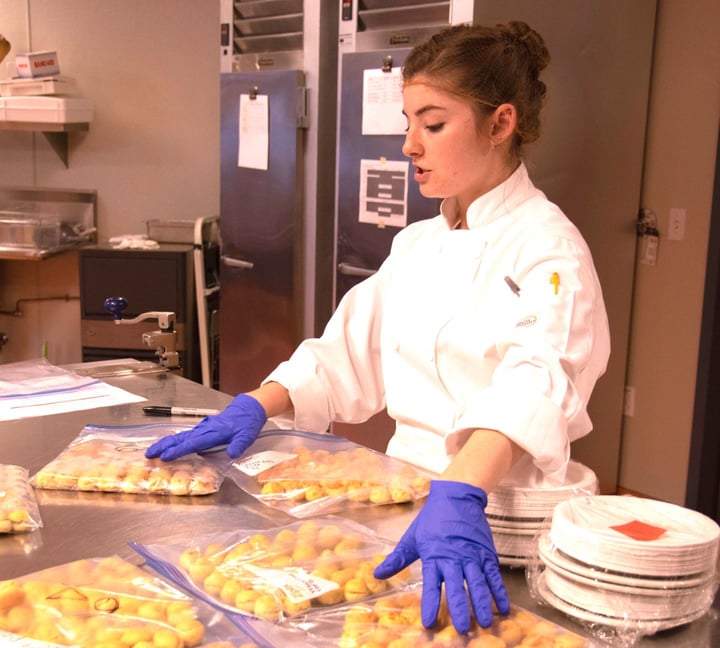 Meeting crisis with creativity
Like many businesses, CCD Innovation has faced a host of new challenges due to the COVID-19 pandemic. Thankfully—in large part due to a deep understanding of their processes—they've been able to adapt. Harvest has armed Ruth and her team with the data they need to weather this crisis, allowing them to get out of a survival mindset and put their efforts towards creative new initiatives. For instance, finding safe ways to conduct consumer taste testing.
"Right now, you can't bring a crowd of strangers into the office to sample products, so we developed a service that we call 'CarHop,'" says Ruth. It works like this: CCD Innovation recruits consumers to come for a tasting—only instead of meeting indoors, they remain in their cars in the parking lot. Product developers bring trays loaded with samples and questionnaire sheets to the consumers' car windows, so they can nibble and provide feedback within the safety of their own vehicles. It's like a 1950s drive-in restaurant—minus the roller skates—with virtually no contact between servers and participants.
Whatever the next year may throw at them, one thing's for sure: CCD Innovation will continue to shape our tastes—and Harvest will be there to support them every step of the way.