Time tracking and Invoicing Software
Get your invoices paid faster
Seamless Invoice Creation. Turn timesheets into accurate invoices and bill your clients with ease.
Team Reporting. PayPal and Stripe integrations let your clients pay invoices quickly and conveniently.
Accounting Integrations. Automatically copy invoices and payments to QuickBooks Online or Xero.
Invoicing & Payments
Turn your hours into money
Harvest automatically turns timesheets into invoices, so you can accurately bill clients for time and expenses.
Invoice clients for expenses
Create invoices from timesheets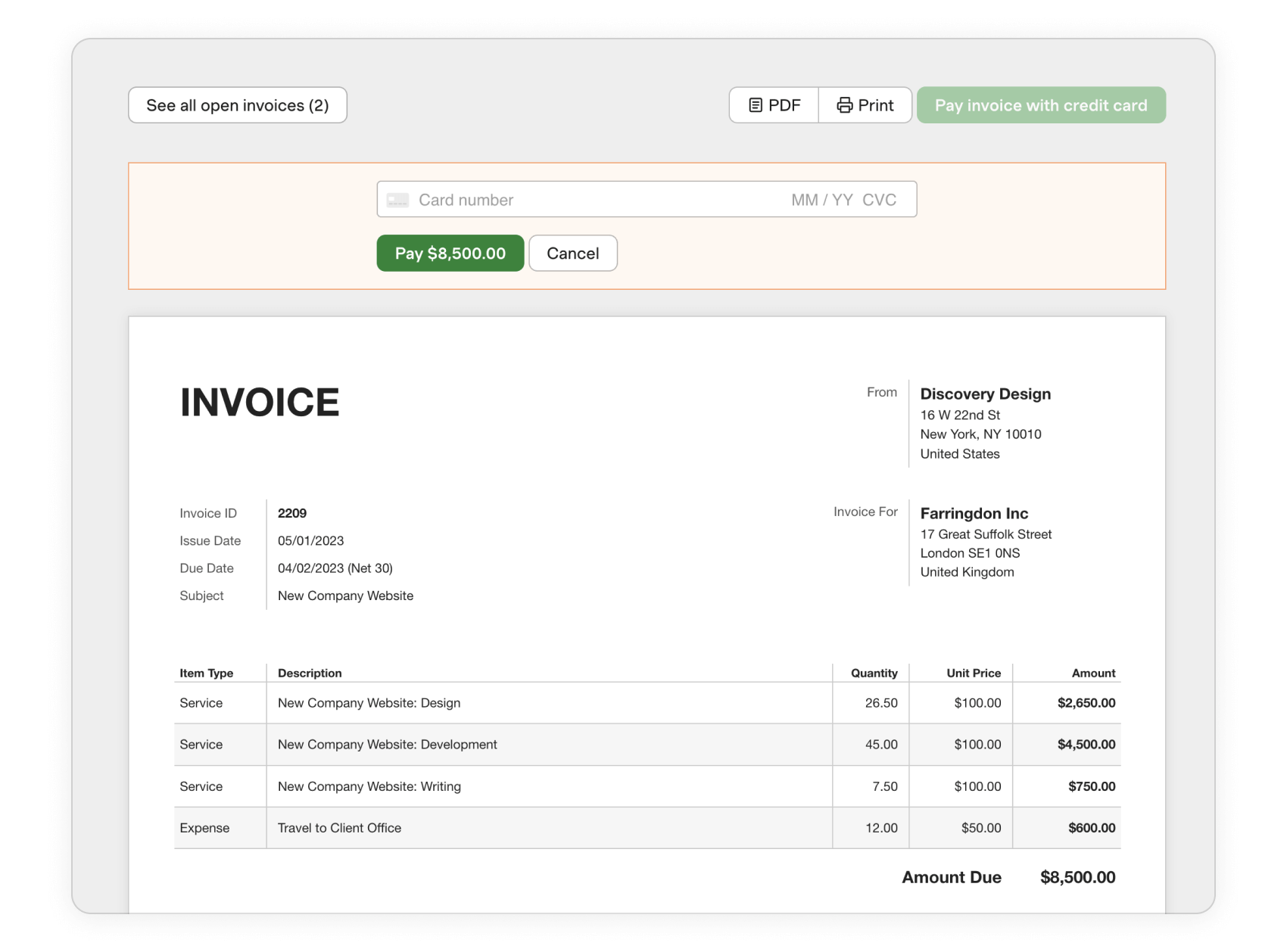 Create invoice from timesheets
Use Harvest's time tracking software to track time spent on tasks, then automatically turn those billable hours into online invoices.
Accept online payments
Harvest's integrations with PayPal and Stripe allow you to get paid fast, and make it easy for your customers to submit safe, secure payments with one click — hassle free.
Invoice clients for expenses
Track not only hours worked but also project and task expenses and add them to your invoices in just a few clicks — you can even attach photos of receipts.
Email invoices and reminders
Send invoices straight to your client's inbox from Harvest, and set up late payment reminders for a customized timeframe.
INVOICE MANAGEMENT
Easily manage your invoices
Harvest is a convenient place to keep tabs on invoice statuses in real time and streamline your accounting with recurring invoices and integrations.
Keep track of open invoices
Don't forget late invoices
See all invoices and payments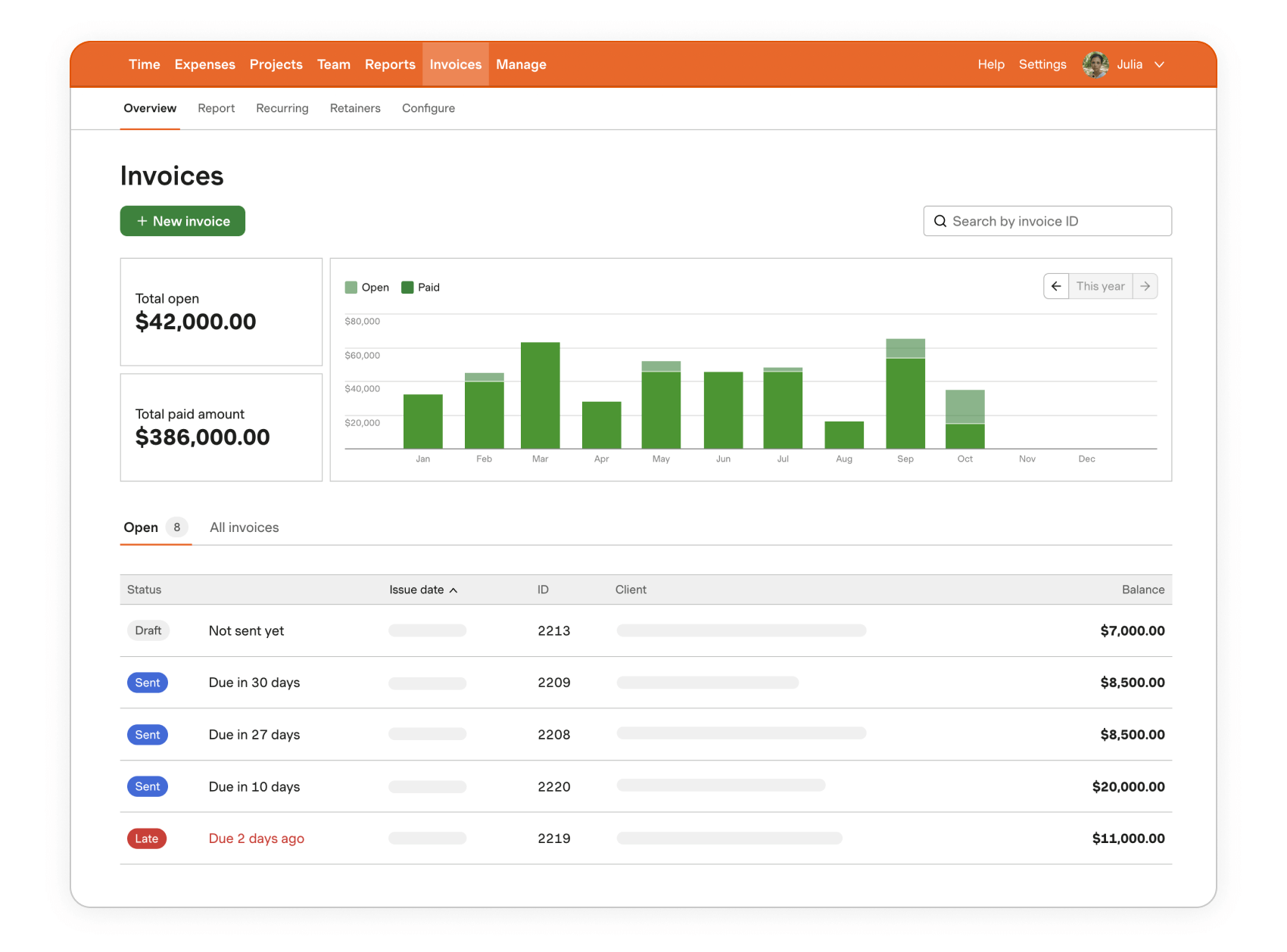 Keep track of open invoices
See which clients have paid you, keep tabs on unpaid bills, and manage any pending payments right from your Harvest dashboard.
Automate your invoicing
Take the pain out of getting paid and save even more time by easily setting up recurring invoices for repeat customers.
Streamline your accounting
Simplify your accounting process by automatically copying invoices and payments to QuickBooks Online or Xero through Harvest's integrations.
Generate invoice reports
Run detailed reports on your invoice data that can be exported and used in other project management tools, or shared with your accountant.
Invoicing Integrations
Make invoicing simple
Harvest's integrations with payment platforms and accounting tools make it easy to get paid and keep your books up to date.
Frequently Asked Questions
Invoicing software creates client-facing billing for the services or products you provide as a business. Using a comprehensive tool makes it easier to get paid because it streamlines the process and provides you with a bigger picture of your business's finances. It also helps ensure your payments are completed and processed in an efficient way.

If you use a time tracking and invoicing app like Harvest, you'll not only be able to take advantage of invoice management features but you'll also have access to time tracking tools for your team members. Combining invoicing and time tracking features makes it even easier to create invoices and get paid for your hard work.

The best invoice software is one that streamlines your payment processes. Instead of simply providing a tool for you to manually build invoices yourself, your software should provide a time tracker as well. This way hours worked on projects can be turned into automatic invoices, and your customers can easily pay them online.

Harvest is a great time tracking and invoicing software tool that creates a seamless experience from the first day of your project to the final payment. First, your time entries are automatically transformed into accurate invoice. Then, you can easily send them to clients via email and keep track of open and pending invoices. The best part — you can do all this on the computer or on your mobile app.

Once your customer is ready to pay the invoice, they can use Harvest's integrations with PayPal and Stripe to quickly and conveniently pay the bill online, hassle-free. And to help streamline your accounting practices, you can automatically copy Harvest invoices and payments to QuickBooks Online or Xero.

Tracking hours to include on an invoice involves a few steps:

Build your invoicing schedule.
Create a project time log.
Track hours spent on each client and project.
Track completed tasks in real time.
Record non-billable hours as well as billable hours.
Calculate total hours worked.
Prepare the invoice.

Luckily, a time tracking and invoicing software like Harvest takes care of steps for you, so you don't have to waste time building it manually. Sign up for a free trial today to see how easy it is to track time, send automated invoices to customers, and get paid for your hard work.

Invoice tracking is the process of keeping tabs on invoices once you send them to be paid for by your customers. There are a few steps to successfully tracking invoices. First, organize which invoices are paid and unpaid. And if a payment is overdue, you should send a reminder to the customer to send the payment.

Not only does Harvest send accurate invoices to your customers but it also gives you an easy space to track invoices from the initial send to the final payment. Get started with a free trial today to see for yourself how easy tracking invoices can be.