Time management software with reporting
Empower your team members with insight
Project Reporting. Track project budgets and costs to understand profitability.
Team Reporting. Visualize team capacity to improve productivity and reduce burnout.
Reporting Integrations. Generate custom reports, export your data, and sync it with other tools.
Project Reporting
Keep projects on track and on budget
Harvest's time tracking software turns timesheet data into intuitive visual reports to help you make decisions and ensure your projects run smoothly.
Visualize project progress
Track budgets & costs
Harvest's project management features let you set project budgets, see how much has been used in real time, and use alerts to help your team know when they're reaching a certain level of costs.
Analyze time spent
Dive into visual reports featuring detailed insights that let you know what your team is spending billable (and non-billable) hours on and how much your projects are costing you.
Keep projects profitable
Track time as well as internal costs and rates so you can pinpoint which tasks are impacting expenses the most and compare actual time vs. budget.
Improve planning and scoping
Build a library of previous projects and use critical data to learn from your past experiences and make more accurate project cost estimates.
Team Reporting
Manage your team with insight
Harvest's time tracking software turns timesheet data into intuitive visual reports to help you make decisions and ensure your projects run smoothly.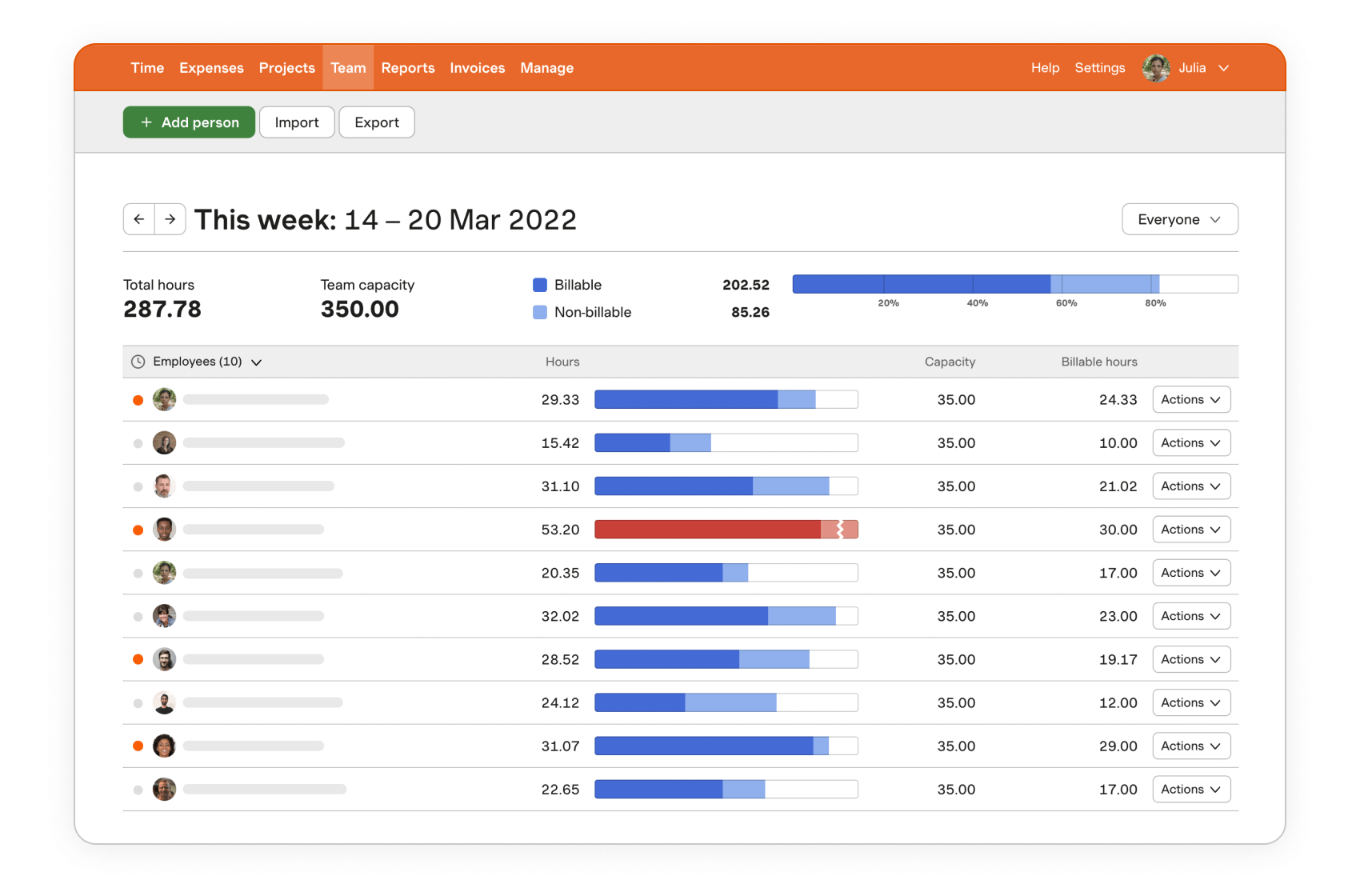 Improve time management
Give your team a detailed view into how they're spending time so they can recognize where they can be more efficient or set better boundaries to protect your time and prevent burnout.
Avoid burnout in your team
Use Harvest's reports of your team's managed time to understand each team member's utilization vs. capacity so you know who can handle more responsibility — and who risks experiencing burnout.
Optimize resource allocation
Keep a pulse on which team members need a bigger (or smaller) budget based on how much each task is costing as the project progresses.
Know when it's time to grow
With powerful insights into how your team is handling their current workload, you can make smarter decisions about taking on new clients, or even hiring a new employee for extra support.
Reporting Integrations
Do more with your data
Generate custom time reports, export them, and sync your data with third-party analysis tools.
Frequently Asked Questions
Time management software, also known as a time tracking app, is a time management tool that gives you the ability to track the amount of time you and your team members spend on the various projects your business takes on.

Additionally, many time tracker apps, like Harvest, provide additional resources to help empower your team and keep your projects on track, all within a mobile app. These can include task managers, productivity tools, budget tracking, and insights to help you make better business decisions and optimize your processes.

For example, Harvest's easy-to-use time management software turns your team's tracked time into visualized reports that provide a unique insight into how your team is spending work hours. This way you can see who is under-utilized, who is facing burnout, and when it's time to hire new employees to drive the growth of your business.

Time management software can also help with budget tracking. Harvest updates your project budgets in real time to help you keep your projects profitable and running smoothly. You can also keep track of internal costs and rates and review past project data to make smarter decisions for future plans.

The best time management software is one that is simple to use, but complex in its capabilities. Harvest makes it easy to track time from wherever your team works with dedicated apps across all devices — it even integrates with the productivity tools your team already knows and loves.

Despite its ease of use, Harvest is robust in its capabilities. From budget tracking, to detailed reporting, to fast invoicing, it's more than a simple time management tool. It's an app dedicated to helping your team thrive, all in just a few clicks. Plus, since it integrates with other popular productivity tools, it's easy to get started and implement.

Another great feature Harvest provides is internal expense tracking. By using the intuitive time tracking tool you can add project expenses to each of your activities in just a few clicks — you can even attach photos of receipts for your records.

Harvest does offer a free plan that is available for anyone to use, but it's best to start with a free trial of our Pro version to discover just how easy it is to capture time, gain insights from past projects, and get paid for your work — all in one place. To see for yourself why more than 70,000 businesses love Harvest, get started with a free trial today.

Pricing for your chosen time management app varies. The Harvest app does offer a free version that allows you to track two projects for one account user. However, to unlock the greatest benefits of Harvest like more detailed insights into your entire team's time spent on tasks, the Pro app costs less than $11 per month, per employee.

The good news is you can get started with a free 30-day trial today before we even take your credit card information. This way you can discover for yourself how Harvest makes it easy to track time, gain powerful insights, and get paid — all in one place and within a few clicks.

Time management among your team and business is critical to the success of your projects. Usiong effective time management allows your team to plan out their days knowing all the necessary tasks are completed in a limited amount of time without experiencing burnout.

Teams who don't utilize an effective time management strategy are more likely to delay project deadlines, produce work that doesn't meet company standards, disrupt work/life balance and feel more stressed.

What are the benefits of time management? For starters, a solid time management strategy motivates your team to complete their goals, in less time. If your team can manage their time effectively, they have a much larger chance of using the limited hours in the workday to achieve the greatest possible results.

It's easy for your team to get distracted during the eight hours of the day responding to emails, planning too many meetings, and other tasks. But with solid strategy behind time management, they're more likely to advance projects, engage in smart planning strategies, and work to sharpen their skills overall.