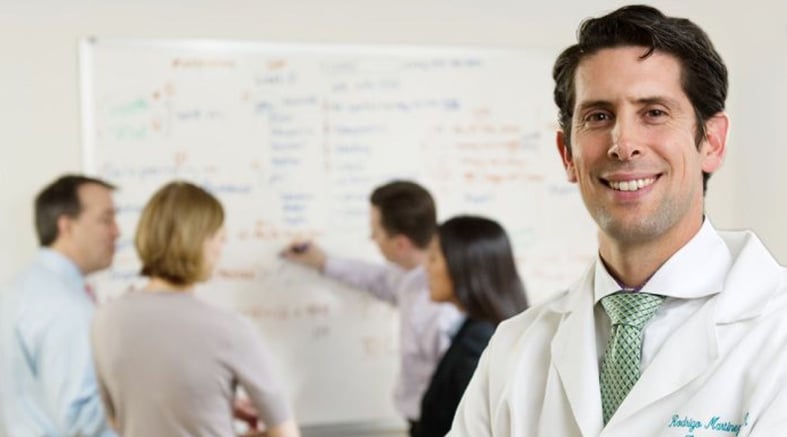 Clinovations provides strategic advisory services and management consulting to healthcare delivery systems, national associations, and government organizations. Clinovations' team of clinical and operational leaders works on solving strategic, clinical and IT challenges to move the healthcare field into the digital age.
Getting the right information at the right time
Not so long ago doctors and nurses focused solely on the patient in front of them, and the information in that patient's paper chart. Today our healthcare system is more sophisticated, bringing some technical complexities along with patient benefits. Specifically, information for one patient can now be seamlessly shared between hospitals, specialists, primary care physicians, and other medical practitioners. Clinovations works with hospitals and healthcare providers to develop more effective ways to standardize, share, and manage that information so they can better deliver care.
A tool that supports growth
As business grew, the need for proper time management and resources grew as well. Explains Dr. Trenor Williams, Clinovations CEO and co-founder, "We started out doing spreadsheets. In a year and a half, we grew from 10 to 70 employees. When it was a small company of a few people, Excel was easy and simple and free. As we grew, the number one priority was that we needed a tool that could grow with us. The second priority was that we needed a system that is simple and convenient."
In addition, Dr. Williams recognized the importance of built-in reporting to ensure the success of a project. "Then we started to realize the benefits of reporting, analytics, consolidation and aggregation, with reporting views. We use these reports all the time, to be able to really assess our individual projects. We can see how they're performing and how we're going towards our goals."
Peace of mind
Dr. Williams and his team were woefully exposed to archaic enterprise software in their previous jobs. "Most of us come from big management consulting firms that used different systems, including the Fortune 30 homegrown customized applications, and none of them worked well."
As Clinovations grew, they found they could not rely on spreadsheets the way that they did when the team was smaller. "When trying out Harvest, it was an easy choice at the time, and when we made the choice I don't even think we appreciated all that it was going to do for us. We use a lot of cloud-based solutions for a lot of different things but Harvest is our anchor. It's the one we don't ever have to worry about, which is really peace of mind for us. It's that one application, and we use lots of them, that we can always depend on. Harvest is the best tool I have ever used for time and expense, and it is very convenient and effective."
Harvest is our anchor. It's the one we don't ever have to worry about, which is really peace of mind for us. It's that one application, and we use lots of them, that we can always depend on.
Easy adoption
Says Trenor, "In my past life, it's been a stressor around my management of time and expenses. With Harvest, it's easy, and now I want to be able to do it. Whether we're checking in on global stats, projects, or individual team members, it's just become a daily part of how we run the company. We get a lot of employees that came from other places that use other systems and it's usually one of the biggest satisfiers of the onboarding process. They download the iPhone app and say, 'You mean I can take a picture of the receipt?'"
Adopting Harvest requires little planning or training for consultants on the team. "We do a lot of change management, one technology to another, and often it takes a lot of orchestrated planning. The beauty of Harvest is that it's very easy to learn. Literally, I don't think we've ever done a training. Our consultants are pretty good with technology and it's been seamless."
The beauty of Harvest is that it's very easy to learn. Literally, I don't think we've ever done a training.
Adding expenses right from your phone
At Clinovations, they encourage everyone to download the mobile app, especially for those that travel. "The mobile app for expense tracking is one of the nicest features and one of the easiest things. If you've ended a two week trip and you have a stack of expenses, it's not unusual to be scrambling to get everything in, and getting in trouble from your manager or partner. Now we're those partner-bosses who are getting on everybody for not having their expenses in. That mobile apps have been really good for easing that stress."
Keeping the team on track with reports
For Trenor and his team, being able to get the big picture of the entire company – from billable work to the percentage of billable time – and looking globally at growth has been extremely valuable. He explains, "For us, hours directly correlate to our revenue. As a leadership team, we track time to activities based on projects, and we also help our teams. If they get out of balance, that's a warning sign for us that somebody is working too much or too little and in need of more activities. It's a kind of universal monitoring tool for the health of our business in a lot of ways, because our hours matter both on billable and non billable activities; we can see what people are up to and how we can help them."
"Then breaking down reports at the partner level and the project level, we now can't manage without it. Our individual project managers rely heavily on it. We do a ton of checking and management prior to sending out invoices with our clients. We use Harvest as our source of truth for that information, and that has been really great for us."
As Clinovations scales their team, Harvest is there to make it easy for their team to track time and expenses, and provide meaningful reports of the data they've tracked. This helps them stay focused on strategies to bring the healthcare industry into the digital age.