Harvest + Coupler.io
Export data to Google Sheets, Excel, and BigQuery
Integrate Harvest with Google Sheets, Excel, BigQuery and other destinations in the blink of an eye and with no coding required. Configure Coupler.io to refresh your data every 60, 30, or 15 minutes to ensure that your dashboards and reports are always up-to-date. Automatically merge Harvest data with the records imported from other apps such as Clockify, Jira, and so on in the same destination.
Import Harvest data to BigQuery to create a backup version, or use this integration to collect time tracking information and insights from other apps in one place.

Connect Harvest to Google Sheets to create custom reports, build dashboards in Google Data Studio, share data extracts with colleagues and stakeholders, invite team members to collaborate, and more.

Import Harvest data to Excel to leverage advanced in-built functions, VBA, connect it to Power BI and Power Query, combine and blend data from various sources in a single worksheet, and more.
Start today and
configure your first integration using the Coupler.io free trial!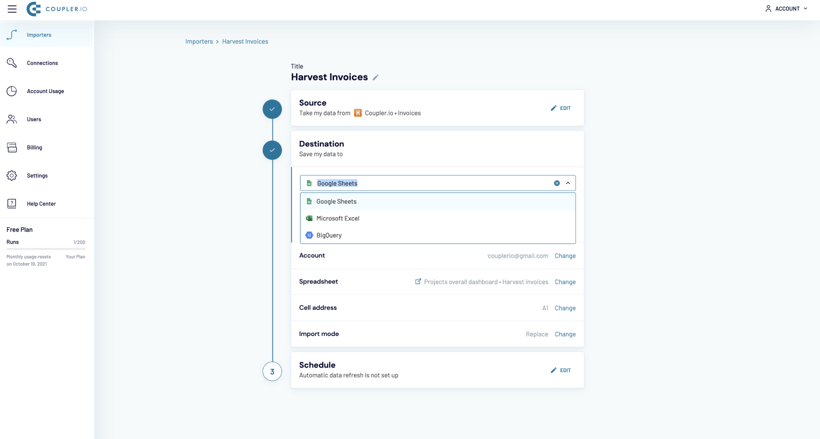 Need help getting started?
This integration is not built by Harvest. Contact its developer for support.