Harvest + eazyBI
Custom timesheet and invoice reports & dashboards.
eazyBI is an easy-to-use but powerful and flexible web-based visualization, analysis, and reporting tool, greatly extending built-in Harvest reporting with custom reports, data visualization, and analysis functionality.
You can create unlimited custom reports and dashboards with a drag-and-drop interface from any browser. Analyze your Harvest timesheets, billable and invoiced hours, billable amounts, projects, and expenses. View your data by project, client, task, status, or person and narrow it down to a specific time period.
Analyze your Harvest invoices, including data such as amounts, items, discounts, taxes, issued dates, and due dates. Review your invoices by client, project, invoice status or category, currency, or a specific time frame. You can also view all of your stats in one currency—thanks to currency exchange fields. Use personalized Harvest reports and dashboards with powerful calculations.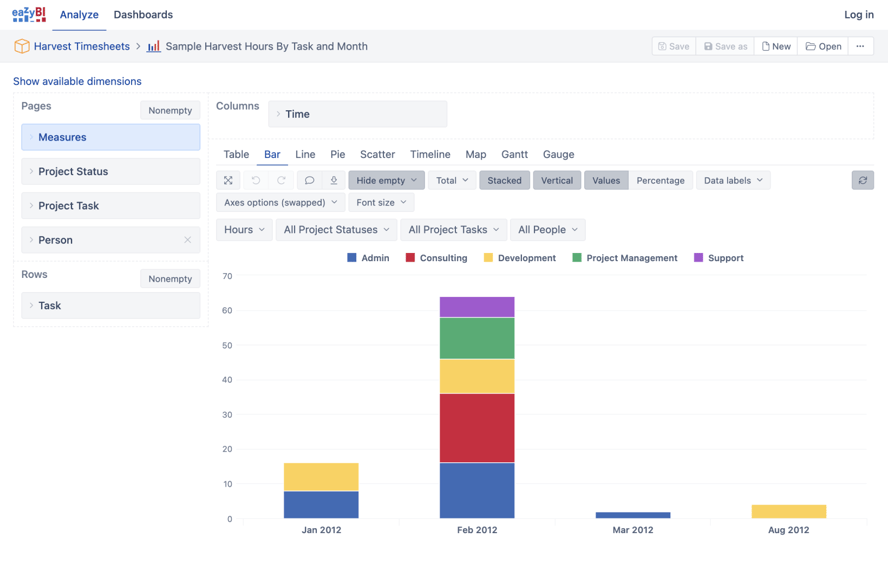 Need help getting started?
This integration is not built by Harvest. Contact its developer for support.