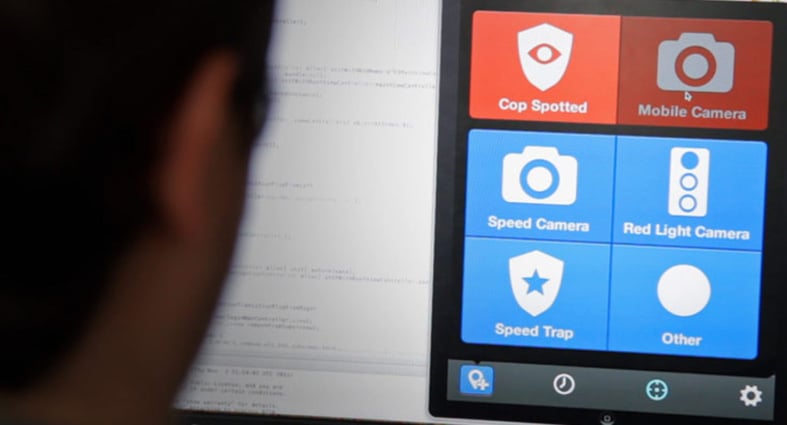 Mutual Mobile is a mobile design, development, and consulting company based in Austin that helps companies take advantage of modern mobility. Founded in 2009 by five graduates from the University of Texas, Mutual Mobile expanded to 30 people in their first year, and now employs a 250-person global workforce. Forbes named them one of America's Most Promising Companies in 2011, and they have produced award-winning apps for Google, Audi, Cisco, and more.
New applications for mobile devices
Mutual Mobile is innovating in an area they call 'Machine-to-Mobile,' a unique exchange between products that is controlled by a mobile device such as a smartphone or a tablet. M2Mo capitalizes on the ubiquity of smartphones and tablets to change how we interact with everything from medical equipment to household appliances, factory machinery, and even football helmets.
ESCORT Live!, built by Mutual Mobile for the radar detector company, uses Bluetooth to link detectors to drivers' iPhones or Androids. The application displays an interactive alert map and monitors driving speed, and pushes every driver's data to the cloud to create a real-time map of threat alerts from around the country. Says Sam Gaddis, Chief Marketing Officer, "We're pulling mobile away from being just a phone and placing it at the heart of a much larger system."
Time tracking is essential to business strategy
"Harvest was one of the first tools the founders signed up for. We had a Harvest account before we had a Gmail account," says Ed Ireson, Director of People Operations. "The user interface is incredibly easy to use and beautiful, and it gives our employees a low impact way to deal with a menial task. Harvest works well for us, and people actually use it, because the barrier to entry is so low to enter time."
We had a Harvest account before we had a
Gmail account.
The Mutual Mobile team did extensive research on a variety of solutions to track their time. Many systems they found were difficult to interface with, both as an end user and as an administrator. Says Ireson, "In fact, our HR system and our Development tool both have time tracking, but we don't use them. We wanted something separate to really just look at time tracking, and customize it to exactly how we work."
Flexible time tracking
Ireson explains, "One of the reasons we selected Harvest is that the barrier to entry for entering time is so low that we actually have to do very little training. In fact, we used to have a screencast about how to use Harvest, but we got rid of it because no one was using it, they didn't actually need it. It is incredibly easy to get new hires on board with Harvest."
Many members on the team also utilize the iPhone and Android apps. Says Ireson, "Having the ability to snap a photo of a receipt and submit an expense has been incredibly useful."
It's incredibly easy to get new hires on board
with Harvest.
Managing billable and non-billable time
Mutual Mobile uses Harvest reports to support best practices for HR. They have standard policies around time tracking (like making sure people don't enter more than 4 hours per task), and most importantly, they export the data to their billing system for analysis and billing. This time tracking data helps them make sure they are hitting their billable benchmarks. They've even gotten to work on building their own integration using the Harvest API, for HR compliance and advanced reporting.
As Mutual Mobile grows, Harvest has the tools they need to grow with them. With Harvest tracking their time and expenses, Mutual Mobile can focus on pushing the boundaries of mobile technology.