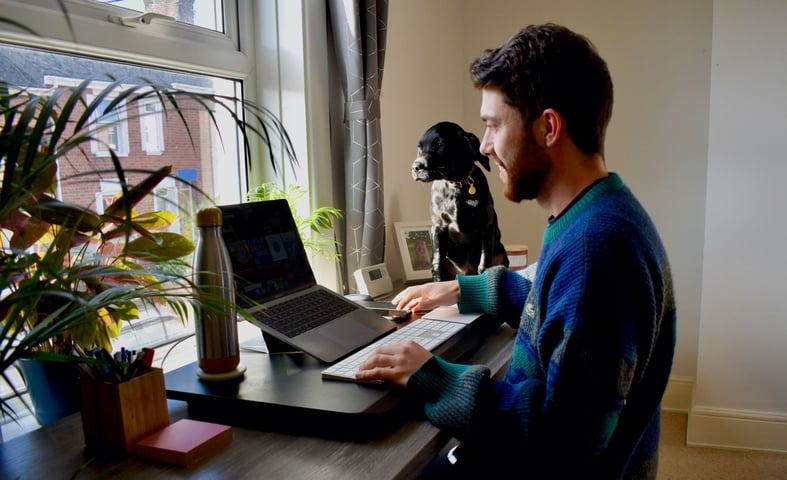 Spread across London, Porto, and Lisbon, YLD is an engineering and design consultancy that spans industries as well as geography. Their past projects have included everything from designing an app for doctors to rejigging a 177-year-old news magazine for mobile.
No matter what project they're working on, collaboration is at the heart of their work. They're big open source advocates (just look at their GitHub)—and this collaborative mentality extends to their relationships with their clients. "For us, it is really important that our clients feel that we work closely with them to solve any of their problems together, as one team," says Luis Klefsjo, Delivery Manager at YLD.
In pre-pandemic times, that often meant they were physically at their clients' offices each day. While they're cognizant that when they take on a project, they won't be there forever, their goal is to bring as much value as they can in a short period of time. "We want to help them be in a better place than when we joined," says Fábio Oliveira, Managing Director. And it works. "We see it in the feedback that we're getting but also in the way clients act with us," says Luis. "Quite often a client's internal team members forget or don't even realize that we are from an external company, and we have even seen our teams getting invited to what normally might be internal company events." Their distinct approach has attracted big-name clients like The Economist, Canon, and Trainline.
I think it's currently the longest surviving
subscription we have.
Part of what helps them maintain such a positive relationship with their clients is time tracking. Like many consultancies, time tracking is an essential part of their workflow—it's how they bill projects and get paid. But for YLD it serves an even more important role: It cultivates transparency with their clients, leading to a high degree of trust. Further, the data generated from tracking their time empowers them to make better internal decisions for the business and plan ahead.
YLD has used Harvest as their time tracking solution since 2014, almost from the founding of the company. "It must have been pretty much from day one," says Luis. "I think it's currently the longest surviving subscription we have," adds Fábio. They've been using it for so long that it's easy to take the tool for granted.
That is, until they had to live without it.
A Harvest-shaped hole
Three years ago, YLD started a sister company in Portugal. To experiment, they tried different operational systems than what they usually use for their main business—including Harvest. In its place, they tried other time tracking tools. But it didn't go smoothly. "We've always had problems," says Fábio. "Not that many problems, but just enough that our timesheets would get questioned."
Luis speculates that Harvest's detailed invoices have largely shielded them from this problem in their main business. "Think about receipts from a shop," he says. "If it doesn't say what it is that you bought, it's very easy to go back a couple of weeks later with that receipt and say, 'I don't know what that was.' It's the same when you're talking about large bills for a company. But if the name is there and the task is there, it's easy not to question it because it's very obvious and transparent."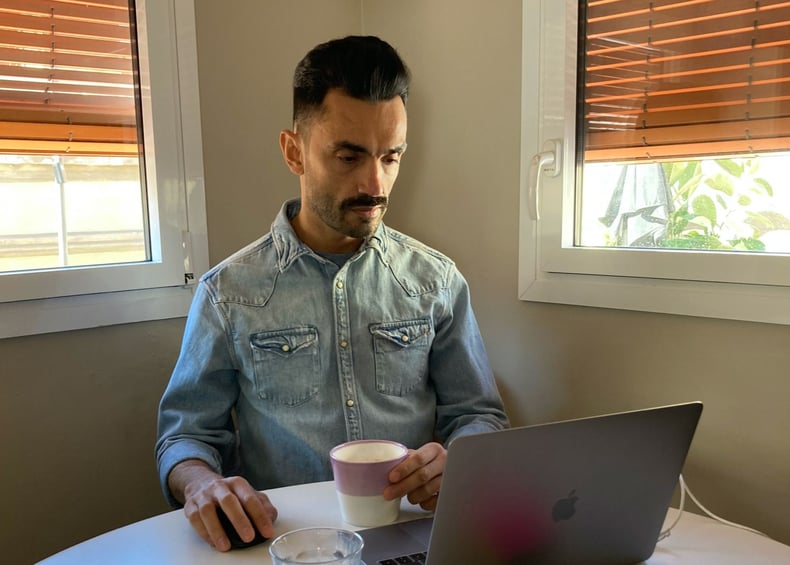 In contrast to their sister company's invoices, when YLD invoices clients through Harvest, the invoices list the name of the people working on the project—not just the project item. "It's very rare that anybody actually questions the invoices because the people who pay the invoices recognize the names, and they know that they're on the team," says Luis. Their clients' accountants may even know the members of the team personally, especially if they've been coming to the office each day. The invoices are transparent and easy to understand.
Putting employees' names on their invoices is a small personal touch, but it all contributes to the trusting, collegial relationship YLD tries to cultivate with its clients. Not to mention that it saves them a lot of headache. "Getting invoices questioned is something that we really don't want," says Luis.
And so—as of August 2020—YLD has made the decision to migrate their sister company's team of about twenty people to their main Harvest account. It's been a breath of fresh air: "As far as I know, there has been no issue so far, both on our side with people getting used to the system and the client-side," says Fábio.
It's very rare that anybody actually questions the invoices because the people who pay the invoices recognize the names, and they know that they're on the team.
Planning for the future and managing projects
in the present
Time tracking through Harvest doesn't just benefit YLD's clients—it plays a key role in how the consultancy makes internal business decisions too. "It's very good to be able to look at archived projects," says Luis. "It really helped us to forecast or build or understand how we're going to build the team for our next project."
When planning ahead, YLD looks to similar past projects to determine how much time their team spent on different aspects of the project. How much time did they spend on the research, design, and engineering phases? How big was the team? What was the team mix like? All that information feeds into their estimates for future projects.
For instance, Luis recently received a request for information (RFI) for a project that had a lot of similarities to a project they're working on right now. Before he started working on the RFI, he went into Harvest to see how the current project is tracking.
"What I realized is there were some issues," says Luis. "I could see from early on that the team was possibly a little overworked, and they had a bit too much to do. We probably should have had some more people on there. For this project, we didn't want to cause the same staffing issues." This time around, he's adding more people to the team from the outset, to factor in the extra design and engineering load his team will face at the beginning of the project.
It's very good to be able to look at archived projects. It really helped us to forecast or build or understand how we're going to build the team for our next project.
But Harvest doesn't just provide a useful retrospective that the YLD team can consult when they're planning future work. It also helps them make adjustments in the present: "Being able to see that someone has logged 10 hours allows me to reach out and email them directly from Harvest and say, 'Talk me through those extra hours. Why did that happen?'" says Luis. "And even if the conversation isn't continued on Harvest, Harvest helps us to flag it, so we can say like, 'Okay, in that case, then you need to leave early on a Friday, you need to start later on a different day.' We're not a big fan of overtime, so we really encourage people not to do that. If that's something that you need to do, then we need to look at how we planned out the work, then that's the problem."
Harvest simplifies YLD's internal decision-making, allowing them to plan ahead effectively and tweak their approach as needed. Crucially, using Harvest in the project planning, staffing, and management phases frees them to spend more time doing what they do best—foster great relationships with their clients whilst building awesome products for them, as well as supporting the vibrant engineering community.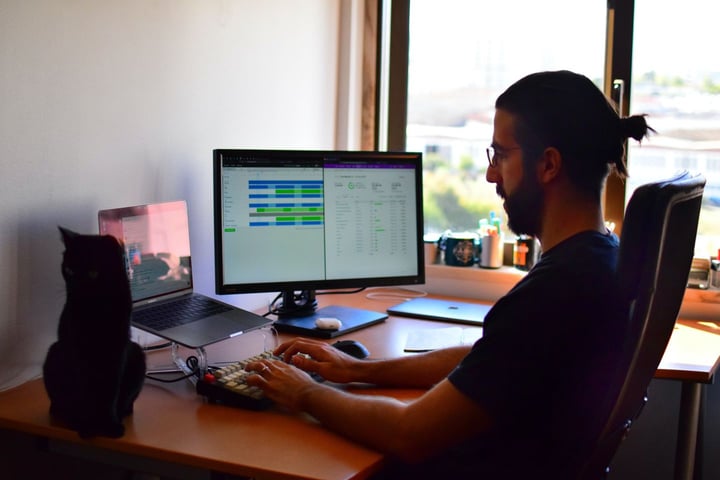 Filling the gap with transparent invoicing
Needless to say, Harvest is going to continue to be a part of YLD's core toolset for the long haul. "I'll be honest, it just does the job," says Fábio. "Just allows us to be able to track people's time, not just to know if they've worked or not, but also it's such a cornerstone of how we bill our clients."
More than that, time tracking through Harvest plays a key role in fulfilling their mission of building community. The detailed invoices they create enhance transparency with clients, which helps support trusting, collaborative relationships. Planning and staffing their projects with the help of the tool simplifies their decision-making process, enabling them to give their full focus to their clients and their community. Whatever projects YLD takes on in the future, Harvest will be there to support them.