We've been busy on the Harvest farm adding a few features everyone's been asking for. For starters, we're just rolling out a mini-API for all accounts. This allows any one to build a separate time entry interface on top of Harvest. We are calling this a mini-API because the functionality is limited to time entry and toggling. We'll be broadening our API functionality in the near future. Head on over to the Harvest API page for more details.
Along with rolling out an API, we've been developing a little something for Mac OS X users. Here's an early look at the Dashboard widget we will be releasing very soon to make time tracking easier than ever: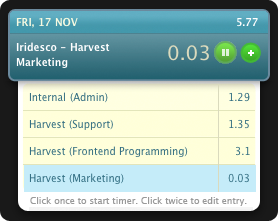 UPDATE: Download the widget here!