"Big, small, blonde, brunette, Mac, PC, straight or curly," Salon Geeks work with all types of salons and spas, providing them with technology, marketing and retail consulting. They are also Harvest users and this month's new founders.
We had the chance to chat with Anthony Angell, who stumbled upon the idea while manning the front desk at a friend's salon; and Tiago Soromenho, who joined Salon Geeks shortly after seeing and being impressed by Anthony's interaction with a group of salon owners at a local Apple Store.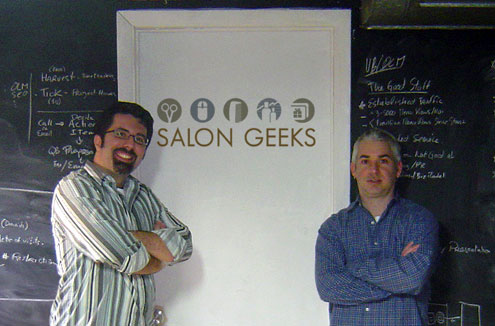 How did you start Salon Geeks?
Anthony: Just over a year ago, I walked out of a high-pressure sales and marketing job with an awesome salary after almost 6 years. Since I didn't have a backup plan as a fireman, or chimney sweep, I was asked by a friend to take care of the front desk of his salon while his receptionist was away.
The minute I sat down behind the salon desk, I knew I had a project on my hands: their computer was old (and dusty, with little bits of hair), there was no organization to speak of, the retail needed attention, and there were no customer incentive programs in place. To make things almost as bad as Britney's new look, they had no WiFi or iTunes.
I asked the owner about a makeover for his salon. It's a hot salon, in an awesome area, etc. but needed a lot of fine-tuning which he was too busy to do. In about a week, I upgraded the software, installed high speed internet with WiFi, and more. I then pitched an incentive program for clients, which he loved.
Suddenly, I thought to myself, "Wow, I'm like a salon geek or something!" Racing home, my next career just a domain name away, I registered salongeeks.com and the idea was conceived.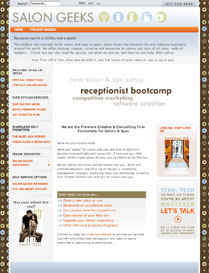 From an outsider looking at your business, it's a brilliant idea – there is an obvious need, and your company fills it perfectly. Did you realize that when you started?
Anthony: Not at all. For a few moments it was just a one-off thing, I threw up a one page website, sent a few emails, got a few calls. Then, upon a subsequent visit to my first salon client, I met another salon owner/haircare products distributor. After a couple of minutes she inquired…"Wow! Can you do all of this for my 2 salons?" A few weeks later while at her 2 salons, I was visited by a friend of hers who had a spa in Florida. After a 30 minute coffee break at this keen little shop outside Baltimore, I had another client. A couple of weeks later a high-end nail studio to the stars called from Beverly Hills for help.
Suddenly I had somewhere to be on Mondays.
Tiago: Soon after that, I met Anthony giving a presentation at the Apple Store for Salon Day. My wife was starting a salon and we were looking for the advice of someone, something that knew about software & technology and the creative aspect of the Beauty Industry. The minute he introduced himself and uttered the words "Salon Geeks" I knew right away there was one heck of an opportunity there. Like you said, there really isn't anything like it out there. So I said to myself: 'I need to be a part of this' and contacted Anthony to see if he needed any help funding and running Salon Geeks.
What are some of the challenges in your first year of business?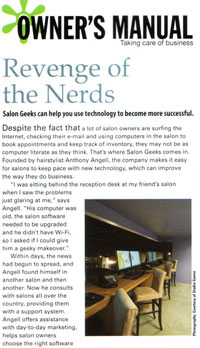 Anthony: For me, it's being Italian. I like to wave my hands, talk, talk and then I usually start to talk more. When we first started, time management was a problem: Our first press release was very successful and got us into Modern Salon Magazine, Beauty Launchpad, Salon Today, and American Spa. I began to spend hours and hours on the phone answering inquiries about Salon Geeks from salons everywhere, and had no time to get work done. It was, and still is, a challenge to juggle marketing ourselves, doing actual projects while still being inventive and somewhat nerdy, and trying to develop that next cool thing. Oh and taxes. I hate taxes. We had to hire some stuffy guy that knows how to work a calculator and he's always harshing on us for something.
Tiago: Like most start-ups, the greatest challenge is to put processes in place that may seem burdensome when we're small, but will be key when we grow and have to coordinate more tasks and people. Things like project management, time tracking, billing and invoicing processes, etc. Demand, for us, has never really been an issue; Creating the right business model is still something we attend to daily.
What's the one thing you love most about running your own business?
Anthony: I'd have to say Pajamas. I love pajamas. Working from home 75% of the time, you don't have to get all dressed up. You just hit the button on your coffee machine, lurk downstairs into the basement, turn on the Mac, and instantly you're at work for XYZ Salon in California, or ABC Spa in Miami. I still get to hang out with my dogs, set my own hours, and wear pajamas. Also, as most of our clients are wicked slammed on Friday and Saturday, no one ever really calls, so you pretty much get weekends off by default.
Tiago: Yes, the flexibility is great, although that also means that any hour is a potential work-hour, and it's sometimes hard to be able to kick-back when there's so much that needs to be done. Mainly though, I love the control you have over your own destiny. I believe things happen, whether good or bad, because of what you did (or didn't) do. It's a constant learning curve, and that's exhilarating.
One thing we have learned over the years is that a good idea is worth very little unless executed correctly. And we are very impressed with the way you carried out your business – how you're using different tools and creating different programs. Can you tell us more about Salon Geeks University and your newsletter, The Nerdy Stylist. Why and how did you start those programs, and how have they helped you?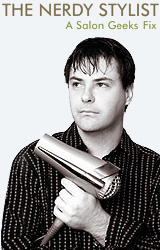 Anthony: The Nerdy Stylist started first as our way of getting salons acquainted with our company, expertise, and most importantly style. We're not your typical geeks. In the very beginning we had more time than clients, of course. We needed a way to let our audience know just how clever, and NOT boring we really were. We created The Nerdy Stylist personae and newsletter as a way to reach out to people, give them a little education, show our stuff and hopefully entice them to come play with us. In a short period of time it was obvious that people were digging our style, and we now have subscribers in 54 countries. We were really motivated right from the beginning too. We use MailChimp.com to send our newsletters, and about 30 minutes after sending our first one—might have even been the TEST one—we got an email from MailChimp that they wanted to showcase the Nerdy Stylist on their site. For someone kinda awkward looking, that guy gets around. We've been very fortunate that our ideas and style are embraced by people so much smarter than us!

Anthony: As for Salon Geeks University, it's much cooler than the beauty school I went to. We use a privately labeled webinar interface to educate and 'wow' our clients. Through either the Meeting or Support functions, we work with clients to show them new marketing ideas, our latest offerings, or introduce them to other tools that are out there. We also dabble in support, and of course, Online Education is huge. Soon we will offer an entire curriculum and classes on-demand. Especially for this industry, being hands-on even from 3000 miles away is pretty important and Salon Geeks University allows us that convenience.
Tiago: You know, speaking of tools and different programs, ever since that stuffy accountant guy has come around and asked about our monthly bills, we realized that we use almost exclusively web 2.0 applications for all our internal systems. We even got him to do our accounting on QuickBooks Online. The benefit is that we can be on any computer, anywhere, with Internet access, and we can update our projects, bill clients, enter our time, check our voicemail, view a remote client's screen, etc. And I love logging in to one and noticing 'hey, look, they've added that feature!' I used to fear/resist this distributed, fee-based computing model, but in practice, I've come to realize that this is really the future.
What are some essential tools you use for your business? (not limited to just web apps)
Anthony: I'm confused? Could you translate NOT LIMITED TO JUST WEB APPS? What else is there? Well, we really like PhoneValet, by Parliant Corporation, which takes our calls and made us look big when we were just starting out in the basement. We use some application called Harvest to manage our time. It's pretty slick! But affordable, especially for us! Magazines are really important for keeping up on the industry, but perhaps the most essential tool (considered a weapon in several Western states, if I am not mistaken) is the Press Release. It has been invaluable for exposure.
Tiago: The most important tool is our creativity. And it is a tool that requires regular feeding of curiosity and play. That usually happens through our Mac laptops and the constant flow of cool new online tools and capabilities. We're platform neutral with our clients, but when it comes to our own business, we cringe when we have to jump on Parallels Desktop to use some program that only runs on Windows. It's actually not so much Windows itself, but the approach (or rather, lack of) to usability and aesthetics that Windows programs usually display. Few people realize how a bad interface can really inhibit creativity. Another crucial tool is IM. Really, the next level to that is direct brain implants. As important as IM is, the act of typing does waste a lot of time! Often, we'll have Video iChat on for hours as we work on projects. We'll be in two different states but still feel like we're in the same office.
One other necessary tool is a good spam filter. I use Spam Sieve and Anthony uses Clear My Mail. When you're on the public eye as we often are, our emails get picked up by every spambot in the world. Yesterday, I had over 2000 spam messages in my Junk Email folder. You can't manually go through all of them, and losing a new client's email inquiry can be costly. Spam is probably one of the biggest unreportable costs of any online-based business, and so little is being done about it. That needs to change.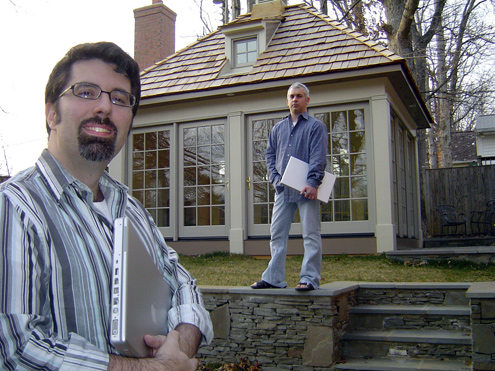 How do you see Salon Geeks in one year?
Anthony: It would be brilliant if there was an Army of Salon Geeks, brilliant guys and gals in every metropolitan area helping move the industry forward. I'm not sure we'd embrace green like the military, however. Maybe uniforms by English Laundry. Anyway, that's a goal we're aiming for. I'm also working on making the Nerdy Stylist a syndicated column in one of the national magazines and having a full time school where we train Salon Geeks Certified staff. Maybe in a year, as we become more successful, I can also take a day off to locate all of those missing Netflix DVDs.
Tiago: I think by then we'll actually take out ads in magazines just because we can. It's amazing how traditional advertising is so inefficient for short-term response. But you know you've gotten past a certain stage when you can invest in long-term branding and name recognition without selling one of your kidneys. Though I don't think we'll ever rest on any laurels: We're too hyperactive for that. We'll probably be testing out some new online tool or application and thinking of new uses for it.
What's your advice for the people out there who are bored with their day job, but does not know what to do if they leave their job?
Anthony: Be smart, but realise that trying to breathe life into an idea that's in your heart or mind, or worse both, while still putting in 60 hours a week for someone else, is almost impossible. The way I look at it, you have a finite amount of time between birth and death and creativity and challenge are two of the greatest gifts you'll ever receive. You should also stock up on comfortable pajamas BEFORE you quit your day job, those things are expensive. Oh and taxes. Get an accountant immediately.
Tiago: Put up a website about your idea as if it were a real product. That doesn't take that much effort. Maybe a small investment in a designer to make it look professional, if you can. Then send out a press release on PR Web and maybe budget a hundred dollars a month or so setting up a Google Adwords account to place some sponsored ads on searches related to your idea. Yes, it may be 'vapor ware', but you can also judge the response and demand for it from emails and inquiries. If it looks like there's enough to take a risk and go it full time, at least it will be a more calculated risk. The most important thing though, is taking that first step to make your idea more than just thoughts in your head.
Thanks to Anthony and Tiago of Salon Geeks for sharing with us their most interesting story and insights into how to start and maintain a business.