We're happy to announce that with the Harvest Spring Update, the long-awaited invoicing feature is now available for all Harvest plans!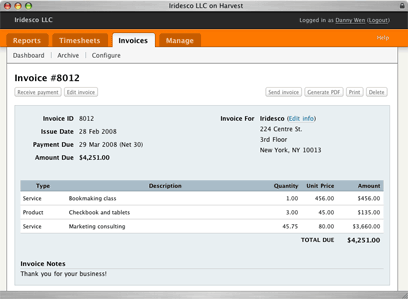 Here's a quick look at what invoicing is like in Harvest:
Create invoices directly from time and expenses entered into Harvest. With a few clicks in the invoice creation wizard, you'll have a pre-populated invoice with just the amount of detail you want to show your clients on a invoice (from general summaries to detailed line items). You are also able to adjust your line-times as necessary before sending off. Simple yet flexible for your different needs.
Create free-form invoices for anything. Your line-items don't need to be time-based. Our free-form invoices allow you to enter sales of products, fixed-fee services, or any other categories you may want to define for your business.
Send PDF invoices via e-mail. Sending invoices directly from Harvest is easy. Invoices sent are automatically tracked on your Invoicing Dashboard and your clients get a clean PDF version of your invoice with your customized logo (if you provided one) on it. If you'd rather email the PDF yourself, you can simply download the PDF version of your invoice from Harvest.
Log payments, full or partial. Our invoicing module helps you stay on top of what's been paid and what is still due, even when you are dealing with partial payments toward an invoice.
Activity log for accurate records. The activity log tracks when your invoice was sent, any notes or comments you may want to associate with the invoice, partial payments, and closing dates, so you are sure to have accurate records of all transactions for your invoices.
Invoicing Dashboard, your financial view at a glance. Our invoicing dashboard helps you see what's outstanding, what's past due, and what's coming up—all at a glance. Click into the invoices archive to see full reports of your activity for the month, quarter, year, or any timeframe of your choosing.
We're very excited to unveil this new capability and we hope you too will find Harvest Invoicing to be a simple and effective tool for your billing needs.
Don't have a Harvest account yet? Try it out and upgrade within the next 30 days of this announcement with the coupon code HARVESTINVOICING and you'll receive $10 off your first month's bill!
This is just Part 2 of the new features we're highlighting in the Harvest Spring Update. Stay tuned for more bits about all the great new things that's now in the latest release of Harvest!