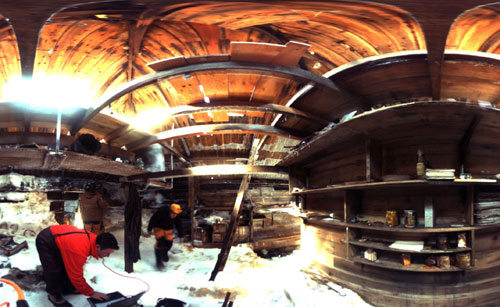 Dr. Peter Morse is a science-communicator, videographer, researcher and hi-tech visualization man who has made a career bringing unseen corners of the Earth to life on planetarium and video screens across the world. Peter has successfully made the jump from academia to a career in the private sector. He's explored primitive life under the Antarctic seas, gotten friendly with ancient mummies and enjoys a good loaf of homemade bread. Peter is a man for all seasons, and he uses Harvest to keep his time and projects in balance.
After ten years of working in the academic world, why did you decide to venture out on your own?
I'd been working extensively with high-end computer visualization systems on a whole range of research projects: looking at how to visualise Antarctic data, working with century old stereoscopic glass-plate images, experimenting with game engines and virtual reality applications. It was a constant struggle to find research funds and time to work on these projects amidst the seemingly endless demands of teaching, applying for grants and often pointless administrative meetings. I had the horrible fear that I would wake up one day having become one of those academics who has worked in the same place for 20 years, become thoroughly institutionalized and done nothing else with their life. One of the paradoxes of academia is that you get older and older, but all your students stay the same age! The last straw for me was finding out that my supposedly 'tenured' position was coming up for redundancy. The entire department I worked in is to be closed down next year.
I decided to take the plunge and see if the skills and talents I had after 10 years of highly focused work could be turned into self-employment in innovative digital media projects. Happily this has turned out to be the case and far exceeded my expectations.
We know you've been working on some really interesting projects in really different fields. Can you give us a rundown?
I work on a very diverse range of visualization projects, currently with museums and planetaria, though this is also extending into exciting projects with a range of research institutions as well. My most recent projects have involved consulting on volumetric and stereoscopic visualization of a 2,500-year-old Egyptian mummy for the Museum of Old and New Art in Hobart, AU. This has involved looking at ways to visualize a volumetric CT scan data of the mummy, so that it can be interactively explored in a museum environment. It has been fascinating to work with researchers,curators, designers and Egyptologists to see how different forms of specialist knowledge can be drawn together and synthesized into an innovative presentation, using non-invasive techniques of data-visualization and cutting edge screen technologies.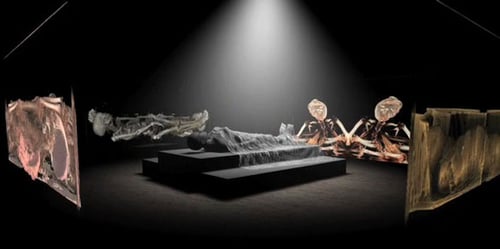 I just returned from a month-long trip to Western Australia, where I spent part of the time in remote areas of Shark Bay taking underwater fulldome and terrestrial panoramic images of stromatolites for a new planetarium show on climate change being developed by the Melbourne Planetarium and Horizon Planetarium at Scitech in Perth, Western Australia. This was a genuinely amazing experience.
I have never seen so many fish in my life! A remarkable submarine world of startling beauty and complexity exists here, and I am very keen to expand into more projects that explore the complexities of marine eco systems. A forthcoming project developing some of these themes will be taking place under the auspices of CAML (Census of Antarctic Marine Life), which fortuitously engages two of my passions: Antarctica and marine science.
What made you decide to set up shop in Tasmania?
Hobart is a beautiful small city with amazing vistas across the Derwent River. Everything is about 15 minutes drive from everything else, so it is very easy to get around. Another benefit for me is that Hobart is the base for Australia's national Antarctic program. I've currently been on two voyages to Antarctica, from here to all the main Australian bases as well as to Mawson's Huts at Cape Denison, a most remarkable and incredibly isolated place at the end of the earth. I am very fortunate to work on projects with the Mawson's Huts Foundation and the Australian Antarctic Division, and I hope to keep working with the Antarctic program in the future. Once it gets in your blood, the ice is always beckoning.
Can you walk us through a 'Day in the Life of Peter Morse' ?
I'm definitely not a 9 to 5 person, so I enjoy the variety that running my own business brings. Sometimes I can have fairly relaxed days where I can muddle around on my own projects and even have time to think at length about ideas and problems, something I found was lacking in academia. Other days are fairly frantic. The nature of much of the imaging I do demands travel to some of the most remote places on earth, so that involves a lot of preparation, logistical management and the invention of new techniques to work in extremely challenging environments. In some cases it requires being able to work 24/7 if need be.
When you're trying to capture images of ephemeral phenomena, such as Antarctic ice floes, you have to be able to respond instantly, get the equipment out there and be ready to go. Then a blizzard might strike, so you've got to be prepared for that too. After spending a lot of time in the field it's great to get back home and to work on image processing and visualization on the computer.
That's an interplay that I enjoy. The reality of the natural world and the abstractions of the computer screen and software, and the final thrill of pulling all these elements together for projection on large screens such as planetarium domes, with surround-sound, special effects and so forth. The audience response is gratifying. It's great to know you've taken them on an amazing voyage to somewhere they've never been or even known of before. I feel like I have the best of both worlds and don't have to complain about never getting out of the office. It's also great to be your own boss and to know that the buck stops with you – which sometimes means long hours, tight deadlines and no weekends. But it's all worth it.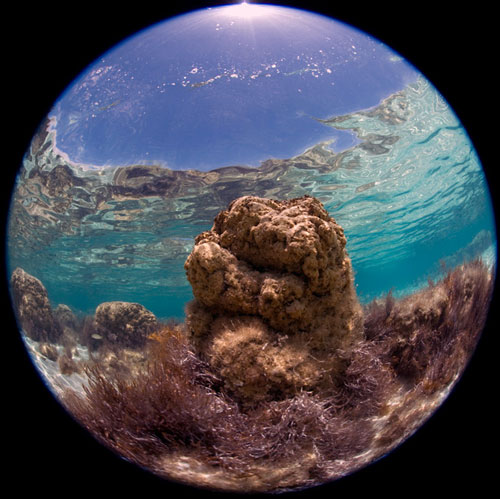 What are some of the essential tools you use in your work?
For the business side of things you can't get better than Harvest. It's dead simple to use and I've actually learned a lot from it about how to actually run a business from a financial point of view, something that was almost a complete mystery to me when I started out. Harvest has been fantastic in sponsoring me with their New Founders program – I'm very grateful and it has been a huge help.
I'm very much Mac based, as the underlying UNIX operating system is invaluable in the work I do. I often use software developed by my colleague Paul Bourke from the Western Australian Supercomputer Program, and I've been very lucky to work closely with him over a number of years now, as he is right at the forefront of computer visualization.
What advice can you give to students and young people interested in the computer visualization field? Would you recommend joining academia or the commercial world?
This is a tough question. I'm in a pretty unique position being in the process of making a successful transition from academia to a commercial context. This shift was made possible by the research I was able to do whilst in an academic context, and being fortunate in working with both the sciences and the arts.
I'm very lucky having many interesting and highly capable colleagues in academia and research institutions around Australia; without those connections I think it would be quite difficult to achieve. I've also worked all my professional life as an independent media artist, which is invaluable as it is my 'creative life' that gives me great motivation in doing new and unusual things. My main advice to anyone thinking of setting out in this field is to, more than anything, love what you do. From there, brainstorm how you can distinguish yourself from competitors and create synergies with them.
It also requires accurate advice and research. Glib, saccharine and reductive content dismisses the inherent intelligence of your audience and it's boring to make. It's far better to make something that can be pitched across a range of audiences and which presents some form of intellectual and aesthetic challenge. Finally, don't be frightened to experiment! The field is driven by innovation and intelligent, yet sometimes slightly wacky ideas, so a strong, innovative imagination is imperative. I'd rather be provoked than placated, after all.
What are some of the interesting things you've consumed lately?
My most exciting new toy is an automatic breadmaker I received as birthday gift, that I am reading the manual for while anticipating my first loaf of home-made bread. We made our own bread at Mawson's Huts in Antarctica, manually, and waited a long time for the dough to rise because it was so cold. I'm looking forward to this guilty pleasure. I'm also fascinated by alternative energy sources as a result of that experience, so I'm reading up on solar electric, wind-power and microhydro generating systems in the hope of one day building something like an Earthship here in Tassie. I've been inspired by the work of the American architect/biotec Michael Reynolds. Maybe one day I'll have a wind-power-driven-automatic-breadmaker! Apart from that I'm currently reading Richard Fortey's fantastic book "Life: A Natural History of the First Four Billion Years of Life on Earth" and Alanna Mitchell's "Seasick: The Hidden Ecological Crisis of the Global Ocean": They're both remarkable writers with important things to say. Finally, I'm dreaming about getting my hands on a new Canon EOS 5D Mark II – maybe Canon have sponsorship programs too? Here's hoping!
Thanks for taking the time to chat with us Peter, it was a pleasure.
To find out more about Peter Morse, please visit his website at www.Petermorse.com.au
To help companies get on their feet, The Harvest New Founders Program gives one year's subscription of Harvest time tracking service to a new company each month. Think you might be a good fit for our New Founders Program? Learn more and apply.