Newism is a Newcastle, Australia based web design studio that is on the outer edges of new technology creation. This trio, composed of Wayde Christie, Leevi Graham and Anthony Short are heavily involved in the open source community and bring a knack for inspiring designs to all of their work. Newism has completed several high profile projects in just their first few months of operations, and are quickly building a reputation for putting out work that consistently exceeds expectations.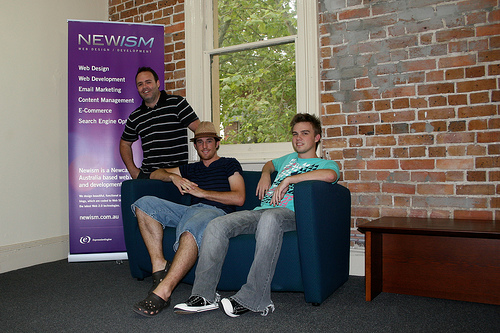 Many programmers start companies each year and it can often be a slow build, what do you think has made Newism successful right off the bat?
We've done a lot of ground work to get where we are. A lot of that time was spent contributing to the ExpressionEngine community by way of Leevi's library of free extensions, and that goodwill has been transferred and associated with Newism right from our inception. We got involved, developed a reputation, and when the time came to launch there was an immediate buzz and we were able to hit the ground running.

What advice do you have for small tech companies trying to land high profile clientele, as this is something Newism has done quite well.
Communication. It can't be over-stated enough. We try our best to be as available as possible at all times, particularly in a pre-sales context. If we're responsive before we get the job, our clients assume we'll be responsive for the duration of their project, and that initial good vibe has gotten our foot in the door on many occasions.
Professional referrals have served us well also, and having a good network of industry contacts helps a lot. We were recently referred to a small Aussie company named Freshview, and as a result we landed the epic job of rebuilding the new Campaign Monitor website. The contact who referred us scored an iPod as a token of our appreciation, and Freshview got a dedicated team of developers who were thrilled to be working with them (and a case of beer). A good situation all round, and one we hope to duplicate as often as we can.
What's the most challenging problem you have had to solve as a startup?
Our number one challenge has been managing growth, and it's an ongoing one. To help us out in this period we enlisted the services of a business coach. It's his role to help us determine our goals, gently encourage us to take the steps we need to, and most importantly to keep us accountable. We've got ourselves into an office, we have our first full-time employee and we're on the hunt for more.
What resources are invaluable for the new business owner?
The best resource we've found is other business owners. If they're doing something well that we want to emulate, we ask them about it. More often than not they're really happy to give us their take on an issue, and this kind of advice is invaluable for a startup.
We use a number of online services to help manage our business, including Harvest of course. We couldn't survive without Basecamp, and we've recently started using Daylite to manage our customer relationships. Harvest is the most used of all internally, as it's integral to our workflow, and even though we have access to time tracking in Basecamp, it doesn't have the granularity and level of reporting that Harvest does.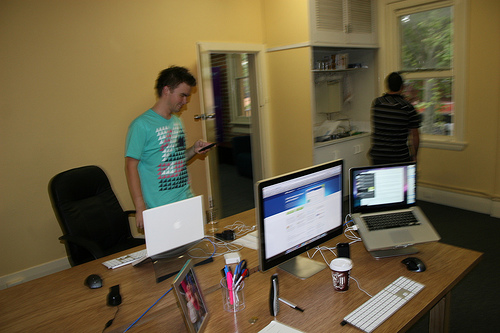 How does your active participation in the Open Source community benefit your business?
Developing and releasing free ExpressionEngine extensions has positioned us amongst a very small group of industry professionals, and the flow-on effect from that has meant a decent amount of high profile work has come our way. The main thing really is the 'participation' part. We're active and visible amongst our target market so we tend to stick in their heads.

What types of hardware and software is running over at Newism?
We're all running Macs. Some of us are on shiny new MacBook Pro's with 24″ LED screens, others are using 24″ iMacs. We're all connected to a Mac Mini running OSX Server that has a 1TB raid drive attached. Offsite backups are done with JungleDisk. The Mini handles file storage, acts as our website staging server, runs our internal staff wiki and allows us to access the network remotely via VPN.
We're using Adobe software for website design and Flash development. For programming we use TextMate. We test sites using VMWare Fusion, and we've just started using GIT for site versioning and deployment.

How does social media marketing help you market Newism? What channels and sites have been the most effective?
All of our marketing has been done online and we tend to focus on blogging and social networking to get our name out there. We also frequent several industry forums and have developed most of our reputation that way. We really try to make each social media communication count by making the information valuable to our target market. Twitter in particular has been great for us, as it gives us an avenue to regularly promote our skills and services to an industry segment which have opted in to our updates of their own accord.
What's the secret to keeping your clients happy?
It's a cliche, but it's to under-promise and over-deliver. We really like being friends with our clients, and they seem to like that too. We're often in regular instant-messenger contact with many of them, and the occasional "hi" helps to remind everyone that we're all human.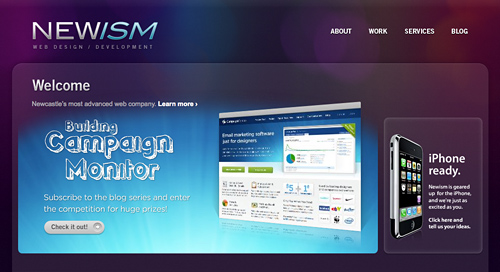 What are five things you've consumed lately that you have enjoyed?
1. The Wire – One of the best shows on TV.
2. Zeitgeist: Addendum – It should be mandatory to watch this documentary.
3. Guitar Hero World Tour
4. The Russell Brand podcast – Sadly no longer on air since he prank called Manuel.
5. Far too much Tanqueray and Bombay Sapphire gin.
We'd like to a second to congratulate Newism on their success, and send a hearty Harvest thanks out to them for chatting with us. Newism has plenty of projects in the works, so take a second to catch up with them on their website and have a look at their outstanding blog.
To help companies get on their feet, The Harvest New Founders Program gives one year's subscription of Harvest time tracking service to a new company each month. Think you might be a good fit for our New Founders Program? Learn more and apply.