James Briggs and Tim Longfoot are the minds behind Open Fundraising. Inspired by recent successful fund raising campaigns conducted online, Open Fundraising is bringing good causes from around the world to the web to get the word out. They are providing tools, talent, techniques and ideas to help charities take advantage of technology.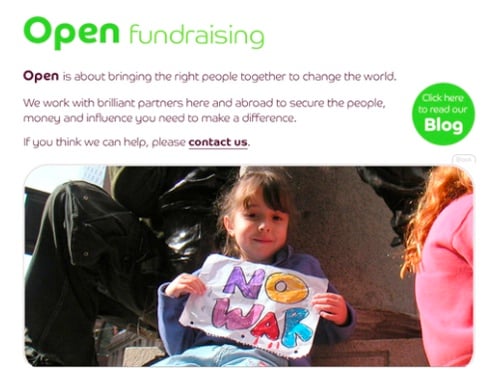 Can you explain what Open Fundraising is for the un-initiated?
Essentially, we're an agency that helps charities and not-for-profit organizations develop and implement their fundraising programmes. We work on strategy, positioning, creative work, data analysis and, very importantly, delivery. One of our key strategic goals is to involve corporations more in the way people support charities.

What were the ideas and inspiration behind Open Fundraising?
Both Tim and I (the founders) have worked in fund raising for over ten years, and at the root of all of this is the fact that we love what we do. The big idea behind Open Fundraising was bringing good people together to do great work for charities.
Our vision for Open was to be a network business with a core team at the centre and a whole load of great people on our books whom we could draw on as and when we need them. We already have film-makers, designers, writers, programmers, data analysts, project managers, photographers and all sorts of other people involved.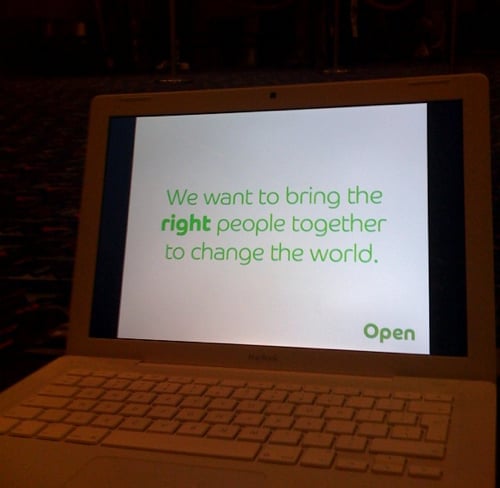 How is Open Fundraising poised to change the way people support good causes?
The first project is about linking supporters to the people in the developing world who actually to do the work. We're looking for ways to use social media to increase donors' sense of connectedness and involvement and, in the process, keep them giving and feeling good about giving. In the real world, social networks are a huge asset to charities and we need to replicate this online.
The Make Poverty History campaign was a great thing but, when it ended, there was no way to harness all that positive anger and excitement. We're working on something similar for a large charity and want to ensure that people who show they care in the short term have the opportunity to do more in the long term.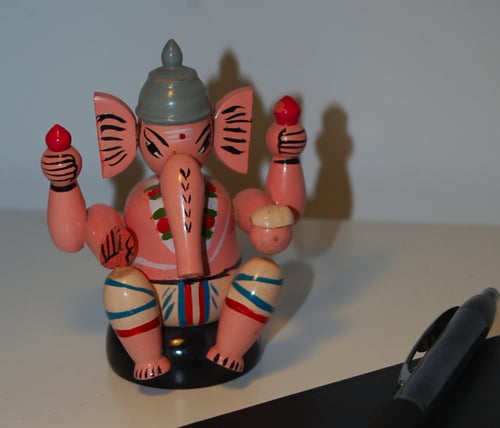 What are some of the biggest logistical challenges involved in setting up OpenFundraising.com?
The big challenge was getting systems in place quickly that allowed us to manage significant projects using a load of people – most of whom have never even seen our office. Plus, a lot of the stuff we do depends on being very tightly integrated across media.
Our friend Richard Young at Young Design Associates put us on to Basecamp, which obviously solved a lot of our problems. Harvest was the natural next step because it did all the budgeting and invoicing stuff that we needed.
Ironically, I think that we now have better management information than many companies who have everyone sitting in the same room. But at the start it was scary.
Tell us about some of the early successes you have been seeing.
As a company, it's been a whirlwind. We won our first pitch, for the very wonderful VSO, which was great because we were up against the big, established UK charity agencies. That was amazing. And we've picked up more work from some other big-name organizations in the UK.
What makes Open Fundraising different than the traditional avenues of raising money? Do you feel this is a model that can be successful over the long haul?
Open isn't necessarily about leaving 'traditional' routes behind, but through better integration and being more creative we can make those routes work harder. A key strand of Open's strategy is to pursue online innovation.
What five things you have enjoyed consuming lately?
I have three very young kids so I never get out to the movies. I prefer bite-sized TV and Flight of the Conchords has been a big favourite lately.
Here Comes Everyone by Clay Shirkey managed to be both hugely useful in terms of work and very entertaining.
My 'recently played' in iTunes is showing Van Morrison's Veedon Fleece, Miles Davis' Live at the Plugged Nickel, Kimya Dawson's Remember That I Love You and a Nick Warren DJ set from Brazil.
My most memorable meal out recently was Eritrean food from Muna's Restaurant – a local institution up my way.
Finally, I'm very much enjoying my Nikon D40 which my wife bought me as a gift to say 'well done' for getting things up and running. I used to be a bit of a 35mm nerd but this is my first digital SLR and I can't get enough of it.
We want to say 'Thanks' and welcome OpenFundraising to the Harvest New Founders Program. We're proud to give them a hand doing this innovative and important work.