We've just released a few updates to the Harvest invoicing tool: an improved Invoice Dashboard, draft mode for invoices, and a brand new Payments Received Report.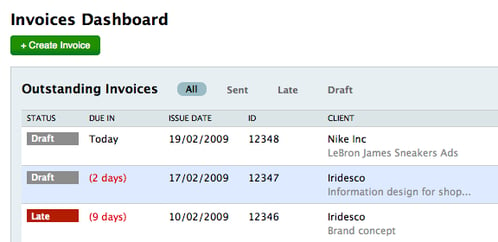 The Invoice Dashboard has been updated so that you can quickly scan through all the outstanding invoices, and see what invoices are in draft mode, which have already been sent, or which are late. You can also use the nifty links on top to filter through the list and see only the ones you need.
We've also added draft mode to invoices, so when you create and save a new invoice, it will be saved as a draft – until you send it through Harvest, or mark it as sent by clicking More Actions > Mark As Sent.
The new Payments Received Report makes keeping track of invoice payments easier and more accurate. You can quickly generate a report that shows what payments have been received in a given timeframe. Just go to Invoices > Report, click on "Create New Report" and you'll see two options: generate an Invoice Report, or a Payments Received Report.
Many of the new features and improvements we add to Harvest come directly from you, the Harvest users. What other improvements can we add to Harvest invoicing to help simplify your billing? Please let us know via the support form.