We've been busy working on a few feature in Harvest, so that you can create and send estimates right within Harvest, much like how you'd send your invoices today. Here's a sneak peak: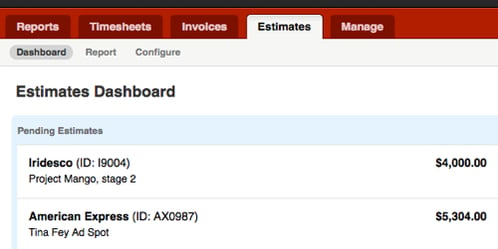 What does this mean for you?
If you want to send an estimate or quote, you will soon be able to do that in Harvest. If you do not need this feature, fear not – you will not see the tab at all. This new feature is optional, and completely free to all Harvest users.
We decided to rename our current Project Estimate to Project Budget. It will work just as it does now, you put in the budget hours, and Harvest will keep track of your project status for you. The only changed is the name, as to avoid confusion with the new feature.
We're pushing through some minor interface changes with the new release. Harvest will be a bit wider, and there are small changes here and there to improve the overall feel and experience. Next week we will talk about the design changes and the decisions behind them.