We commissioned artist Ray Fenwick to put together a little book for us. The only thing we asked was that it be about Harvest + time. I asked Ray to tell us a little bit about his process in making this wonderfully humorous and beautifully executed book project.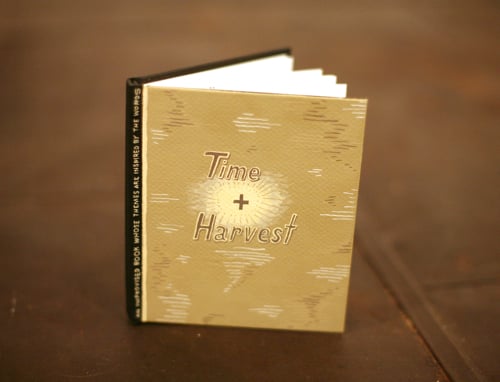 Where did you start, when Shawn (Liu) gave you the parameters of "Time + Harvest" – can you give us a peek at your process?
The first page is a freeform word association game, starting with words associated to both time and harvest and just letting my mind wander. I selected what I thought was interesting and used it as the inspiration for a few stories that could relate to each other. I wanted this book to be truly improvised and have themes inspired by Shawn's two starting words.
The book was already made, done custom by my friend Deb Dormody at If'N books. I had asked her to make me a bunch for an art book project called Library I, and I ended up with 8 or so left over. I decided to use those for commissions, because they're too nice to waste sitting in a drawer. So the page count is set, and I draw in the blank, finishing off with doing the painted cover.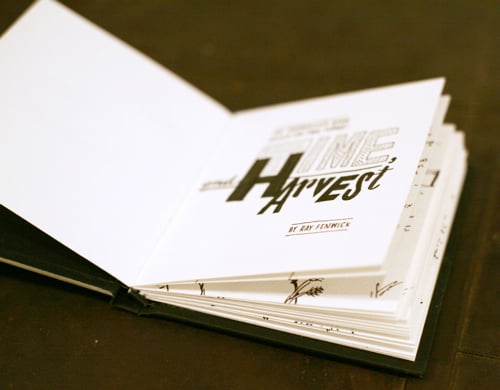 How long does a book typically take you to make?
It depends on the project, I suppose. I've done commissioned books where I work on one page a day until it's done, almost like a journal. In other cases I work in chunks, tailoring how much I do to what's going on in the book. For your book, for instance, I did the first brainstorm page one day, then left it. I came back the next day fresh and looked at that and began the first story line. From start to finish I think it took about 8 days.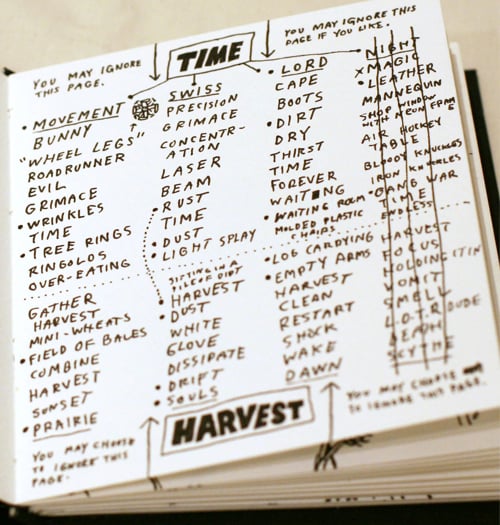 We couldn't possibly ignore the first page – is this a usual part of your commissioned book?

No, but I wanted to try this for yours and I'm glad I did, it was really exciting. I had been reading a lot about improvisational theatre processes and thought it would be interesting to adapt it to a short book. Each book I've done in this round of commissions is different, both in terms of concept and process. Everyone gives me a different starting point, and each one requires a different approach. It helps keep it interesting and makes it so that the patron doesn't just get something similar to the last commission. I think the books are more valuable if they're a real artistic project. I'm really fortunate that people are willing to place their trust in me, and I try to honour that by putting thought into both the process of making it and the final result.
I only take them from time to time when I have an idea for a group of commissions, so it depends. You can see some other commissioned books, like Coffee Money Zines, and Fireworks.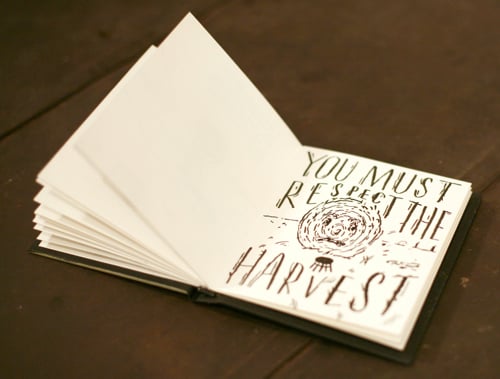 What was your favorite part of making this book?
The word association part was fun, because I had no idea at the end what would happen with it. I also love doing the cover at the end, because after all the black and white it's nice to lay down some colour and finish it off.
We couldn't agree more that the cover is inspired, and we're thrilled to have this beautiful book to add to the Harvest HQ library. You can check out more of Ray Fenwick's work, and see the other fascinating art and illustration projects he's been up to!