This month's New Founder says he is happier working on cars and motorcycles in garages and fields than he ever was in his 15 years of working in an office as a graphic designer. Jesper Bram established his Kustom Graphics business in June 2009, and we got to talk with him about what exactly pinstriping is, going with the Arctic Pinheads to the Hot Rod Rock show in Finland, and why time tracking in Harvest is an integral part of his day-to-day business.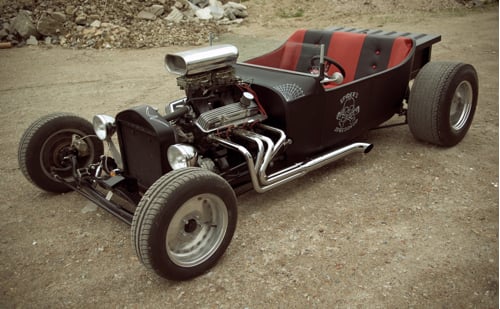 What exactly is pinstriping, and how did you find out about it?
Pinstriping is the art of laying down a thin straight line with a brush, on the surface of a vehicle. The craft can be traced all the way back to the chariots of ancient Egypt, but also horse carriages in the western world often had pinstriping (called, at the time, coach lining). What is commonly considered pinstriping today is the art form that surfaced in the 1930's-1940's hot rod culture, where cars were decorated with patterns of thin lines. When I discovered it was done with a brush, and it didn't look like you needed that much equipment to learn, I had to find out how to get started.
What was the inspiration for starting your business?
The software company I worked for got hit hard by the financial crisis and had to let people go, which for me was the kick in the butt I needed to start my own automotive graphics business. Though I loved drawing motorcycles and freaky monsters since I was a kid, I was told that there wasn't any future in that. Apparently it had to take me some 15+ years to gather the guts to prove "them" wrong.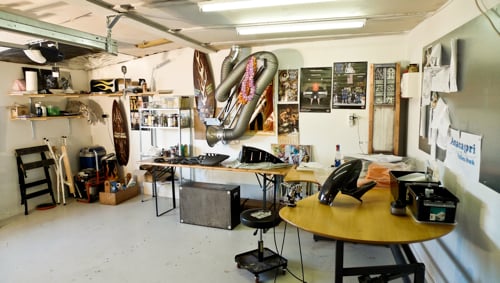 Was it a big switch to go from a corporate environment to working on peoples' cars in a garage?
It is two completely different worlds: I'm happy as a clam and wish I did it years ago. The only thing I miss sometimes is having colleagues. As I'm currently the only professional pinstriper in Denmark, it does get a bit lonely. But I'm in contact with colleagues around the world almost daily, and meet with plenty of people at shows during the summer.
You recently got invited to join the Arctic Pinheads, who are they?
Arctic Pinheads was originally a group of Finnish pinstripers who arranged meetings for stripers and Kustom Kulture artists at large. The official annual meetings is Stripe-O-Rama at the Hot Rod Rock Show, Tampere, and the annual American Cars Show in Helsinki. They welcome all artists with a common interest in Kustom Kulture arts.
What's the process, before the client drives off with their newly pinstriped motorcycle?
Usually people call or email me about an idea for a project and ask for a price, and I ask them question to narrow down what they want. When a price is agreed upon, on larger projects I often draw up a design and combine it with a photo of the object to show the customer, to make sure the customer and I are on the same page. On smaller projects and at shows, I draw it up directly on the object with a Stabilo pencil and have the client approve it. Then I do my thing, leave it to dry and customer picks up their stuff. I also create designs for helmets, t-shirts, and posters related to the Kustom Kulture scene.
Why do you track time, and how do you use Harvest?
Because of the experience I have as graphic designer, I'm pretty good at estimating how much time a job demands, and people usually want a fixed quote. Time tracking with Harvest is important for me to keep track of the actual time I spend on a project, to make sure my estimates stick. Harvest also helps me stay focused on the project I'm working on, because when I'm on a customers time, I can't let myself be sidetracked without stopping the clock.
How do people hear about you, if you're the only one doing this kind of work in Denmark?
Most people don't yet know that there's a guy doing pinstriping professionally in Denmark, but I have met a handful of Danish guys who just started pinstriping as a hobby, so it's catching on. I get most of my work through networking and word of mouth, and a small but steady stream of people who contact me after visiting my website. I spread the word by meeting people in the custom scene and working on as many motorcycle and car shows as possible all summer.
Which magazines have your designs been featured in?
So far I've had my work shown in Pinstriping and Kustom Graphics Magazine (UK), Nordic Tattoo Mag (Scandinavia), and I was also in the latest issue of Kinkats (German), with more to come! I've also had some blog features, like the one at Kustomrama.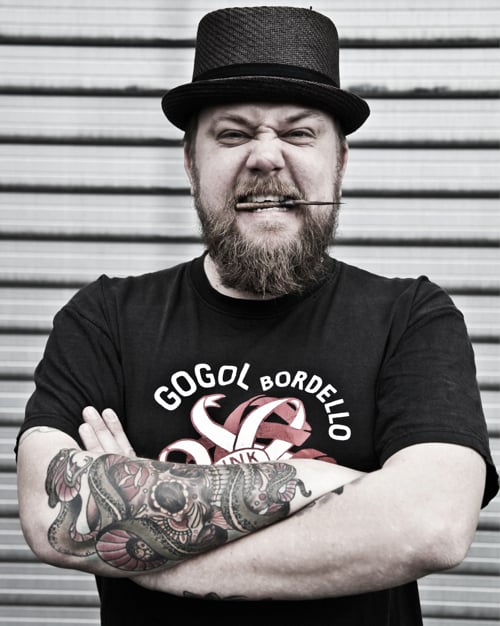 What do you like most about running your own business? And what's the hardest thing?
The best thing is the freedom. I can work day and night, or not at all, if I like. I can go to car shows all over the world whenever I'm invited (no vacation schedule needed!). The hardest thing is not having any colleagues on a daily basis. I have plenty of friends I can call if I need to discuss things, but I can miss, you know, shits and giggles at lunch break, and stuff like that.
In what ways do you envision growing your business?
My vision is to get into all kinds of vehicle decoration, specialized towards custom vehicles of all types, and I'm taking courses in making vinyl signs and foil wrapping cars this spring. I have some pretty wild ideas where I'll combine foil and traditional handmade work, I can't wait to get started on it!
We're excited to welcome J. Bram Kustom Graphics to our elite group of Harvest New Founders, and are happy to support this one man pinstriping machine, and his quest to make the world a more beautiful place, one detail at a time.
To help companies get on their feet, The Harvest New Founders Program gives one year's subscription of Harvest time tracking service to a new company each month. Think you might be a good fit for our New Founders Program? Learn more and apply.