Our latest New Founders, WPA-2010, have looked back to the Depression era to make their own New Deal with the American public. They are bringing back the WPA (Work Projects Administration) "because the government hasn't," and are opening two WPA offices to propel government recovery driven by neighborhoods themselves. We caught up with Christopher Robbins, one of the masterminds behind this DIY effort, about inspiring change through Venn diagrams and butoh dancers, and why they use Harvest to track their time and stay on task.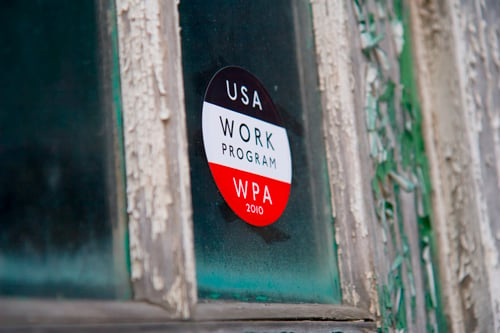 What was the inspiration for starting your company?
During the Great Depression, the WPA (Works Projects Administration) employed millions, repairing roads, building parks, and other public works. It reached out directly to people who needed it most, creating projects outside the U.S. Government's usual remit. Now, the WPA-2010 aims to bring back small-scale, community-driven neighborhood recovery and action. We will provide employment and skill development for people to work in their own neighborhoods, to focus on projects chosen by their own community. We even have a WPA-2010 Kickstarter project, to raise funds for these projects, and skill and employment programs.
Where are you located, and which communities are you speaking to?
We have secured office and workspace in the rural hamlet of Wassaic, New York, and Jamaica, Queens, and are finalists for a commission to open an office in Cambridge, Massachusetts. We want to use these WPA offices as pilots, to extend to other communities throughout the country, so we are currently seeking input and funding from other citizens to do so. Funding is entirely through donations: from office and work space, construction equipment, a pavement press, time-tracking software from Harvest, silkscreen equipment, and organization of a series of community action workshops to spearhead this citizen-run WPA initiative.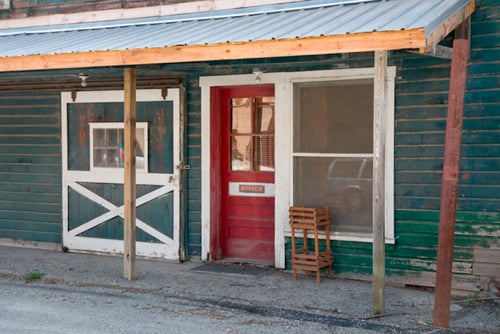 The new office in Wassaic, New York.
What kinds of small-scale initiatives would fall within your scope?
Although we will not begin to implement ideas until we have run through a full Participatory Action Research / Participatory Community Appraisal with our host neighborhoods, we have already begun to collect a number of ideas. These have ranged from installing a D.I.Y. stop sign, to clearing an overgrown park so it matches an old etching of that park from the 1940's, to hiring 1000 butoh dancers to block traffic, or sculpting glowing jellyfish to hang from lamp-posts.
How do you choose which projects to pursue? Are they nominated by the community?
As you can see, we get a pretty crazy range of projects, and we hold fast to the rule that it is not our responsibility to judge. Our role is to facilitate our community-members' achievement of their goals. We use the process of PRA (Participatory Rapid (or Rural) Appraisal) to pull ideas out of a diverse community, and then help them decide which attributes will help them determine the specific projects to pursue. These PRA techniques include collaborative mapping of their past, present, and future neighborhood, comparative Venn diagrams of a community's major groups, and a series of ranking and priority exercises to help choose the projects they want to complete.
These are all processes members of our team have put into action in the developing world, and we are currently piloting as project management techniques in the USA. These techniques are particularly useful in situations where you are trying to draw out people not generally involved in projects, and where several competing groups are vying for seniority.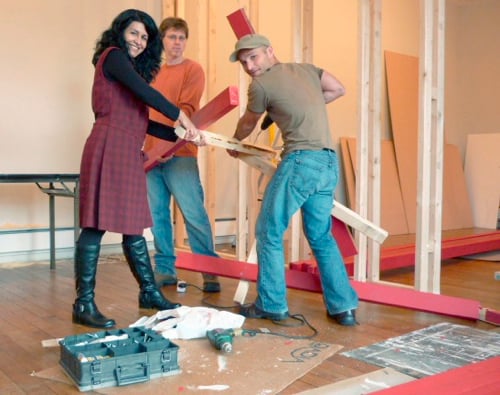 The core team is Carmen Montoya, John Ewing, and Christopher Robbins, shown here while working on a related project in Wales in 2009.
What does a typical day entail for you?
Lately, I really have no typical day. This work involves so many different elements, and most of them hinge on building trust with people from different communities. For instance, let's look at last week:
Monday I presented to the Urban Studies department of Barnard College, Columbia University, on Urban Interventions by Public Artists (including myself).
Tuesday I spent most of the day silkscreening WPA logos onto construction vests and equipment.
Wednesday was an administrative day, calling contacts in Jamaica to establish partnerships, and writing grant applications for the project.
Thursday I taught my course at the Rhode Island School of Design on "Guerilla Public Art: Socially Mediated Interventions."
Friday I spent in Wassaic, meeting with a variety of local stakeholders, eating borscht, and collecting slag with some new acquaintances from the riverbank.
Why do you track time, and how do you guys use Harvest?
With a schedule as flexible as mine, we have to be aware of how our time is being spent. My responsibilities include marketing, fund-raising, project management, training, networking, and hands-on construction and fabrication. Tracking my time with Harvest lets me keep track of how my time is being used, so I can be sure I am utilizing it efficiently, and allows me to decide where I should delegate, where I should trim, and what is counter-productive.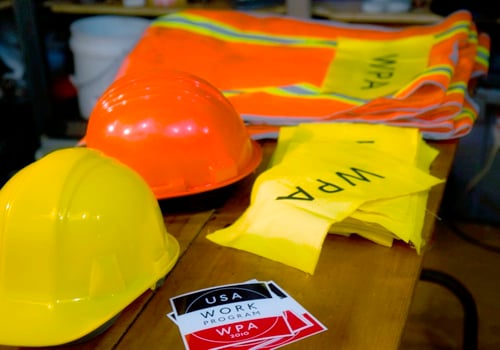 What are your hopes for the present and future of WPA-2010?
The Wassaic Office opens May 1. The Jamaica Office opens July 1. My hopes are to create a forum where people with very different views can discuss the future of their local community together, and to give a voice to people who are either too share or simply not interested in public works or civic engagement. WPA-2010 is a kind of real-life community street-theater: it will bring neighbors together, dressed as the WPA, doing the work of the WPA, fixing up our country with their own ideas and elbow grease. Part of this idea is quite audacious: we are pretending to be a government agency, so that the government will take notice, and hopefully, take over.
We're excited to welcome WPA-2010 to our stable of Harvest New Founders, and are happy to support them in their goal of getting people involved in the destiny of their own neighborhoods. If you would like to help their efforts, you can donate through their WPA-2010 Kickstarter fundraising campaign!

To help companies get on their feet, The Harvest New Founders Program gives one year's subscription of Harvest time tracking service to a new company each month. Think you might be a good fit for our New Founders Program? Learn more and apply.