In the next few weeks, we will be releasing a series of new features to help your business collect payments faster. Our first step, launched today, is the new and beautiful Web Invoice (formerly, Client View):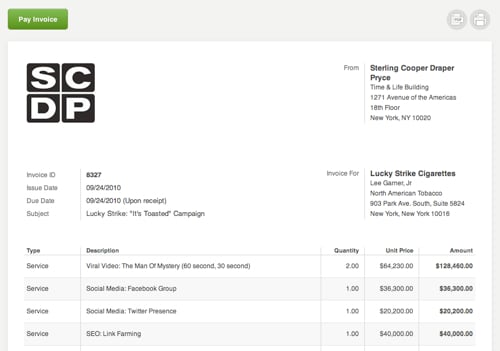 The new Web Invoice has been widened, refreshed, tweaked, and looks gorgeous. More importantly, we updated the code so that it's lightweight and uses better markup that will make a few new ideas we have down the road possible, laying the groundwork for a much improved and faster online payment process. You can see a live example of the new invoice layout (please do not pay the actual invoice – it will process the payment for real!).
This view can be accessed by going to any of your invoices in Harvest and clicking on More Actions > Web Invoice. This is the web invoice that your clients will see if you have the PayPal integration turned on (turn this on via Invoices > Configure > Online Payment). Our next step will be applying the new design to the invoice view within your Harvest account, and to make it available in PDF.
As usual, please let us know if you have any questions or feedback!