UPDATE: As of October 16, 2014, Harvest only offers Stripe and PayPal for online payment. More details here.
According to our data, Harvest invoices with an option to pay via PayPal receive payments nearly 16 days faster (twice as fast) than invoices without an online payment option. Letting your clients pay online means that they can pay you faster – no more waiting for a check to deposit.
We're excited to announce the second major Harvest update to help you get paid faster: payment gateway integration. With this new feature, you can accept credit cards right on the new and improved Web Invoice.

Click through for a live example!
Online Payment, the Harvest Way
Online payment is not new to the internet, but the way other websites do it is a laborious, multi-step process. The new payment process on your Harvest Web Invoice is exceptionally fast, and the entire flow happens on one page. When your client clicks the "Pay Invoice" button on the invoice, a simple and familiar payment form shows up immediately: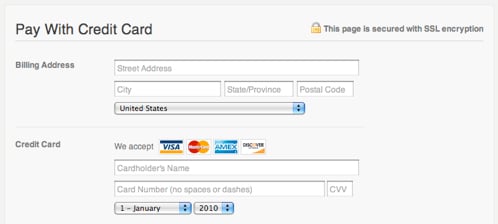 Your client will not be taken to a new page or have to wait for the page to load. Once they fill out the form, Harvest will take them back to the invoice with a confirmation message. The experience is seamless, simple and fast. The payment is recorded on the invoice immediately, and Harvest automatically sends your client a payment receipt customized with your logo.
Our design and development team also put in the extra effort to take care of the smallest details, such as the top left corner of the Web Invoice:

Here we want to highlight one major action: Pay Invoice. We put the invoice total next to the button, so there's no confusion on how much is due, and there's no need to scan the invoice for the total. We also show all the payment options with their familiar icons, so clients know that they can pay online.
Great. How Do I Set Up?
Harvest now integrates with these four major payment gateways:
If you have an account with any of the four gateways, go to Invoices > Configure, click on "Online Payment" and put in your credentials.
We believe adding payment gateways and the ability to get paid directly from the web invoice can significantly speed up invoice payments and improve cash flow for your business. Please let us know if you have any questions, feedback, or suggestions!