We're ready to unveil our shiny, new Harvest Support! We've added a whole lot of content, changed the layout, and incorporated a fast and efficient instant search.
Take it for a spin, and read on to find out more about the specifics of what we've done.
Why the Redesign?
We love talking to our customers, but we understand that it's more convenient for you to find answers to your questions through a support section. Our old Help & Support was full of useful information, but it was hard to scan, and some of the content was outdated. We wanted our support section to be easy to use, so you could get what you need and move on with your day.
The new section has been dubbed Harvest Support, and it's divided into three main parts: the Help Center, the Forum, and a Contact Support form. Help Center is where you'll find our updated and new help content, reorganized and easily searchable with our fast instant search.
Highlights of Harvest Support
In September, I created a list of goals for our new Support. Here's how we incorporated those goals.
Easy to Scan – The Help Center took on a lot of new content while keeping pages easy to scan. We kept headings brief, and we used a hierarchy of headings on each page. We bolded navigation and button names, so you can follow directions without reading every word. We kept pages and menus as short as possible. For the sake of keeping related content together, some pages are longer, but are made scannable by headings.
Stellar Organization – I changed the format of the Help Center to a manual-style, versus FAQ, format. The main parts of the Help Center mirror the application. Individual pages are structured around different processes, like how to enter time, and are organized by headings, subheadings, and numbered step-by-step directions.
Consistency – To be consistent, button names and navigation appear in the Help Center exactly like they do in the Harvest app. Organization and hierarchy is the same across each page. We've worked hard to cross reference these details to make it easier for you to scan information and use it as you work.
Easily Searchable – Search is the focal point of the Help Center, featured front and center on each page. We were inspired by Google Instant, and we wanted our search to mirror its ease. As you type, results populate automatically, highlighting the search term in each entry. Content is easy to find, and search is efficient. Here's what it looks like: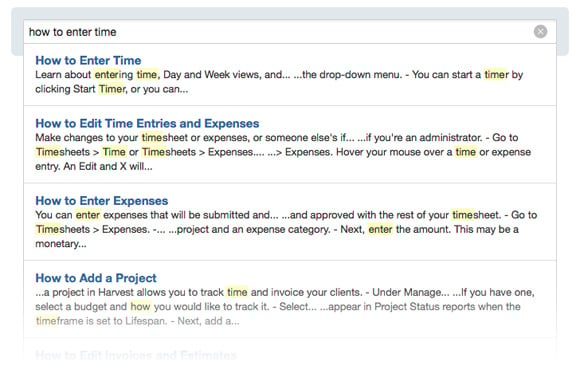 Accessible customer support – It's important that our customers can easily get in touch with us. The new Harvest Support has a Contact tab and a link to contact us at the end of each article.
We hope you find the new Harvest Support helpful and easy to use. As always, get in touch, and let us know how it's working for you.