Business owners, gather in close. I've got a question for you: what do you hate most about running your business? Yeah, okay, tax time ranks up there, but I'll bet you that "managing accounts receivable" is high on that list as well. Sometimes "managing accounts receivables" means sending a gentle reminder note about an outstanding invoice, sometimes it means sending a thank you for prompt payment. Sometimes it means a phone call. Regardless of what stage you're at in managing your client relationship, ZenCash can help.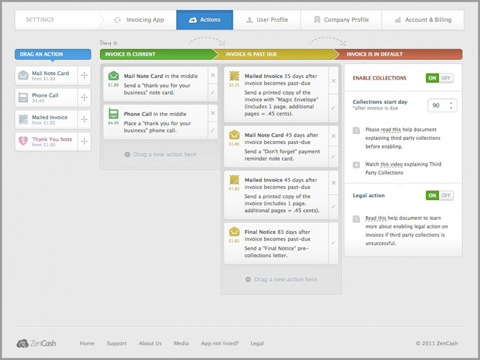 ZenCash is a service that helps small businesses say thanks to customers who pay on time and follow up with customers who don't.
With ZenCash, you link up your Harvest account and it will grab a copy of your invoices. You can then set up an actions timeline to have ZenCash automatically send thank you notes and reminders at various stages. Have all of your reminders been ignored? ZenCash has you covered there as well; they've even partnered with a third party collections agency, if it comes to that.