Last week we made some improvements to the Harvest Timesheet; we fixed a few bugs and improved the performance overall. We also made a few usability improvements, most notably to the week view: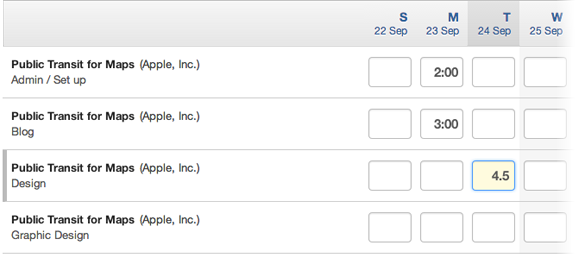 When you're entering time in the week view, it can be hard to quickly scan and see which date (column) and project (row) you're on. We've put in some subtle visual cues to make it easier to quickly identify where you are on the timesheet.
Some of you have a lot of project-task rows on your timesheet. When you scroll down, the header row used to disappear, and you couldn't see which day you were tracking your time to. The date header row now sticks to the top page: as you scroll down, it'll stay on the screen.
We removed the row delete confirmation for empty rows (and if you need to add the row back, click "+ Add Row" and it'll default to the project and task of the row you just removed). This is a subtle tweak that should save you some time.
We hope these improvements make time tracking a little easier and faster for you!