The Harvest Time Tracker extension for Chrome makes it even easier to track time right from your Chrome toolbar. A quick glance will tell you if you have a timer running and starting or stopping is just a click away. We've just released a major version change of the extension which includes significant reliability improvements. If you have tried the extension in the past and weren't a fan, we hope you'll consider trying it again.
Previous versions of the Harvest Chrome Extension haven't gotten a ton of love. Here's a review that really sums up what people have been saying:

It truly bums us out when we aren't serving our customers to the best of our abilities so we decided to make some big changes. In recent weeks, we've rebuilt the Harvest Time Tracker for Chrome from the ground up. The end result is more responsive and reliable in almost every single way.
By far our biggest change was to move the time entry window out of the browser and into a Chrome extension popup. Now, the Harvest Time Tracker is available from any open tab (or the new tab screen) without impacting performance or wait times on the pages you're loading. Just click the toolbar icon (or hit ALT + Shift + H) and your timer is a few pixels away.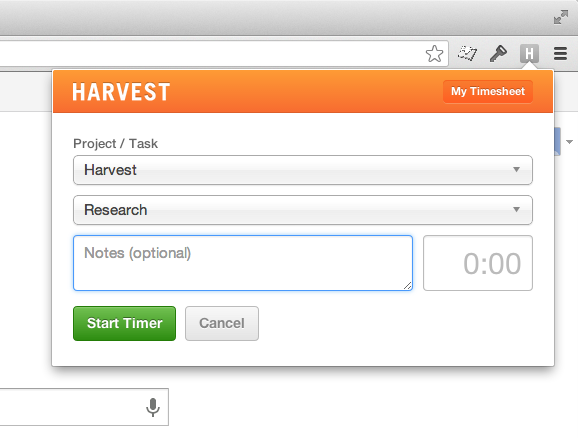 We really feel good about this latest version of the extension and we can't wait to hear from you after you give it a shot. Please drop us a line or – even better – write a review on the Chrome Web Store and let us know how 2.0 is working for you. You better believe we're listening.