Google Apps is ingrained in our workflow here at Harvest, and many of our customers share the same story — checking e-mails in Gmail, collaborating on docs in Drive, and more.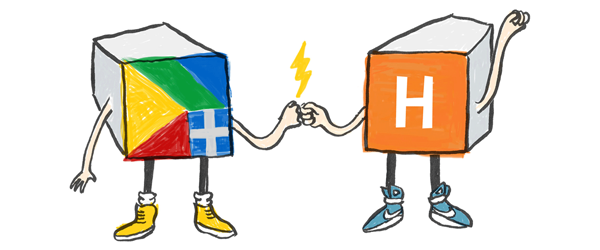 The latest release of Harvest for Google Apps takes advantage of these tools already familiar and frequented by teams everywhere. It introduces the ability to pull users from Google Apps right into Harvest without re-entering any information. There's also a tighter integration with Gmail. The team can take action on submitting timesheets and more right from Gmail's inbox. Read on for the complete rundown of features.
Single Sign On
Sign in to Harvest with your Google Apps account and have one less password to remember. If you're already signed in to another Google property like Gmail, you won't have to re-enter your password to get into Harvest.
Import Users from Google Apps

With employees already in Google Apps, you can quickly add them to Harvest. From Manage > People in Harvest, click Import from Google. Then check off the Google Apps users you'd like to invite to Harvest. They'll receive an e-mail with information to setup their account.
Gmail Actions
While viewing your inbox, a button now appears near the subject line of certain e-mails received from Harvest. These Gmail Actions provide one-click access to timesheets — either your own, or another employee's timesheet for approval.
Export to Drive
Create the perfect time report and export it to Google Drive. Simply click Export > Google Drive from the report to export it to Google Drive. From there, manipulate the data in the resulting Google Spreadsheet, share it with colleagues or clients, and more.
Add the integration via the Google Apps Marketplace, and leave us a review if you like what you see! If you have any feedback, or if you're having trouble please get in touch with our support team.