Today we're delighted to announce Harvest for Android 2.0, the most exciting version of Harvest for Android to date!
If you're a long-time Harvest for Android user, you may have noticed some nice improvements over the past nine months. Time and expenses sync more quickly, navigation is snappier, a persistent notification lets you view and stop timers from outside the app, and stability is greatly improved.
We decided to call this version 2.0 because we feel Harvest for Android has turned a corner. Slowly but surely, the app has transformed into a better, faster (stronger!) tool, and it's on a path to keep improving.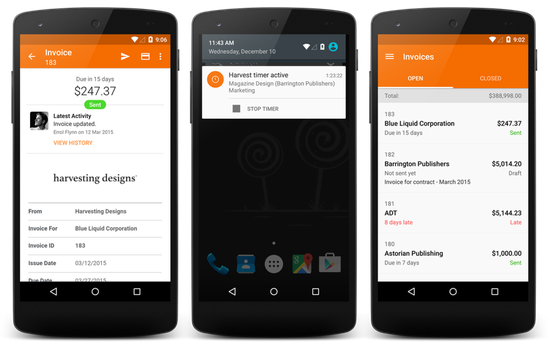 Invoice Management Away from Your Desk
Let's talk about the new features first. The Android app always supported Timesheets and Expenses, but Invoices were another story. They just weren't available on the Android app.
With Android 2.0, those days are past! After you upgrade, you'll notice a new Invoices section in your navigation drawer. Simply tap into it, and behold your full list of open and closed invoices!
We call this feature Invoice Management, and we think it'll be an especially useful upgrade for our on-the-go users.
Ever left the office and wondered if you forgot to send your draft invoice? Harvest for Android 2.0 has you covered. Just tap and send!
And what about payments? Now you can get a push notification whenever a client makes an online payment. Tap that notification, view the invoice, and send a thank-you all from your phone!
Notifications for Payment and Submitting Your Time
In addition to invoice payment notifications, you'll also receive reminders to submit your time. We're looking forward to expanding our use of push notifications in ways that make tracking your time easier, simpler, and more accurate.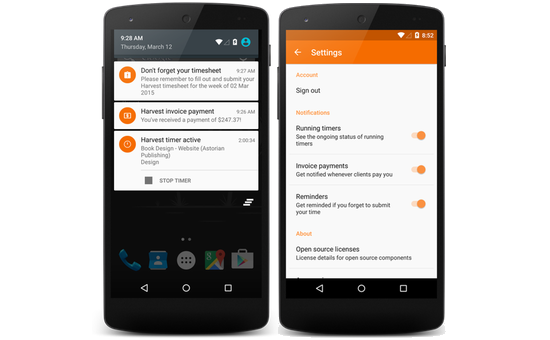 Of course, as we add more notifications, you are fully in control of which ones you receive. You can select the type of notifications you want to receive at any time in the app's Settings.
The Road to 2.0: Nine Months of Harvest for Android Updates
Up until now, we've been pretty quiet about the many improvements that we've rolled out over the past nine months. To help give you a better idea of why we view this as a major milestone for the Android app, I'd like to take a moment to recap all that's been done:
In version 1.6, we brought you better timesheet navigation and awareness of locked time/expenses.
In version 1.7, we updated our time and expense entry forms, made project/task lists filterable, added the ability to view attached receipts, and gave you a way to create clients, projects, and tasks from within the app.
In version 1.8, we introduced support for timestamp mode for tracking time. We also added the ability to start, stop, and restart timers directly from the timesheet view, billable expenses, and the persistent notification for your currently running timer. 1.8 was also the first release that allowed you to submit your timesheets for approval.
In version 1.9, we optimized the app for Android 5.0 (Lollipop) before it was available from most providers. We also improved the signup process.
Today, in version 2.0, we're bringing you invoice management and push notifications.
And we're nowhere near done. Thanks to the solid foundation that's been established in these past five releases, we have a lot of great stuff planned for the rest of 2015.
If you've been using Harvest for Android recently, we'd like to thank you for your support. If you tried it before and haven't been back in a while, we encourage you to give this new version ago! And as always, we'd love to hear your thoughts. Just share your feedback in the comments, or get in touch with us at support@harvestapp.com.