Update 11-14-2016
:
The Harvest for Apple Watch app has been discontinued as of Harvest for iPhone 4.4.1. This decision was tough, especially because we believe the Apple Watch has a lot of potential. But in the end, we thought it best to discontinue based on three lessons learned during our experience developing for the Apple Watch:
Given the rapid pace and changing landscape of Apple Watch development, we simply cannot commit to bringing you an acceptable level of quality in our Apple Watch app.

Usage of Harvest for Apple Watch has been low since we released it over a year ago.

Considering the above two points, we believe our time is better spent on features that will benefit everyone who uses our mobile apps, not just those who use Apple Watch.
For those of you using the Harvest for Apple Watch app, we're sorry. It wasn't easy to decide to discontinue support for it, and we did it with a heavy heart. We've hit a fork in the road, though, and for now, we think it's more beneficial to use our time improving our other mobile apps that are used more often.
We still hope to come back to the Apple Watch in the future. But for now, if you have any questions about our decision, please don't hesitate to email us at support@getharvest.com.
That's right, Harvest is now on the Apple Watch! With our latest release of Harvest for iPhone 3.1.5, all you Watch users will be able to access Harvest right from your wrist!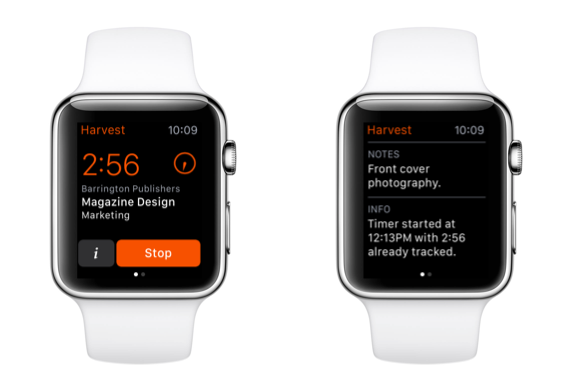 Once the latest version of Harvest for iPhone is installed, Harvest for Apple Watch gives you fast access to the day's timesheet with a flick of the wrist. In moments, you can:
See how long you've been tracking time to a task like a client call.
Restart the same timer for a task you were working on earlier in the day.
Stop a timer you left running on the way out of the office.
We've also included a glance for Harvest, so you can view your daily total hours and your most recent timer by simply swiping up on your Watch face. If you need to stop your current timer, just tap the glance and you'll be brought to the app, where you can quickly stop or restart any timer from today.
In this release, we're just getting our feet wet with the Apple Watch. Stay tuned for an even better experience once Apple releases watchOS 2.
Regardless of whether you have an Apple Watch, Harvest for iPhone 3.1.5 includes a few important bugfixes, along with a way to view receipts on locked expenses.
If you have any feedback for us, we'd love to hear from you.