We're very excited to announce the latest version of Harvest for Mac today! This version introduces a completely new Timesheet window, better Timestamps support, the Weekly Summary Bar (which you'll recognize from our mobile and web apps), support for the new Harvest ID authentication system, a new Time Summary, and many other improvements. We'll talk through a few of these enhancements here, but to see it for yourself, you should download the new version and see what you think!
New Timesheet
You'll notice right away that our Timesheet window is now attached to the menu bar. For those of you who love the mouse, that means you can see today's time with one click. For you keyboard lovers, the familiar shortcut still brings up the Timesheet. And for those of you who don't care for this new attached style, we've made it easy to go back to the old behavior – simply drag the window away from the menu bar and it will detach. You can position it anywhere you like, just as in the original Harvest for Mac.

Time Summary
For those of you who've asked for a weekly total,
we're very pleased to bring you the new Time Summary. This window, which you can raise at any time with the default shortcut of Option-Command-S (⌥⌘S), will give you totals for today, yesterday, this week, and this month. You no longer need to do the math in your head, or consult the Harvest web app. One click or shortcut on a Friday afternoon, and you'll know right away if you've met your weekly time goal.
Weekly Summary Bar and Adding Time to Past Days
We've also heard from many of you who'd like to view, edit, and add time to past days more easily in the Mac app. Our answer for this is the Weekly Summary Bar, which you may recognize from the web and mobile apps. This bar gives you the entire week at a glance, with totals for each day. It's also interactive–just click a day and you'll instantly see the entries from that day. Does Monday's total look low to you? Click the 'M' and add the entry you forgot.
Streamlined and Simplified Forms
One of the biggest changes you'll notice on a daily basis is in the forms you use to track and edit time entries.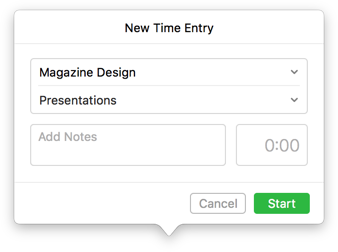 Previous versions of Harvest for Mac used two different forms for entering and editing time. In Harvest for Mac 2.0, you'll notice we've used the same design for both forms. The end result makes the app much more intuitive.
Those of you who use Timestamps mode to track your time will notice that you can now enter the Start Time and End Time for a new entry.
Fast Account Switching and Harvest ID
If you've been a Harvest user for over a few months, then you're probably already familiar with our recent move to a centralized sign-in system called Harvest ID. Harvest for Mac 2.0 uses this new system, which means you can now switch between your Harvest ID connected accounts in just a couple clicks. No more signing out and signing back in. Simply go to the Settings menu, click Switch Accounts, and select the account you want to use.
Whether you're a long time Harvest for Mac user or you're just getting started, we think version 2.0 is going to make time-tracking easier than ever. If you haven't upgraded already, we invite you to give it a try today. Download it here or in the Mac App Store. And as always, let us know what you think!