It's our belief that time tracking should be frictionless and accessible, no matter where you prefer to work. That's why we offer desktop and mobile apps, browser extensions, and integrations with your favorite tools, including Trello, Basecamp, Asana, and Github. Until now, however, there's been one glaring exception: Slack.
If you're like many modern businesses, chances are you spend a lot of your working day in Slack, discussing projects, sharing updates, asking questions, and posting that Bitmoji that perfectly captures your feelings. Now you can add tracking time to that list.
With the launch of Harvest for Slack, you can bring time tracking directly into your team's conversation. The integration also puts a ton of new information at your fingertips with the magic of slash commands. Try out the new Slack integration for yourself or read on for a rundown of everything you can do with it: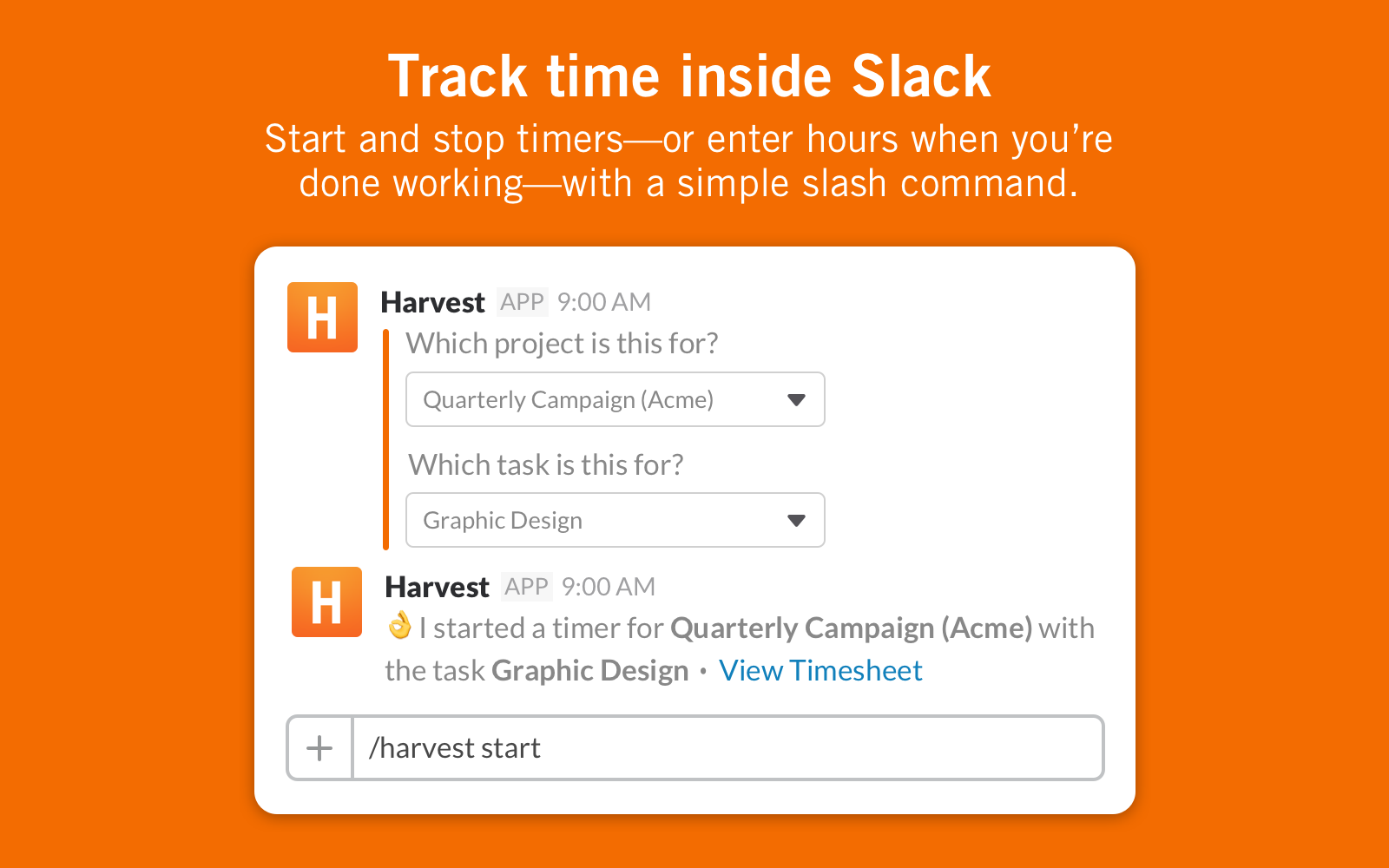 Conversations move fast. It's easy to start chatting about a project without getting a chance to start a timer. Now all you have to do is type /harvest start into Slack and you'll be able to start a Harvest timer without leaving the conversation. And when you're done, just type /harvest stop to stop tracking.
Realize it's already late afternoon and somehow you forgot to track time all day? No problem. The integration also allows you to log previous time entries by typing /harvest log, so you can get caught up before starting a new timer.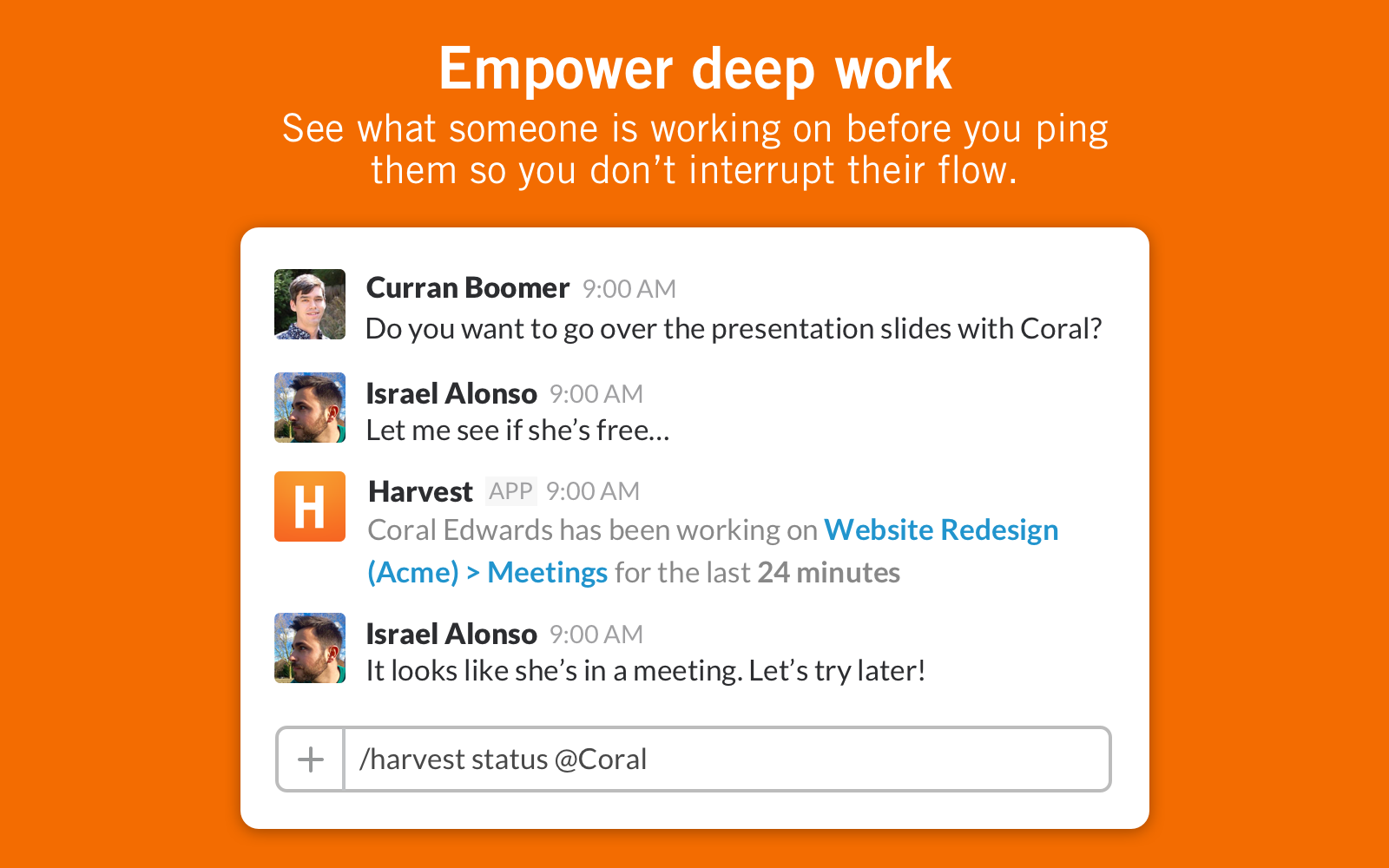 Slack makes it easy to collaborate with your team, but it can sometimes be hard to tell if someone's in a meeting or working on a project that requires a lot of focus. Slack statuses help, but not everyone sets them.
By entering /harvest status, you can see what someone is working on based on their Harvest timer. Are they just checking email? Probably a good time to give them a ping. Have they been focusing on a project for over an hour? Maybe hold off for now.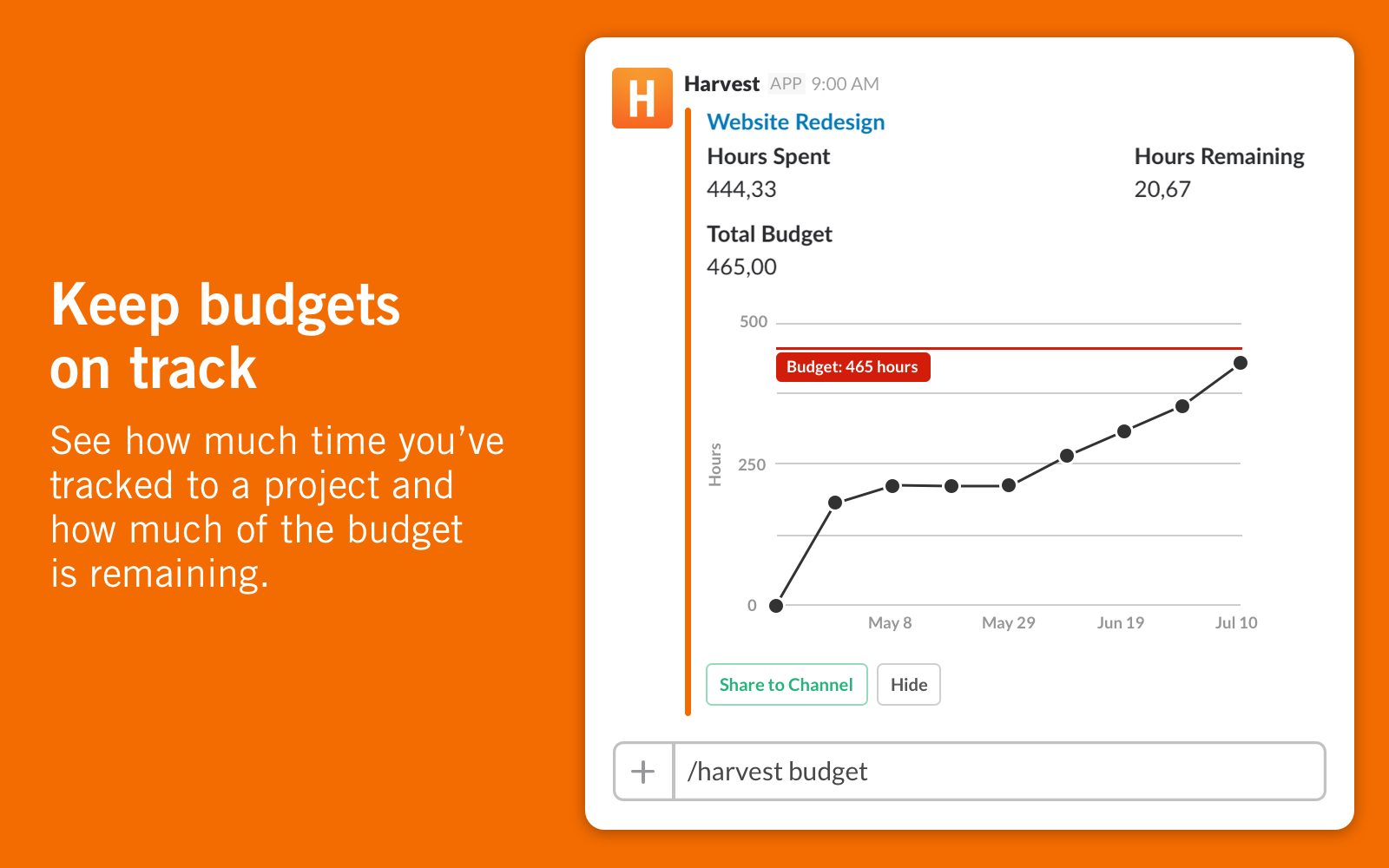 Harvest is full of useful information about your projects, but you have to sign in to the web app to access it. The Slack integration puts more of that information at your fingertips. Now by typing /harvest budget you can get a project budget report right in Slack that highlights critical information about that project, including total hours tracked, remaining budget, and total costs. The information is visible just to you, so you don't accidentally share any sensitive information. But if you want to update the rest of the channel on a project's progress, all it takes is one click.
Want to share this information with your clients too? No problem. With Slack's new Shared Channels feature you can communicate through Slack with people outside your team. It's an easy way to give your clients a quick update on how a project is coming along and make sure everyone is on the same page. Sometimes a quick check-in is all you need to improve trust with a client and eliminate the potential for any unwelcome surprises.
Ready to start using the integration? Connect Harvest to your Slack account.