You can now add another layer of data protection to your account! Get account-wide two-factor authentication (2FA) when you require your team to sign in to Harvest using Google.
We wish it wasn't so, but hacks are pretty common these days. Even with all the measures Harvest already takes to protect your data, your account can only be as secure as your team's weakest password. And despite their best intentions, some teammates might use the same simple password across multiple apps. That makes your account all the more vulnerable to hacks.
Security Made Simple: Two-Factor Authentication via Google Sign In
You can't stand over everyone's shoulder as they set up their password. So what can you do?
You can add an extra layer of security to your Harvest account with two-factor authentication (2FA), which is available via Google Sign In. And now you can guarantee that your team always uses 2FA by requiring them to sign in using Google.
This way, your account gets that additional security from Google every time your teammates sign in.
It's Easy to Configure
With a few clicks, any Harvest administrator can enforce Google Sign In from Settings > Preferences > Sign In Security in your Harvest account.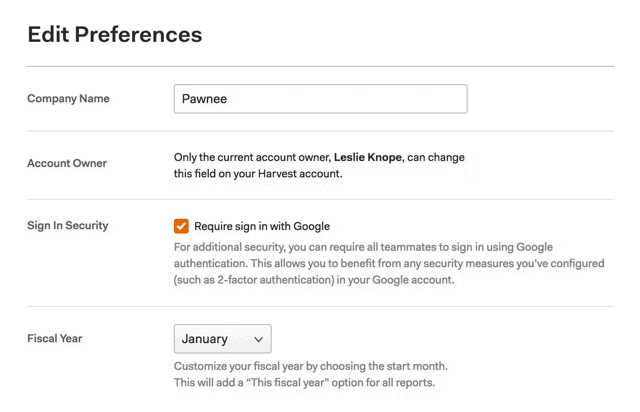 We'll Let Your Team Know
To keep your team informed, we'll send everyone on your account an email once you've updated your Sign In Security preferences. If they were signed in to Harvest, they'll be signed out and we'll ask them to sign in again via Google. Right away, your team will be more secure, and they'll know they have to sign in through Google going forward.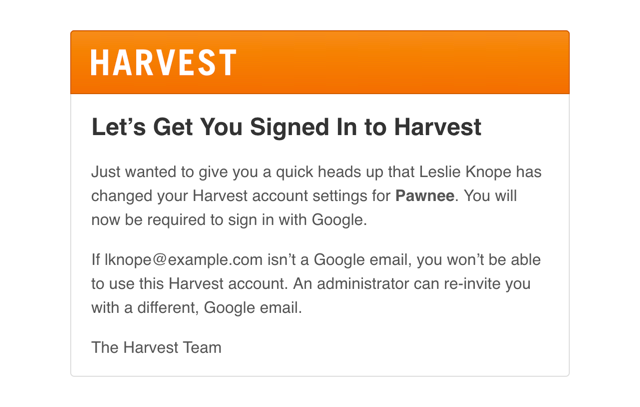 Things Worth Noting
If you enforce Google Sign In, your teammates will need to have Google-supported email addresses to access your Harvest account. Need a hand changing emails? We've got the steps to update email addresses here.
You'll also need to set up 2FA in G Suite, if you haven't already. Google's got your back with these docs here.
A Few Minutes of Work, Lasting Peace of Mind
Why wait for world-class data protection? We've got step-by-step instructions to require sign in through Google here in our Help Center.
Now the next time a teammate sends you a panicked email telling you their password was phished, you can be confident that 2FA is keeping your Harvest account secure.