How much time did you spend last week on your top priorities at work? How much was consumed by things that weren't necessary at all – digging yourself out of an overflowing Inbox, or meetings that dragged on for what seemed like an eternity? We can't go back and change things, but we can evaluate past time for insight into how we work and learn how to distribute our time better in the future.
We're making it possible to do that with a new feature called Your Weekly Harvest! This report, sent via email every Monday morning, offers everyone who tracks time in Harvest a glimpse into your past week with beautiful charts to understand the overview of where your time went. Note that if you've tracked time in Harvest within the past 30 days, you'll receive this email automatically. If you'd like to opt-out, there's an easy unsubscribe link in the email, or go to My Profile > Notifications and deselect the setting for Your Weekly Harvest.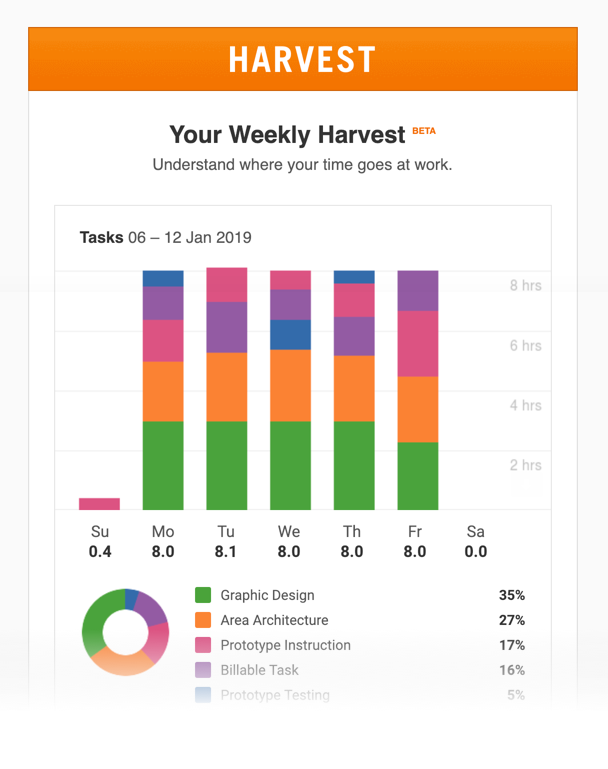 In the report, every task that you've tracked time to appears in a summary showing how much time you spent on each task that week. In a separate section for projects, a simple pie chart gives you the ability to see which projects and clients took up the most time.
Our hope is that this report can help you better understand where you're spending your time and what kind of return you're getting on the time you invest. It should help provide you with answers to crucial questions like:

What did I work on last week?
Am I spending my time effectively?
Am I meeting my goals?
What did I accomplish during that time?
Does the report match how I feel I spent my time?
We want to give you more control over your time, so you can use it more intentionally. Once you've taken stock of what you accomplished and where you fell short, you can use this information to improve how you work in the future.
A peek behind the curtain
Here at Harvest our own team has been testing out this report as a way to help us plan out our time. Here's how some real-life Harvesters have found this information useful:

Your Weekly Harvest has been a great way to see where my time's gone in the past week. Instead of a vague feeling of what I did, I can actually see how it compares to past weeks. It makes a subjective feeling more real—the week was really that busy—or shows that I didn't spend as much time on a task as I thought I did.

I can then use that info to plan for next week—if I've been spending too much time on email, and not enough on research, that's reflected in the report, and I know to keep an eye on that going forward.

~ Trey Jackson, Harvest Expert
While Trey uses the report to fill in gaps in the things he needs to spend more time on, Jamie relies on viewing the report each week to understand trends.
"Your Weekly Harvest lets me see trends in my own working style. When I review my time as a graph each week, I can easily spot where I'm building good habits or need to make changes.

If I recall a particularly productive week, I see the evidence in my tracked time, and that helps inform how to continue structuring my days in the future. I've learned that I do great creative work in the afternoon, for example, and it's best if I get a bunch of smaller tasks done in the morning.

If a week got away from me, I can see that too, and having data helps me avoid being too self-critical. I appreciate being able to look at a graph and know that, even if it wasn't my best week, I showed up. Whether it was a great week or a not-so-great week, I can look at my time objectively and keep moving forward.

~ Jamie Fisher, Harvest Expert
Both Jamie and Trey find the report useful to make their subjective feelings about the past week more real. A vague feeling that you weren't spending enough time on something can be measured and inform decisions on how you spend time in the coming weeks.
Help us make it better
We've already received some great feedback from folks through the survey link in the email. Thanks so much for contributing your thoughts! We're working hard to synthesize this research and make plans to improve this report even more. Additional features could include an even more detailed breakdown of time spent on projects and clients, as well as billable vs. non-billable hours. Let us know what you'd like to see!

In the meantime, we hope Your Weekly Harvest is useful for you, and helps you use your time a little more wisely!