Harvest works best when your team tracks their time consistently each week. When timesheets are filled out and reviewed in a timely manner, you can have confidence that your reports are accurate and that you're invoicing the right amounts.
However, Harvest also strives to be a tool your team can get in and out of quickly. For some people, this can make it easy to forget about timesheets when they are busy doing meaningful work. And when someone is late entering their time for a week, you or their manager have to shoulder the responsibility of reminding them after-the-fact. This can make for an awkward conversation, especially if it needs to happen frequently and with the same team members.
We've heard of many interesting ways business owners and managers try to help their team remember to enter their time, so we're excited to introduce a simple option right within Harvest: Timesheet Reminders.
With Timesheet Reminders, Harvest can take on the responsibility of reminding your team each week to fill in their timesheets, while you stay focused on more important work.
What are Timesheet Reminders?
You tell Harvest when you expect timesheets due every week (your Timesheet Deadline), and when Timesheet Reminders are enabled, Harvest will automatically send email reminders to everyone around that time. It'll send an initial reminder about the deadline a few hours before, and if they miss it, send a second reminder a day later.
Timesheet Reminders in Harvest are also smart enough to only be sent to people that need it. If someone has already submitted or tracked their time for the week, they won't get reminders that week. And if anyone on your team doesn't ever need to track time, simply set their capacity to 0 and they won't receive the reminders.
How to enable Timesheet Reminders in Harvest
You can enable them by heading to Settings > Edit Preferences and clicking the "Remind my team to enter time at the end of each week" checkbox next to Timesheet Reminders.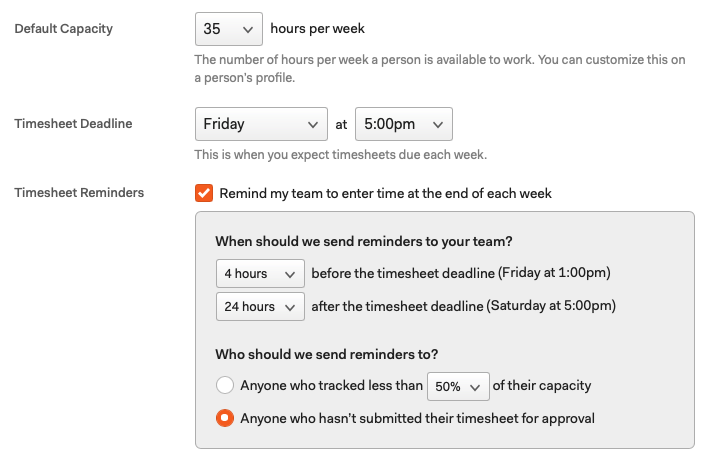 All of the functionality is customizable. You can choose any day and time of the week for your deadline, how many hours before and after the deadline you want the reminders to be sent, and if you want to remind your team to submit their timesheets for approval or just track time.
Harvest supports a few other methods of reminding your team to track or submit time. You can read about those in our Help Center.
Helping your team track time
Harvest is committed to being the best time tracking product for your business, and that means helping your team track time. We're excited for this new feature to help us continue reaching for that goal and helping you feel confident in your reports and invoices.
We've learned that teams track time better when they use the tools we offer with Harvest. If you find your team is having trouble remembering to track, then in addition to trying Timesheet Reminders we'd also suggest looking into our desktop and mobile apps, browser extensions, calendar integrations, and other integrations that help your team track time in the software they use throughout the day.