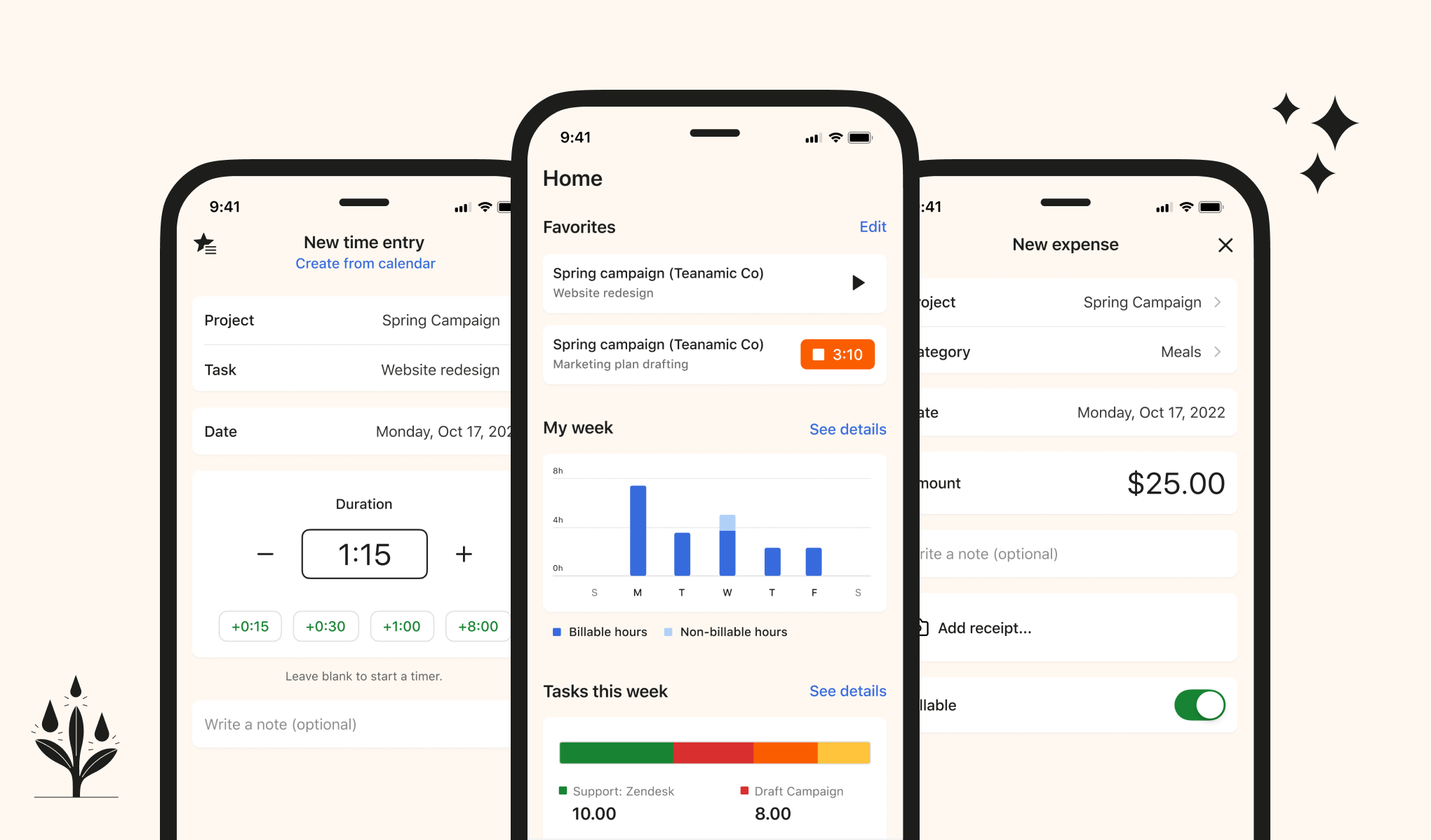 From the beginning, Harvest's mobile apps have been designed to make it easy for our customers to track time and capture expenses no matter where they are—whether it's a client's office or on a flight halfway around the world.
We're excited to share that we recently released all-new versions of our mobile apps that not only make it easier to track time, but also help you see how you're spending your time.
Behind the scenes, we've completely rebuilt these apps from the ground up, setting the stage for more frequent updates in the future. Prior to this release our Android and iOS apps were not getting the same treatment. Android had not been updated in a while and given that 80% of the world is on Android devices we wanted to make sure it got the upgrade it deserved.
The latest version of our app maintains complete parity between Android and iOS by using a single code base. Any changes made in our future versions will be applied to both platforms at the same time.
What's New
Track time effortlessly from the all-new Home Screen

Chances are, there are a handful of tasks you're consistently working on during the week. With the latest version of the Harvest mobile app, we're making it easier to enter time for these frequently-used tasks. When you tag a task as a Favorite, it will be added to the Home screen. Every time you open the Harvest app, you'll see your Favorites and can start tracking time with just one tap.


Making manual time entry easier
We know that some prefer to add time at the end of the day or week rather than using timers. That's why we made it easier to manually enter your time via the app! You can now add time to a project by simply tapping commonly used time increments—whether it's 15 minutes or 8 hours, you'll be able to enter time with just a tap.


See where your time is going right from the Home Screen

One of the most powerful parts of Harvest is the reporting we provide on how you're spending your time, and the new mobile app makes it easier than ever for you to gain these insights. From the Home Screen, you now have an at–a-glance view of your week, with charts that show time tracked by the day of the week and by tasks that you've tackled.
And, we're not finished! The latest version of our mobile apps are built on a whole new technology platform which will enable us to provide more frequent updates that both improve and expand functionality. We encourage you to check the app store regularly to ensure you have the latest version.
If you have any issues, please get in touch.