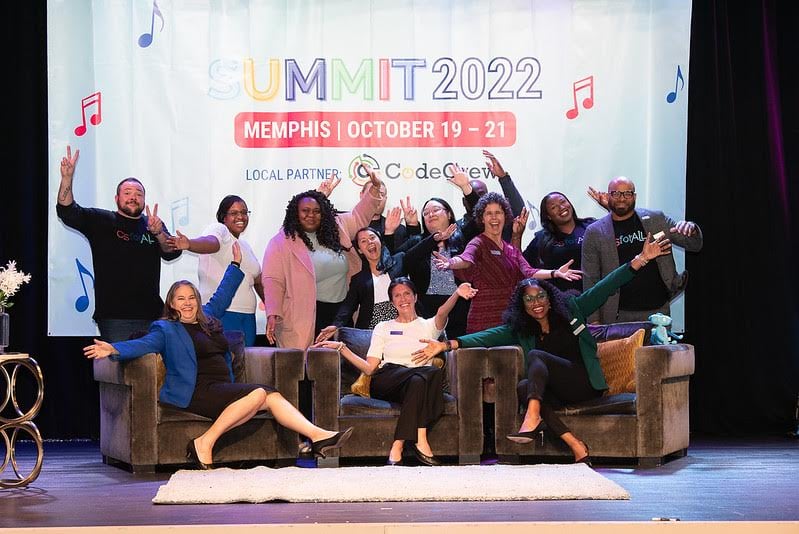 Non-profit CSforALL is on a mission: to make high-quality computer science accessible to every student across the country, according to the Co-Founder and Executive Director, Leigh Ann DeLyser.
"Our work on the ground is really to infuse K-12 computer science into the learning experiences of all teachers and students, and ensure that it reaches every community in the United States — that your ability to access computer science education and your learning outcomes, your ability to really create with computing should not be limited by your zip code or the income of your parents, or the ability of a parent to actually know the space and teach you at home."
Starting 10 years ago with a focus in New York City, CSforALL has expanded to a well-known national organization and proudly commemorates the partnership with the White House to reach a total of 5 million students across more than a thousand school districts.
"We've worked with the White House on policy papers for AI and data science education. We work with researchers and partner with states," Leigh Ann said. "We're really trying to leverage that combination of action, research, and community intent to expand computing education across the United States."
The organization helps schools build CS programs from the ground up, utilizing their partnerships to provide a multitude of support. From content providers to education associations and researchers, CSforALL ensures each school's program has everything it needs to thrive and cultivate a meaningful learning experience — and they do it all with only 15 team members.
With a lot of moving parts (and a lot of regulated funding), CSforALL needed a solution to help streamline their initiatives and ensure accurate reporting. Enter Harvest.
Keeping up with the regulations
CSforALL receives sustainable federal grants and with this type of principal funding, often, there are precise tracking regulations.
"The National Science Foundation (NSF) is our primary federal funder who supports the research that we do," Leigh Ann said. "And as a part of that we need to track the time and effort that our individual staff members spend on these projects in order to accurately request the right grant amounts from the federal government, because it's very closely tracked."
Leigh Ann added that it's not just the federal funding that needs to be tracked, but the donor funding as well. They use Harvest to make sure this happens.
"As a nonprofit, we live in a world of restricted and unrestricted dollars as an organization," she said. "So our NSF money is what we call highly restricted. But we also have money that donors give to us to do a certain thing. For example, we may have a donor give us money to support a workshop in a particular community or support one of our program offerings. That money needs to go to that program."
"Because we are a relatively small, growing team, we have staff members who work across multiple programs and projects. So being able to use Harvest to assign staff time in the way that they're producing effort for these projects really helps us manage that restricted funding in a meaningful way. And we can make sure we're treating the donor dollars in a way that is representative of their intent."
Streamlining operations
For CSforALL's Senior Director of Operations, Dionne Williams, Harvest is critical to streamlining work in all areas.
"Specifically for myself and our coordinator who have our hands in all of the operational pots, it's helpful to get a sense of where we're spending the majority of our time in certain periods so we can get a sense of the work that we're doing," Dionne said. "One of my goals is to be able to get a sense of our division of labor and feasibility across the team, so we use Harvest in a way that enables us to assess and say, okay, this person has too much of this work. Maybe we need to think about a different position, or think about scaling back, or whatever the case may be."
Dionne added that Harvest takes the pain out of timesheets and payroll.
"I think Harvest is helpful because it does a lot of the organization and the work for you. I come from a charter management organization background where we're literally sending out timesheets and asking people to sign them — it's a very involved process. And with Harvest, a person can simply go into the system and log their hours and it's all seamless within the process."
From the payroll processing side of it, our accountants can go into the system, note the hours, process payroll, and it's pretty seamless as well. Coming from my background where everything is pretty segmented and there are a lot of parts to the process, Harvest allows us to keep everything streamlined —I haven't run into any issues in terms of payroll."
Making time tracking meaningful
Like many organizations, Dionne said it used to be challenging to motivate employees to track time — especially when they're not getting paid hourly. Harvest helped alleviate that and give purpose to the process.
"We have so many different grants and so many types of functions within each grant that sometimes people don't understand how to properly track their time," Dionne said. "So we've used Harvest to restructure — instead of having unique functions within each and every grant, it's more streamlined. And that allows our staff to be more engaged and it makes time tracking more meaningful. It's not just them tracking time, it's actually helping them organize their day."
"Especially in an organization where most employees are salaried, they're thinking, I'm going to get my paycheck anyway because I'm salaried. And so it helps them to really understand what they're doing, and understand how it also impacts the larger organization."