At Harvest, we're dedicated to making it as easy as possible for you to turn tracked time into money earned — and that includes using tracked time to pay your team. That's why we're excited to announce a new integration with Deel, the all-in-one HR platform for global teams.
Our partnership with Deel makes the process of paying your global contractors easy, not only saving you time, but also simplifying your recordkeeping practices and ensuring accuracy.
Take a look below to learn more about how this integration helps ensure your payroll process is easy, optimized, and running smoothly.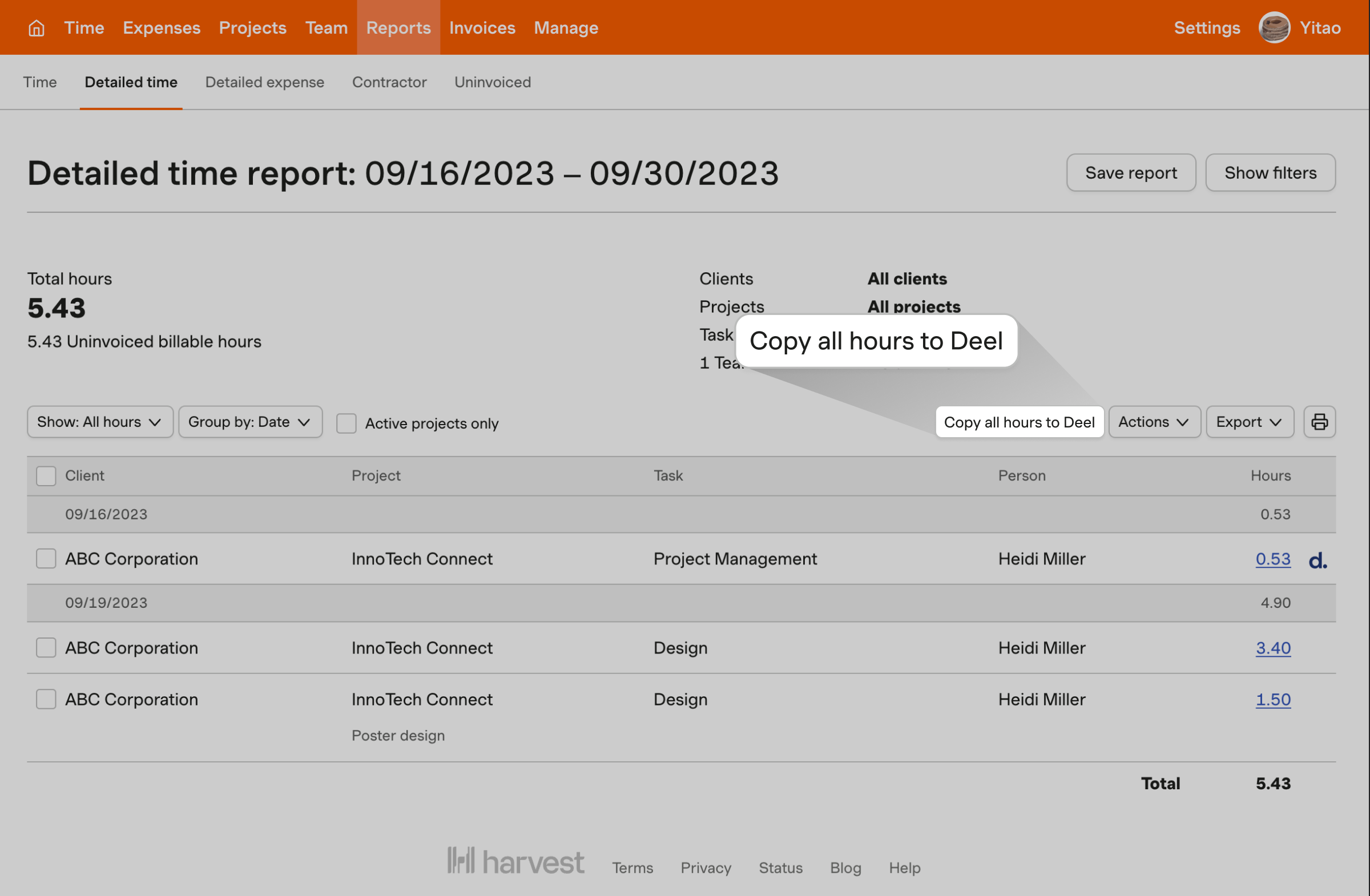 Elimination of tedious, error-prone manual work
It's no secret that manually transferring time entries each payroll cycle is a time-consuming pain — and leaves your records more prone to error.
With the integration, administrators can transfer individual time entries from Harvest to Deel using the Detailed Time Report, so you can pay global team members with ease and accuracy — and drastically reduce the time it takes to run payroll.
Confidence that data is synced accurately
It's critical to keep your time tracking records accurate and up to date, because any errors in your payroll could result in major complications, including frustrated contractors, increased administrative costs, or even tax penalties.
With the Harvest + Deel integration, it's easy to correct any potential errors as soon as they occur. If there's ever a failed attempt to copy time entries to Deel, errors are explained in real time, and an error email will be sent to the account owner immediately to help quickly resolve the issue and ensure your recordkeeping is error-free.
Simple contractor setup
You'll also have peace of mind even as you get started adding team members.
When matching team members between Harvest and Deel, we'll proactively show you suggested contractors to include based on your Harvest profiles both during and after the integration setup. You can also easily control which contracts you want to transfer time entries for whenever you want.
Up-to-date view of contractor status
The integration gives you an up-to-date status of your connected profiles and contracts between the two systems, providing peace of mind that everything is running smoothly and allowing you to make changes whenever needed.
In your "Manage Connection" page in Settings, you can view everyone's status, unlink contractors, or switch contracts if you need to use another available one. This page also provides profiles that share the same email for Harvest and Deel but are not yet linked, so you always have the opportunity to link more users you may have missed.
---
We're confident that these latest updates will take the pain out of payroll for your global teams, giving you even more time to focus on other priorities. And if you have any questions or need assistance getting started with the Harvest + Deel integration, you can learn more in our Help Center articles, and our support team is always happy to help.