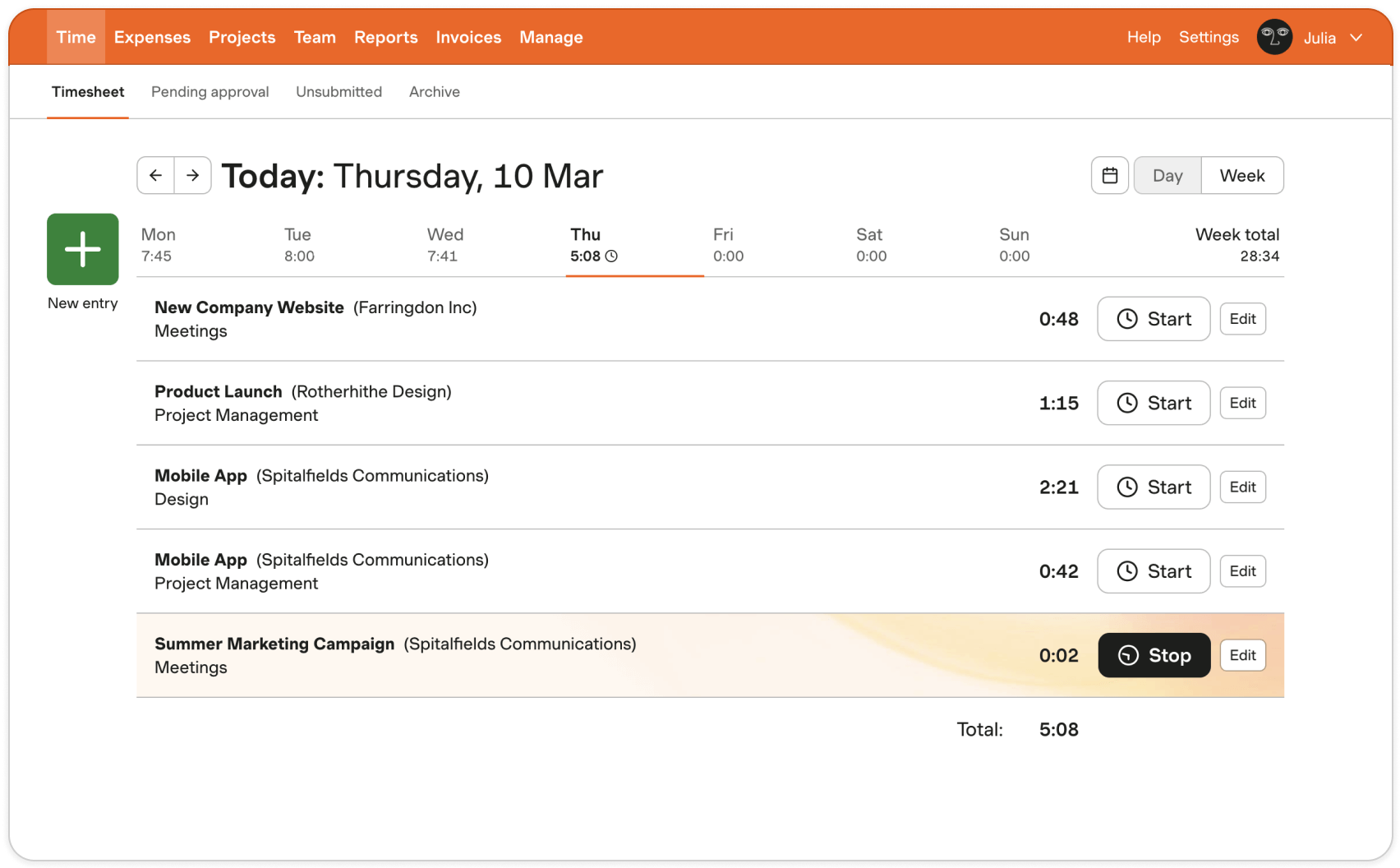 It's no secret that a happy, productive team is the backbone of any successful business. Your goal as a manager is to keep employee projects on track while also maintaining everyone's sanity — but that's easier said than done without a little help.
With the right tools in place, keeping tabs on both the success and happiness of your team isn't all that difficult, especially as you grow in the new year. According to our customers, two features of Harvest are essential in helping create a thriving team: easy time tracking and powerful reporting.
Easy, effortless time tracking
As you manage your team's projects, it's critical to have an effective time tracking system in place to ensure a smooth process from start to finish. But if your software is difficult to set up and get started, it can have a negative impact on your team.
The best part about time tracking with Harvest is that it's easy to use and effortless to adopt — meaning your team won't be burdened with yet another line item on their long to-do list.
Take it from Marian Phelan, CEO of web design agency Hashrocket:
"Harvest is easy to get the team set up quickly so they're tracking time immediately. I haven't seen a similar product that would be better than Harvest."
The ease doesn't stop with the initial adoption process — using the system day-to-day is also simple. For starters, employees can track time from a variety of devices, meaning they can keep ticking from wherever they are. Plus, because Harvest is already integrated with the apps your team knows and loves, their day-to-day won't change.
Additionally, you can help build and reinforce the habit of time tracking with custom email reminders for your team, ensuring that they won't have to worry about forgetting to track time throughout their busy day.
Reports that help keep your team supported
It's always a good thing if your project pipelines are full, but it's easy to miss the signs of burnout during periods of increased activity. If your employees' workloads are overwhelming them, it's a big threat to not only their performance but also their general well-being.
The best way to prevent burnout is to have an efficient system that keeps an eye on it for you — like Harvest.
Unlike other tools, Harvest transforms employee time tracking data into visual reports that help you visualize team capacity. With capacity reporting you can see who's overworked (and under-utilized) at-a-glance, making it easier for you to stop the burnout in its tracks and readjust the workloads.
Noah Gedrich, CEO of digital agency Zehner, says Harvest helped with the transition from in-office to remote work.
"In the past, I would walk in the office and get a sense of where my team's stress levels are. I can't do that anymore. Harvest reveals if somebody is overburdened, and that becomes an immediate conversation."
Not only do Harvest's reports prevent potential burnout, but they also keep everyone on the same page in terms of how projects are looking in real-time. As your team tracks time, internal costs and budgets are updated. This way your employees can learn from the past, keep current projects on track, and better estimate upcoming projects — ensuring even more success in the future.
---

With easy, burdenless time tracking and advanced insights into workload and project performance, Harvest acts as a great partner in ensuring your team has what they need to thrive. Get started with a free trial today.