Virgo season may be over, but it's time to dive into Q4 and tackle the final projects of 2022. You're ready to get your team over the finish line and you want to see them close strong. But the end of the year brings more than crisp air, pumpkin pie, and presents. It also brings major burnout–the spookiest part of Spooky Season. And we're here to help you fight it!
Keeping workloads balanced is a big part of keeping burnout at bay. We built the Team section for managers like you, who need to know what their team is working on and how many hours they're putting in. That way, you can quickly see who needs support and who can take on fresh work.
Get proactive with minimal effort
Regular team meetings and 1:1s are great for getting a general idea of how everyone's doing, but meetings get rescheduled and time quickly runs out. In between those conversations, you can check Harvest.
When a teammate is working under or at Capacity (the number of hours they're available to work) you'll see a lovely, calming blue in their hours-worked bar graph. You don't have to worry about them–they're all set for now!
When a teammate has worked over their set capacity, you'll see stop-sign red. That red tells you it's time to reach out.
Does that teammate need more support or just one less thing on their plate? Go back to the Team section to see who has the bandwidth to take on that work.

Make evidence-based decisions
Here at Harvest, we love receipts so much we've built them into our app. Is your company taking on a new client with an exciting new project? Thinking about expanding the scope of an existing project? Then it's time to look at the Team section to see what's realistic and what has to be pushed to the next cycle based on current workloads.
Say "Yes, we can, and I have two designers available" or "That'll have to wait, everyone is working full days with their current projects" with the confidence only numbers (and colorful bar graphs) can bring.
Level-up your use of the Team section
We couldn't call ourselves the Experts team, if we didn't share some expert tips with you:
Click on each teammate's name

to get a clearer picture of what tasks or projects are taking up most of their time. This lets you know exactly where they might need more support. That way, you can have a plan in place, or at least a few options ready, when you check in with them next.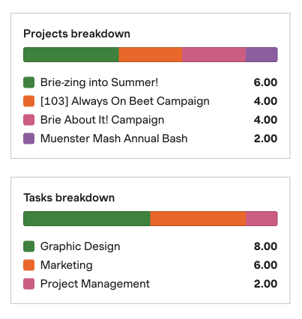 Filters are your friends! If you have a big company, this page can be overwhelming. Pin your direct reports so you can easily surface their hours. Consider

strategically assigning roles

to teammates so you can filter by the different types of jobs people do or the different teams within your company. After all, a report is only helpful if you can read it.
While you can set a default capacity for all team members,

set individual capacities

for anyone who works fewer or more hours than the rest of the team, so you have the most accurate picture.
Scroll back! Looking at this current week or last week is a great way to see what's going on right now. But looking back even further helps you surface patterns. If you're seeing a lot of red, your team is probably ready for some relief in the form of fewer projects or new hires. And now, thanks to the Team section, you have the evidence you need to ask for it.
Take your team from barely surviving to thriving
You've got a stellar team–they want to show up, do the work, and do it well. And as their manager, you want to see them thrive. This means getting them exciting, juicy work so they can grow and stay engaged, as well as protecting their time and energy. It's all about striking the right balance.
So take a little help from Harvest's Team section and beat the burnout this holiday season!
Learn more about the Team section and other time-saving, team-saving features in our Help Center. Or get in touch with us at support@harvestapp.com.