On November 7, 2023, Asana is ending support for the current Harvest-Asana time tracking integration. The good news is that you'll be able to track time with the Harvest Clock Icon inside Asana just like you always have when you install the latest version of our browser extensions. Read on, watch this quick video, or check out our Harvest-Asana FAQs for more details.
What's changing?
The current Harvest-Asana Time Tracking integration will be sunset by Asana on
November 7. On this date, the Harvest Time Clock icon will no longer appear within Asana, unless you have installed the latest version of the Harvest browser extension.



Note: Even when you have the latest browser extensions enabled, the Harvest clock icon will not appear in the Asana desktop app.



To help you keep running smoothly, we've released new versions of our browser extensions for Chrome, Firefox, and Microsoft Edge that add the Harvest Time Clock icon to the Asana interface (when using Asana in a browser). When these extensions are enabled, you can continue to track time with the Harvest Clock icon inside Asana.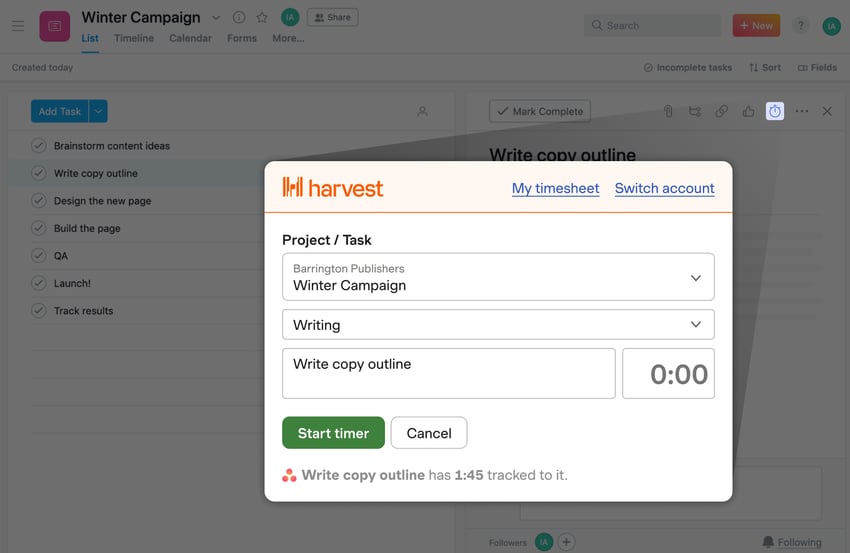 What to do
Install the latest browser extensions for

Chrome

,

Firefox

or

Edge

(see instructions below). These new extensions are available now, and we recommend that you install them today.


Encourage your team to install and enable the browser extensions as soon as possible to ensure a seamless transition for everyone in your organization!


Benefits & limitations
Benefits


Using the Harvest browser extension not only allows you to continue tracking time in Asana, but it also enables you and your team to track time even when you're not using Asana.


Plus, you'll see when an active timer is running, enabling you to track time even more accurately than before.



Limitations


When you first use the new Time Clock icon to track time in Asana tasks, you may need to re-select the specific task you want to track time for. This will only occur the first time you use the browser extension for a specific Asana task.


The new extension's Project/Task window will not reflect time previously tracked in with the original integration, but rest assured, all previously tracked time is still safe and sound within Harvest.


Installing the Harvest browser extension
Don't wait for November 7 to begin using the new browser extension integration! Get started today and ensure a seamless transition by installing or updating the Harvest browser extension. Here's how:
Step 2: If you do not currently have the Harvest extension installed, follow the steps to add it to your browser. If it is already installed, make sure you're using the most current version.


Step 3: Once you have the most current version installed, head over to your Asana dashboard. You'll see the Harvest clock icon in Asana just like it was before!

You'll know you're using the new extension when you see the clock icon with the hands in the 12 o'clock position.
The Harvest extension will begin working automatically once installed — you do not need to take any action in Asana to get started.
---

To avoid any time tracking interruptions, we encourage you to implement the updated Harvest browser extension as soon as possible. And if you have any questions or concerns, take a look at our FAQs or reach out to our support team!

11/2/23, 3:51pm PT Update: The issue outlined below has been resolved and all browser extensions are working normally. If you run into any issues, please reach out to our Support team.



11/2/23 Update:

Asana recently released an update that has (inadvertently) disabled the browser extension functionality for Chrome and Edge outlined in this blog post (Firefox is unaffected). We have identified the issue and have submitted new versions of our extensions to the Google Chrome and Microsoft Edge stores that restores functionality. These updated extensions are pending approval, which can take anywhere from a few hours to a few business days. We will update this message when these extensions are available.