We're dedicated to consistently delivering improvements to Harvest that enable professional services firms to thrive — which is why we're excited to share recent improvements to payments, invoicing, and our mobile apps. These updates are all designed to help you get paid faster and be effective no matter where you are.
Customizable Invoice Payment Options
When it comes to accepting online payments, it's important to support your client's preferences and to ensure fees don't erode profitability. That's why we've made it easier than ever to customize the available payment methods for individual invoices. This gives you control by allowing you to specify if an invoice can be paid with credit card, ACH payment, both, or none.

This update saves you time and allows you to improve your client's experience.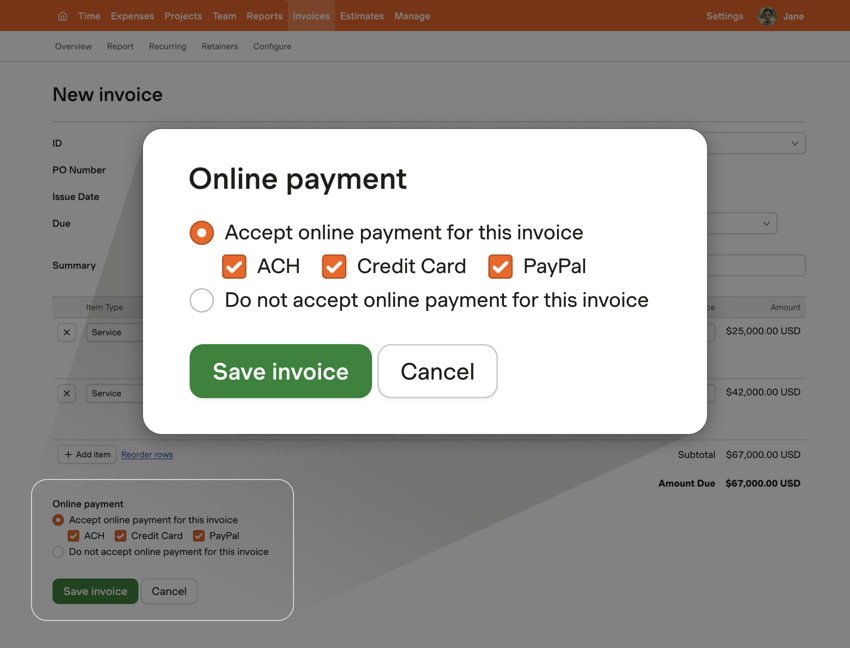 Faster ACH Settlements with Stripe (for US Customers)
We understand the importance of flexible and diverse payment options, and we've always been committed to providing that flexibility. Our existing ACH integration with Stripe has convenient payment options that help US-based customers improve their client experience, get paid by clients via bank transfer, and automatically track those payments — all while avoiding expensive credit card processing fees.
Now, it's even better: Our latest update significantly reduces settlement times to just 2-3 days for eligible customers, meaning you can get paid faster than ever. With this improvement you'll enjoy:
Improved cash flow for your business, with quicker access to your funds.
Greater financial flexibility, allowing you to manage expenses and investments more efficiently.
An enhanced payment experience for your clients, making it more straightforward and faster when they check out with ACH.
Setting up Stripe with Harvest is quick and easy — create a new Stripe account from within Harvest, or connect an existing Stripe account. To learn how to enable or update the Stripe integration, check out our help article.
Mobile App Updates
We understand how important it is for many Harvest customers to track time on the go with the mobile app. We've made the experience even better with the following new enhancements:
Customizable running timer reminder: Tired of forgotten running timers? Now, you can receive a mobile notification if your timer is left running longer than the specified time. This will ensure your time is always accurate, so you can rely on it for reporting and save the time you'd use to fix those forgotten timers.

Learn how to configure it here

.


Teammates report: This report, newly available in our mobile app, allows you to see both a high-level overview and a detailed look of your team's weekly time, at a glance and on-the-go. With this visibility you can better manage their workloads no matter where you are, ensuring that your team is set up for success and empowered to do their best work.

Learn more about it here

.
We're also continuing to update our mobile app to improve performance and stability, so be sure to keep your apps up to date to take advantage of these enhancements.
We're confident that these latest updates will supercharge your Harvest experience and help your business thrive even more. As we continue to innovate and improve our platform, we're always eager to hear your feedback. If you have any questions, suggestions, or need assistance, our support team is here to help.
Happy time tracking and invoicing!