Zendesk, a professional help desk application, just announced its integration with Harvest for time tracking. This allows current Zendesk users to easily log time entries (with ticket reference details) to Harvest as they work on their help tickets.
To use Harvest with your Zendesk account, follow the simple setup directions here: Configuring Harvest Time Tracking in Zendesk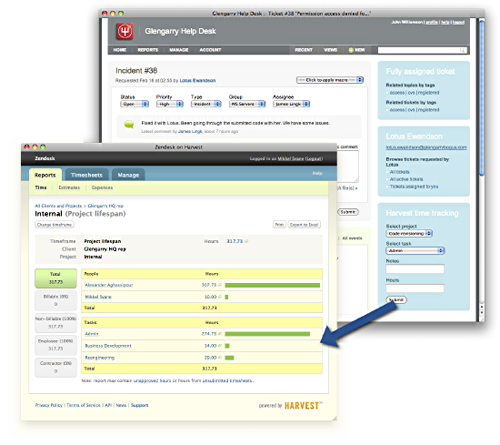 What Is Zendesk?
Zendesk lets you support your clients, customers and end-users via a simple and intuitive web interface with full e-mail integration. If you are looking for an elegant way to handle support for your product or service, we recommend taking a look at Zendesk.
Harvest and Zendesk integration was made possible by the Harvest API and Zendesk API.
Did you know Harvest also integrates with other great products like Basecamp (project management) and QuickBooks (accounting)? Configure these integrations under Manage > Account details in your Harvest account.