Our iPhone app has been updated! Get the newest version →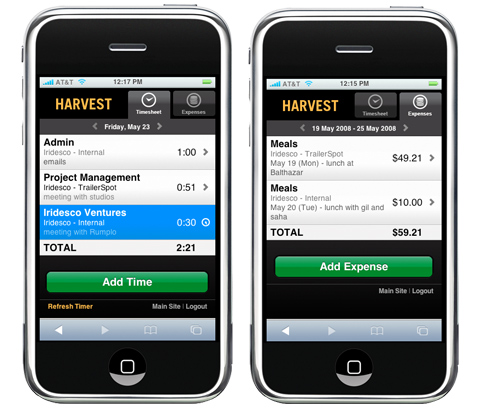 The iPhone is a revolutionary mobile device, but more than just a great consumer product, it's also an increasingly useful tool for professionals and businesses. Today, we're excited to announce Harvest's contribution to the iPhone user's productivity with an optimized time and expense tracking experience for your iPhone.
All the handiest features of Harvest are now available from your iPhone:
Enter time and expense entries
Track time in real-time using Harvest Timers. Switch between tasks with one click.
Optimized for the EDGE network, so Harvest is fast and responsive even when you're not on a Wi-fi connection.
Shortcut to the main Harvest site for your reporting and invoicing needs
The iPhone interface is available for all plans from FREE to Business. To use it, just point your iPhone's Safari to your Harvest account's URL (subdomain.harvestapp.com), and add it to your home screen for a special Harvest icon.
Special thanks to Brian and Barry on our team for making the iPhone goodness happen. Enjoy and let us know what you think!
Don't have a Harvest account yet? Sign up for free.
Learn more about Harvest for the iPhone.