Here at Harvest, we strive to connect with the best and brightest of the creative and technology industries. So it is with great pleasure that we announce our partnership with Behance, a company which empowers creative individuals to execute ideas. The heart of the company is best summed up in the following paragraph:
Behance is founded on the principle of "Productive Creativity." Too often, great ideas never materialize. Creative people are rarely lacking inspiration; rather, they lack effective processes and tools to make their ideas happen.
Behance offers great resources and tools for creatives including a community network, an online magazine, productivity tools, and other services. By partnering with Behance, we are able to offer our time tracking and billing tool to Behance's network of creative professionals.
Harvest for Behance Members
Members of the Behance network will be able to conveniently access Harvest right from their Behance member home screens. Additionally, Harvest users who register via Behance will receive a special Behance/Harvest theme which keeps Behance members connected to the latest featured work from the prolific Behance network.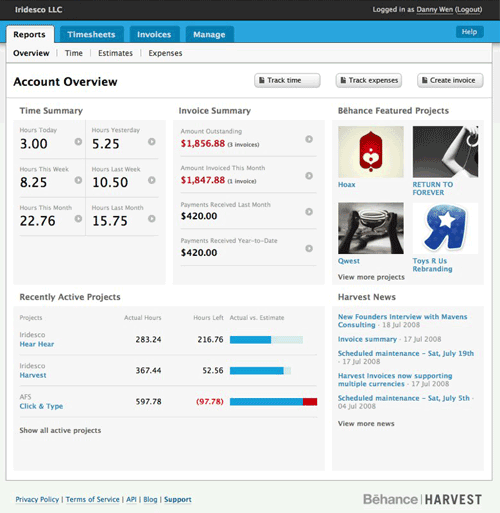 If you are a creative professional and new to Behance, we highly recommend getting to know its network of services and products. From showcasing projects to finding collaborators, Behance is an exceptional resource for creatives.