Here at Harvest, we constantly aim to optimize our internal process, communication, and productivity. Our team is spread across 3 locations, 3 timezones. We stay in touch with a variety of great tools including 37signal's Basecamp for project management and Campfire for group chat. Over the last couple months, we added another layer of casual communication into the mix. This layer keeps everyone up to date on who's currently working, what they're working on, what they plan to do next, and a casual list on items of interest to the team (e.g. SNL skits). While we don't all work in the same physical location, having a real-time work log with a watercooler twist keeps everyone in sync and engaged.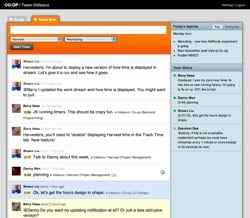 To power this layer of casual communication in the name of team collaboration, we created the Harvest Co-op.
In the coming days, we'll put our product through its paces with beta release. If you are interested in partaking in our Beta, please let us know by signing up below.
P.S. Teams currently using Harvest will be able to seamlessly integrate with Co-op and reap its benefits without any additional effort. More on this soon!
Update: beta list is now closed, but you can sign up for the Co-op launch list.